| | | | | | | |
| --- | --- | --- | --- | --- | --- | --- |
| | | | | | | |
Elephants on Rails and in the Wilderness – Garratts in Zimbabwe
Zimbabwe 23.06. – 08./10.07.2008
Our trip combines exciting steam photography based on chartered freight trains with wildlife and the wonders of African scenery. This is an excellent trip for railway photographers and spouses or other family members who want to experience the real Africa!
Zimbabwe is a beautiful country with fascinating wildlife and scenery. The spectacular Victoria Falls, known as "the smoke that thunders," is one of the absolute musts when travelling to Africa. Friendly, welcoming people and their warm hospitality make a stay in Zimbabwe pleasant in all respects. Last but certainly not least, Zimbabwe still offers commercial steam services. We'll visit it all, the sights of the country, the wildlife, as well as the "elephants on rails", the last mighty Garratts in regular service in the world. The Garratts that we will see are probably the largest working British steam locos (Beyer-Peacock) anywhere. We strongly recommend that you do not delay in seeing these wonderful locomotives while steam is still in daily operation, even though this is normally only a shunting operation.
We have chartered several freight trains on the most interesting sections of National Railways of Zimbabwe (NRZ). For a few days we'll have our own Garratt based in the shed at Thomson Junction. From there we'll pass through the one and only tunnel on the NRZ network, swing through the curves along to Dete and climb up the gradient to Zanguja.
Itinerary
Date

Botswana

Itinerary

23.06.

Flight Europe/America - Johannesburg by South African Airlines SA 261 (Star Alliance member), arrival next morning

24.06.

Connection flight Johannesburg - Victoria Falls, arrival 11am, by chartered minibuses to our hotel, afternoon: just relax in the hotel or visit to the gorgeous waterfalls at the border with Zambia. Our hotel is probably the Sprayview Hotel (alternatively you can book in the Victoria Falls Hotel for an additional price)

25.06.

Early Morning call! We'll go by charter bus to Thomson Jn where we need to arrive around 6.15 am. Charter steam train Thomson Jn - Victoria Falls, alternatively you can stay in Victoria Falls, sleep in, visit the waterfalls and visit the crocodile farm nearby, hotel in Victoria Falls

26.06.

In the early morning we'll arrange a steam train over the famous Victoria Falls bridge to Livingstone, visit to the railway museum in Livingstone (if by then open to visitors), return to Victoria Falls. The afternoon is planned for a more relaxed visit to the Falls again, in the evening we'll enjoy a sundowner cruise on the Zambezi river, where you often can see crocodiles. Hotel in Victoria Falls

27.06.

In the morning we'll take a steam hauled charter train from Victoria Falls to Thomson Jn. Arrival in Thomson Jn. in the afternoon, by charter bus continue to our Hotel (probably Hwange Safari Lodge)

28.06.

Steam around Thomson Jn. We have planned two steam hauled trains today (one in the morning and one in the afternoon), covering some of the most scenic parts of the NRZ railway system. Alternatively you can stay in Hwange and enjoy the wildlife either on a guided tour (additional price) or from the terrace of our hotel. Hotel probably Hwange Safari Lodge near Dete

29.06.

As there are plenty of opportunities we'll arrange another day of different trains around Thomson Jn. (or stay in Hwange again to watch the wildlife). By charter bus to our hotel (probably Hwange Safari Lodge near Dete)

30.06.

Early morning by charter bus to Thomson Jn., charter steam freight Thomson Jn - Hwange - Lukosi and return bunker first, in the afternoon we'll wait for a train on the Hwange colliery line. By charter bus to our hotel (probably Hwange Safari Lodge near Dete)

01.07.

In the morning we'll return to Thomson Jn and take a steam hauled freight train to Dete via Hwange and Lokosi. In Lukosi we've planned a Barbeque. We'll reach Dete around sunset. By charter bus to the Hwange Safari Lodge near Dete

02.07.

Relax in the lodge and watch passing elephants, giraffes, zebras and other animals, optional visit to the Hwange National Park (you can book a guided tour), in the afternoon we'll continue to Bulawayo, hotel in Bulawayo

03.07.

Visit to the steam shed of Bulawayo in the morning, guided tour to the P15 shop where overhauls on Garratts are taking place, visit to the shunting operation in Bulawayo, Hotel in Bulawayo

04.07.

Early morning visit to the Bulawayo depot, watch shunting operations with Garratts in the station and the yards of Bulawayo, noon visit to the railway museum of Bulawayo, afternoon visit to the Rhodes Matopos National Park, evening return to Bulawayo, hotel in Bulawayo

05.07.

Charter freight train from Bulawayo to Cement, hotel in Bulawayo

06.07.

As it is one of the best sheds in the world for morning photography, we'll visit the steam depot another time. Free afternoon in Bulawayo, hotel in Bulawayo or Botswana-Extension

07.07.

Morning return flight from Bulawayo to Johannesburg with SA8111, evening intercontinental flight

08.07.

Morning arrival in Europe/America (05.55 hrs arrival in Frankfurt/Main)

06.07.

Afternoon by charter bus to Botswana, Hotel in Selebi-Phikwe

07.07.

Linesiding along the railway lines of the BCL copper mine, hotel in Selebi-Phikwe

08.07.

Visit to the BCL copper mine and linesiding, afternoon return to Zimbabwe, hotel in

Bulawayo

09.07.

Return flight from Bulawayo via Johannesburg to Europe/America

10.07.

Arrival Europe/America
Details of the tour
We have arranged a number of charter freight trains over the most scenic sections of the National Railways of Zimbabwe. We will try to arrange trains of some 15 wagons with different freight wagons. We have not attached passenger coaches to these trains as we're trying to avoid wasting money on non-authentic trains. We'll travel by these trains in the train crew service car and the brakevan. To get the best photographic results we'll use the early morning light whenever possible as well as the late afternoon light. At noon, when the sun is high on the sky, we won't try for photographs or videos as the results are often disappointing. We need to mention that it is not possible to leave Bulawayo early in the morning to Cement as we need to wait before the commuter trains are back in the station. So the earliest departure from Bulawayo is around 7.30 am. Usually the state railways are heavily delayed, we need to expect that our charter trains will be delayed as well.
Bulawayo is a medium sized city that in many ways seems unchanged from several decades ago. It is an important crossing of railway lines with a large yard and two loco depots, one for steam and one for diesel. A visit to the amazing large steam depot is worth the trip alone! If you haven't experienced a sunset in Africa before, we guarantee you'll be impressed by the stunning colours of the sky at dusk. Together with one of the mighty Garratts, as they steam around the yards at Bulawayo, there are many wonderful photographs possible, especially at dusk. Line service was suspended in the mid 1990's. Moreover, there are sometimes freight movements between the railway stations, which are very much like line operations and are entirely authentic, and – so far as the coal supply allows – there are lots of shunting movements around the yards and industrial areas. There are many Garratts and other types and classes of engines dumped at the shed and all of the steam facilities. On good days the depot sees four Garratts under steam. Outside of China, this is probably the biggest surviving steam depot in the world.
Due to lack of coal supply there are days with no steam activity at all. National Railways of Zimbabwe have agreed to stockpile some coal so we'll probably see steam in regular use.
The line between Thomson Junction and Hwange is not very long, but offers plenty of the best photographic opportunities. Christine's curve, the only tunnel on the NRZ and curving around the Baobab hotel hill are some of the best spots. Further on, the line to Dete offers many curves including the famous "404 curve", baobabs, cuttings and embankments which offer very good positions. As there are so many good positions we have arranged several charter trains over this section of the line. Train compositions will change from day to day as we have ordered different stocks of wagons.
Our train from Thomson Junction to Zanguja will lead us to the famous high embankment in a photogenic S-curve. The climb up to Zanguja is a highlight for sound recorders as well as for photographers and video film makers.
The line from Bulawayo to Cement just takes us to the outskirts of Bulawayo. Mentionable on this line are the lonely palm tree and the pedestrian bridge crossing over the railway linking platforms. The line is double tracked and offers a real main line feeling.
The Bulawayo Railway Museum is within easy walking distance of the steam shed and has an exceptional collection of locomotives, rolling stock and smaller artefacts from the Rhodesian Railways and National Railways of Zimbabwe. There are diesels, electrics and beautifully restored carriages and steam locomotives, and all very well displayed. Our visit also helps to support the museum and its important efforts at preserving the country's railway heritage. Moreover, the museum gives us an opportunity to purchase books, replica builder's and locomotive name plates, original railway china and other items to make the visit even more memorable. The staff and volunteers are very knowledgeable and will help you appreciate the history of this fascinating railway system and Zimbabwe today.
The Hwange Colliery in Hwange (the former Wankie) uses one steam locomotive daily, if not in need of repair. They exclusively use one of their two operational Garratts. Beside these a class 19D locomotive may still be serviceable but not in use, and several other engines are at the shed or under repairs. The mine railway has an impressive gradient from the state railway station to the washery and there are several good photo opportunities, giving excellent chances for shots of real line work. There are usually two trains during daylight, depending on the production of the mine.
As they have increased the entrance fee to the loco shed by 250 % from 2005 to 2006 we haven't applied for a permit to visit the washery and the depot this year. The procedure for paying this money has proved very time consuming on previous tours too. We'll focus entirely on seeing a train on the line if our time permits.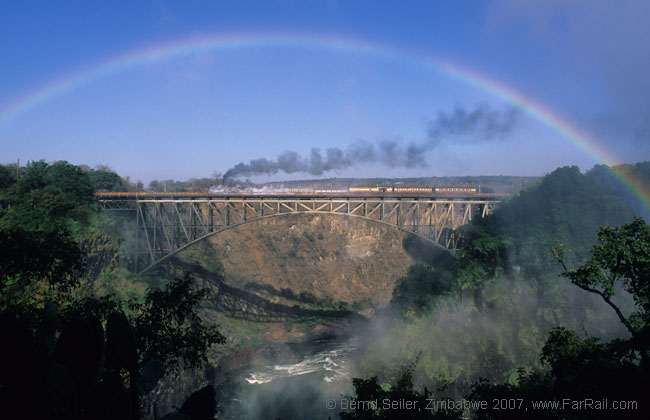 With our train to Livingstone we'll pass over the impressive century-old, riveted girder arch bridge over the Victoria Falls gorge of the Zambezi River. Our charter train will pass this bridge two times to give us opportunities for taking pictures from a view point in the National Park of Zambia. It's also possible to charter a helicopter to capture the train and water falls in the same scene. We can charter a helicopter for about £80 (ca. 117 Euros) per person. If you wish to take a shot from above, we'll arrange everything. The price for the round trip flight of about 20 minutes is not included in the tour price and the arrangement with the helicopter has to be made two days in advance. Even with tight planning it is somewhat difficult to be at just the right position when the train is on the bridge, so we can't guarantee you an air photo with the train on the bridge at the perfect location, but it is fun to try and everyone will do their best to help make it possible.
The amazing African wildlife alone is a wonderful reason to visit Zimbabwe. We'll visit one of the outstanding National Parks with the most animals and a variety of natural habitats. At the water holes you can probably watch elephants, hippos, rhinos, crocodiles, giraffes, zebras, monkeys and a variety of birds. They have installed some viewing towers from which you can take photographs or just contemplate the vastness of Africa and the diversity of its wildlife. You can book a local guide who will guide you through the park and will know the best spots for meeting animals. As this is an expensive option, here is another one: the more relaxed version is to watch animals at a large water hole from the terrace of our comfortable hotel. While this latter version is free of (sur)charge, travelling to the park requires an ever increasing fee. This unpredictably growing fee is the reason why we didn't include it in the tour price. In 2007 it was 50 US-Dollars for a morning in the park. If you want to spend the afternoon there as well, you needed to pay another 50 US-Dollars in 2007. We could bargain them down to 90 US-Dollars for both trips together.
Rhodes National Park offers some exciting vistas of interesting rock formations and more opportunities for seeing the African countryside. Some caves with ancient drawings on their walls are open to visitors. It's not possible to reach every point of the park by vehicle, so be prepared to walk around a little bit if you would like to, and really get a feeling for a very different African landscape.
Victoria Falls National Park offers fantastic water cascades, rainbows, tropical vegetation and a large variety of birds. It's easy to walk alongside the waterfalls on sign posted paths that feature amazing views and beautiful tropical vegetation. You should take plenty of extra film (or batteries and digital memory cards) inside the national park as there are many exiting photographic possibilities. In the evening we've planned a special event on the Zambezi River for you. Don't forget to bring along some reading about African exploration and history, because this is really a chance to enjoy books about Burton, Speke, Livingstone and Stanley, Rhodes and many others, not to mention the construction of the railways. For something a little more relaxing, copies of Alexander McCall-Smith's books set in Botswana about "The No.1 Ladies' Detective Agency" are a must! There are also several excellent books available on Zimbabwe Railways and their locomotives (you can purchase some of them in the Railway museum in Bulawayo).
Photography opportunities in Zimbabwe are boundless, and everyone should get excellent photos or video on the trip. We will have the necessary permits and the people are friendly and receptive to photography. Be sure to bring lots of film or memory cards and we recommend a second camera just in case you have mechanical difficulties. A tripod is especially useful for night shots and for wildlife.
Small Print
We'll probably see all the Garratts that are now in regular use. Although NRZ has started a program to overhaul at least ten Garratts for regular use and Safari charter trains, it may be that only a few are operating during any period of a few days. In the case of a coal shortage, there may be one or two days with no steam operations at all. However, we expect to see some five Garratts in daily use besides our special charters. The reason for their survival is the poor economic situation in an anything but democratic country. Despite all the reports in the western press, we as tourists will find a peaceful country with very friendly and helpful people who will do everything possible to make our stay an enjoyable one. The crime rate is low, and food and beverages are easily available (although sometimes the selection may be limited). The people of Zimbabwe harbour no resentments towards white visitors at all. So you can feel relaxed and enjoy what you see. Most people speak some English, and many are fluent, and they are usually pleased to talk with visitors. The selected hotels in Zimbabwe offer a good standard but are expensive compared to European standards. Although many people are very poor, beggars are almost unknown. Please remember that any disapproving statements regarding President Mugabe or criticisms of the regime must be avoided after your arrival in Zimbabwe. Despite a regime that is oppressive, our visit will help support the National Railways and their efforts at steam operation and it will contribute to their steam development programme. We will also contribute to preservation at the Bulawayo Railway Museum.
Of course, there are some difficulties caused by the dire economic situation and fuel is not easily available. Please note, that we cannot guarantee anything beyond our control such as delays to trains or in obtaining fuel. Fuel is available, but getting it can be time consuming.
It's not possible to guarantee a specific locomotive or train composition. It's not even possible to guarantee that all our planned activities can be executed as planned. Heavy delays for various reasons are common and can lead to cancellation of trains. We must admit that the Garratts are basically overhauled for shunting duties and it's almost a wonder that they have performed so well on our recent tours. But when you take a close look to the technical condition you'll agree that nothing can be guaranteed.
The visa for Zimbabwe will be issued at the airport. You have to pay 30 to 45 US$ (2007) for the single entry visa (depends on your Nationality). There is no Zimbabwean double entry visa requirement for our day trip to Livingstone in Zambia. However, you do need a visa for Zambia (issued at the border) which was 10 Dollars in 2007. If you want to come to Botswana you need a double entry visa for Zimbabwe. The visa fee is not included in the tour price.
In Hwange and Victoria Falls there is a small to medium risk of Malaria. Please take either a Malaria prophylaxis or use a mosquito net and long cloths in the evening. At the moment there are no rules for special vaccinations. Our travel in the dry season makes the risk quite small, but it pays to be safe.
For exchanging money it is recommended you use US$, £ or Euros. Inflation is a major problem for the local currency. On the black market exchange rates exceeded 1 Euro : 1,000,000 Zimbabwe Dollars in 2007. Credit cards are accepted in tourist places and big cities. Changing money on the black market can cause big trouble if officials become aware of it. It's better to avoid it.
We expect temperatures between about ten degrees Centigrade (in the early morning) and 30 degrees Centigrade (only in Vic Falls). Normally it's dry and sunny and very pleasant.
Registration period expires March 3rd, 2008.
Price
| | | |
| --- | --- | --- |
| Elephants on Rails – Garratts in Zimbabwe | from 31 participants | £2,570 |
| 23.06.2008 - 08.07.2008 | from 23 to 30 participants | £2,770 |
| | Single room surcharge | £520 |
| Botswana-Extension | from 5 participants | £425 |
| 06.07.2008 – 10.07.2008 | Single room surcharge | £140 |
We have made a block booking with South African Airways. If you want on of these seats your registration must have been done until February 1st, 2008. Later bookings will be accepted, but only as land only arrangements.
Minimum number of participants 23
Maximum number of participants: 38
The price includes:
Flight from London to Victoria Falls and Bulawayo to London
All transfers in Zimbabwe
All charter trains in Zimbabwe
All hotels including breakfast
Entrance fee for the national park in Zambia: Victoria Falls
Sundowner river cruise on the Zambezi river
Railway museum entrance fee in Bulawayo
Railway museum entrance fee in Livingstone
Photo permit for the NRZ
English and German speaking Guide, experienced in African travel and railway photography
Not included are:
Visas
Personal expenses like telephone, hotel mini bars, laundry service
"Tips" for local authorities, staff etc. (we expect somewhere between £40 and £80).
Entrance fees to the national parks in Zimbabwe: Victoria Falls and Rhodes Matopos Park
Lunch, dinner and beverages