Polish Narrow Gauge Steam in Golden Autumn
Narrow gauge steam in Poland 20/10 – 23/10/2017
Both, the 600 mm narrow gauge line in Znin and the 750 mm gauge line in Sroda, have a rural charm, especially in autumn, when the countryside becomes colourful. In their heydays, the autumn season was really busy, mainly due to the sugar beet trains, additional to the regular timetable running. In summer 2017, the Px48 from Sroda should return back to service, after a light overhaul. If the overhaul is not completed by mid-October, we'll stay another day on the lovely line at Znin.
Itinerary
| | |
| --- | --- |
| Date | Itinerary |
| 20.10. | The group will meet at the railway station of Gniezno in the late afternoon (around 18.00 hrs). If you wish, we can book you a train ticket from Berlin main station on the EC55 from Berlin main station to Gniezno. Charter bus to our accommodation in Wenecja (near Znin) |
| 21.10. | With an authentic charter freight train, hauled by the domestic Px38 805, we'll steam the line to Gasawa up and down twice, first in the morning and then in the afternoon. After our second arrival in Znin we'll perform some night pictures in the depot. Afterwards transfer by charter bus to our hotel in Sroda. |
| 22.10. | In the morning we'll have a charter freight train from Sroda to Zaniemysl and back. In the afternoon we'll cover the same line, but this time with an authentic looking passenger train consist. After we've returned to Sroda, we'll do some night photography in front of the loco shed in Sroda. Hotel in Sroda |
| 23.10. | We'll return home. From the hotel it's a short walk over to the station at Sroda. In Poznan you need to change the train if you want to travel to Berlin. The tickets can be booked for you by FarRail Tours. |
Line description
Znin, the former Zniner Kreisbahn (600 mm)
Except for seasonal tourist traffic, this once large railway network ceased regular operation in the mid 1990's. The first tourist train ran here as early as the late 1970's, so the railway is used to being frequented by tourists. Unfortunately, almost all the coaches have been rebuilt as colourful, large windowed or open tourist coaches having nothing in common with the regular trains, so we cannot use them for our train. Already, ten years ago, we chose four freight wagons from the still available ones to be overhauled for our photographic purposes. They were a flat wagon with bogies, a 4 wheel flat wagon, a 4 wheel open wagon and a 4 wheel covered wagon. Some of the wagons have since been freshly painted but are looking a bit weathered again. We'll travel in or on the freight wagons or in the serviceable green passenger coach. We'll change the train composition from time to time, but you should keep in mind that the number of serviceable wagons is limited.
Of the once 76 km line, there remains only 12 km, from Znin (Znin) to Gasawa (Gonsawa). Our locomotive will be Px38 805. This 0-8-0 is painted in black, as it used to be in its last years of regular use. It was painted green for a number of years while in tourist operation, as well as some years in regular service. We will do some adjustments to make it look like a real PKP engine again.
The museum of the railway is in Wenecja. We'll have some time to explore the extensive collection; the ticket price is included in the tour price. Virtually all locos there are painted green which was the common colour of a large part of the Polish steam loco fleet.
The line passes though rural countryside, mostly flat but with a few hilly parts. Large fields, little lakes, small forests and narrow roads are the surroundings of our line.
Sroda, the former Schrodaer Kreisbahn (now 750 mm gauge)
The originally meter gauge "Schrodaer Kreisbahn" had a total length of almost 100 km (without their standard gauge line system, which was operated by the company as well and sold some 80 years ago to the city of Poznan). The only surviving narrow gauge part is Sroda – Zaniemysl (Santomischel). On this 14 km long section we'll run two trains, one in the morning and one in the darkness. The morning train will be a narrow gauge freight train, comprising some different wagons including the obligatory guards van, where we'll put some emergency seats. In the afternoon/evening we'll have a passenger train with two coaches plus guards van. This was the arrangement in the last days under PKP operation, prior to 2000. As a point of interest, this was the last genuine steam operation of the Polish State Railway PKP, if you consider Wolsztyn to be a museum project with regular trains (which it was already at that time). We'll replace the current inscription on the passenger coaches with the old PKP lettering to make the train perfect in detail. Unlike the other lines, Sroda still has some freight cars which only need a brief inspection before they can be used again.
The line is almost unchanged since the last PKP trains ran on it. Countryside highlights are not available here, so we'll use the moody twilight and the early morning light. Morning light, of course, only if there is any – October can be grey, wet and with dim light. But October can also come with night frost, moody morning mist and low sun.
Small Print
The tour is designed for the lover of authentic narrow gauge steam trains. Our accommodation in Znin is simple but clean and quiet; it has no spa or fitness centre. It's a newly refurbished building which can be rated as a youth hostel. We've booked the whole building, so there won't be any guests other than us. The accommodation in Sroda is a proper three star hotel.
Poland is a country of the European Union. Following a deep recession, the economy is now growing strongly, even during the recent worldwide recession. However, the condition of the roads and railways leaves something to be desired occasionally. Traffic may follow different rules from those you are used to. The official language is Polish, and the younger population often has a decent command of English.
Petty crime such as theft or pick-pocketing is no worse than in other European countries. Nevertheless, you would be well advised to keep a close eye on your photo equipment, as always. Our hostel/hotel can be considered as very secure.
Please be considerate to others when taking pictures since all participants want to bring home high quality shots. Please do not wear high-visibility jackets etc. You should wear strong shoes. To make this tour successful for you, you should bring a tripod. We will take some night shots, so please be prepared.
We've arranged breakfast (early in the morning) and dinner on the 20th of October, which are included in the tour price.
Entry into Poland requires a valid ID card for inhabitants of Schengen states, all others need a passport (but for most countries no visa is required).
Electricity (220V, 50 Hz) is available in our accommodation, power cuts are very uncommon. You may need an adaptor for the sockets (they have a special safety pin in the centre of the socket). Mobile phone coverage is very good. Poland uses normal European GSM standards.
Znin has only one serviceable Px38, like Sroda which also has only one Px48 steam locomotive. As there is no spare, technical problems may put us in a situation where we can't offer the proposed steam train. There is a second serviceable steam loco in Znin, a 0-6-0 type "Las". This type of locomotive was in use mainly for shunting and serving the sugar mill in Znin, but rarely on the line. In the case of a serious problem with the Px38, we may need to use this locomotive as there is no other substitute. In addition you need to consider that the condition of the railway track is, sometimes, very poor. Derailments may occur. Hence we cannot guarantee anything. We'll use wagons which may not have been moved for many years in some cases except on previous charter train events. We might have to sort out problems which prevent an early start as planned or the use of a certain type of wagon. Please be prepared that not everything will run as ordered. However, you can be sure that we'll get a decent amount of good shots even if the railway fails to deliver on some points. Any compensation, financially or otherwise, is not possible in any circumstance.
Please bear in mind that transportation in Poland may partly fall short of the newest EU and North American safety standards. Always use common sense when crossing roads and railway tracks. Neither FarRail Tours nor the railways can be held responsible and will not accept any liability whatsoever in the case of any accident, damage or delay. We suggest you take out a comprehensive overseas accident and health insurance policy.
The tour starts at Gniezno (standard gauge) railway station and ends in Sroda standard gauge station. However, I will guide the tour from and to Berlin Hauptbahnhof (central station). You can join the tour in Berlin, Gniezno or fly to Poznan and hire a car there.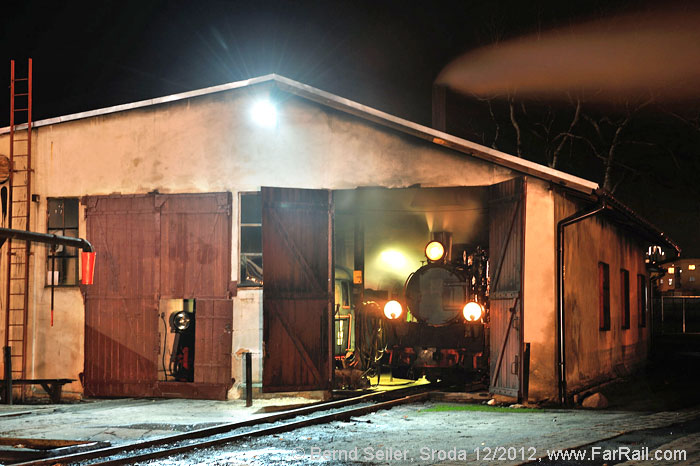 Price
Poland
Narrow Gauge Steam in Poland
18 to 25 participants
£360
20.10.2017 – 23.10.2017
11 to 17 participants
£410
Single room surcharge
£70
Registration Deadline: 20.07.2017
The price includes:
Transfers from Gniezno main station to Wenecja, Znin and Sroda
Hotels and guest houses
Three times breakfast and dinner on October 20th
Special trains according to the itinerary
Entrance fee for the museum in Wenecja
English speaking guide from/to Berlin Hauptbahnhof
Polish translator
Not included are
Lunch, partly dinner, beverages
Expenses of a personal character (laundry, telephone etc.)
Tips for railway staff and bus drivers (will be collected on site, please expect some £25)