American Steam and Diesel in the Philippines
The Philippines: 17.01. – 28.01.2008
La Carlota will remove all tracks until September 2007, that's why we needed to revise the itinerary.
Detailed information about the lines and locomotives you'll find here (2007) and here (2006).
After the success of the Philippines tour in 2007 some of the participants have persuaded me to do it again. I took some persuading that this was the right thing to do because the mañana approach which the Filipinos adopt doesn't make for easy planning. But … the friendly people, the lovely railways and their cute engines are really special and it would be wonderful to experience them again! So here it is, the second steam- (and American diesel-) focussed trip to the Philippines. We expect to see two steam locomotives in service. We have chartered 100%-authentic trains - 100%-authentic because we'll just take over everyday working trains which would otherwise be diesel-hauled.
The once-extensive network of sugar cane railways has been gradually cut back over the years and now most of the sugar mills have stopped using railway transport completely. Before the last tracks are lifted we plan to visit three of the railways. On one system it is still possible to bring the beautiful steam locomotives back to life. We'll charter these veterans, now more than 80 years old.
Itinerary
| | |
| --- | --- |
| Date | Itinerary |
| 17.01. | Flight from Europe to Manila (for those who fly on 16th we'll arrange a hotel in Bacolod) |
| 18.01. | Arrival in Manila, connecting flight to Dumaguete, hotel Dumaguete |
| 19.01. | Visit to the diesel operated railways of the sugar mill of Bais. They have interesting field lines with bridges, mountains in the backdrop and a line to a harbour where trains run over a mole. Hotel in Dumaguete. |
| 20.01. | Today we'll visit some reminders of a great narrow gauge past on Negros. We'll start with a bus ride along the shore to San Carlos, where a Baldwin 0-6-0 is on display. We continue to Sagay City, home of the famous no.7, the large Mallet of the old Insular Lumber Co. We continue to Lopez, where two Shay geared articulated locomotives still survive. Lopez have just started building a sugar industry museum and if this is finished of course we'll visit it as well. Next stop is Victorias where one Baldwin steam loco is on display. Along the shore we'll continue to our hotel in Bacolod, where we'll stay for the rest of the tour. |
| 21.01. | Visit to the BISCOM sugar mill in Binalbagan. They still have a small operation with up to five diesels, and in 2007 still had two dumped steam locos. In the evening we'll return to Bacolod. Hotel in Bacolod. |
| 22.01. | Now we'll start with steam! In the early morning we'll head to the well know Hawaiian-Philippine sugar mill, 22 km north of Bacolod. One locomotive (no. 5 or no.7) will be in steam at the mill. We'll ride with the steam locomotive into the cane fields. Here we'll take over a loaded sugar train and bring it back to the sugar mill. In the afternoon we'll start around 14 hrs with a train of empties for the fields again. Here we'll take over another loaded train and haul it to the mill. Ten loaded wagons should be possible for our locomotive. |
| 23.01. | Our next steam day! Very early in the morning our steam locomotive will take us out to the fields of the Central Hawaiian-Philippine to return with a loaded train. In the late morning we'll visit the dumped locos (stored in a shed). In the afternoon we'll go into the fields again to take over another loaded train, returning to the mill around sunset. |
| 24.01. | Another day in the cane fields at Hawaiian-Philippine. Again we'll have a morning and an evening train. In the late morning we'll ride on the pedal trolleys on the harbour branch. |
| 25.01. | We'll use both locomotives of Hawaiian-Philippine today, the black and the blue one. Again we'll have a morning and an evening train. In the late morning we'll ride on the pedal trolleys on the harbour branch. Hotel in Bacolod. |
| 26.01. | Another complete steam day in the fields of Hawaiian-Philippine. |
| 27.01. | Last day in Bacolod! In the morning we'll visit three plinthed steam locos here. Around noon we'll travel 37 km south to reach La Carlota sugar mill. There are two plinthed steam locos here and several more dumped in the depot. We have ordered a permit to visit the mill to see the milling process and learn how sugar cane becomes refined, white sugar. They still have three stationary steam engines in use. We'll see the serviceable loco no. 106. No. 107 will be under heavy overhaul. Unfortunately there is no track left to operate the locomotives. In the evening we'll return to our hotel in Bacolod. |
| 28.01. | Return flight from Bacolod via Manila to Europe and America, arrival there in the late evening or next morning. |
Line Description
The Philippine islands like Negros and Luzon are of volcanic origin. Their landscape is famous for the volcanoes, beautiful beaches, palm trees and sugar cane plantations. Some of the sugar cane railways run very near to the mountains so that you can make nice shots with the volcanoes as a backdrop. In the flatter landscape areas there are some attractive bridges, banana bushes, palm trees and – of course – much sugar cane.
The small diesel locos are painted orange or white and green. They are mostly six wheelers delivered from the Plymouth works and, at BISCOM only, from General Electric in the USA. They sometimes operate trains with more than 30 wagons or cane trucks in the fields. The remaining industrial railways which we will visit all have a gauge of 3 feet (914 mm). From the main lines branches lead to the loading points in the plantations. Sometimes portable track is still used there. Tractors pull the four-wheel cane trucks on the rails mostly over special switches from the main line to the loading points in the fields.
In the harvest season trains run 24 hours each day except from Sunday afternoon to Monday afternoon. Most of the locomotives are supplied with radio sets so they can be located in the fields. We have the chance to ride the trains and stop them at photogenic positions, or we can chase them by bus on the rough tracks into the plantations. The trains are very slow, so we can take several pictures by chasing them, even on the bad roads.
In the mills at La Carlota (no. 106) and Hawaiian-Philippine (no's. 5 and 7) they still have steam locos in working condition. We will try to operate normal trains, just replacing diesel by steam. To get a maximum of pictures we will also charter a few trains, for instance in the best light when normally no trains are running. As La Carlota has closed all lines and removed until September 2007 we'll see their loco only in the mill yard.
Small Print
After some terrorist attacks on some southern islands (very far from Luzon and Negros) nothing happens in the Philippines without permits any more. Please do not wonder - even when we can show our permission letters – sometimes we have to pass some complicated security checks. These can sometimes last up to 15 minutes. After we have reached the fields with our trains everything will run without any hassle. Unfortunately free access to the mills is - unlike Indonesia - denied. But we have requested the permits we need. In 2007 we were able to tour the inside of the mill at La Carlota, the only mill with active stationary steam engines. A repeat visit is planned but can't be guaranteed.
The steam locos are used only for charter trains these days. Please remember that an 85 years old engine which has been out of use for a while may face some technical problems. In this case we need to remain patient. The railway staff are very good at improvisation and making on-the-spot repairs. They will resolve most of the problems in a short time. Because of bad weather or other technical problems some of the lines can become inoperable. Please understand that we cannot guarantee a certain line, departure or arrival time, number of wagons or a certain locomotive. The itinerary shows the details we have discussed with the sugar mills. This doesn't mean that everything will run perfectly, but we will do our best and it gives you a good idea of what we have planned. We try to get long trains behind our steam locomotives. On the one hand we want to have long trains, but on the other hand we don't want the locomotive to fail with an overload. The length of the trains depends also on the progress of the harvest. If the milling process stops due to technical reasons it is possible that no trains are running at all. In such a case we'll head for another mill.
Light conditions are tropical. The best light is between 06:30 and 09:00 am and in the afternoon around 15 to 17:45 hrs. We have planned our activities for these times. We will not have breakfast at 7.00 and leave the hotel at 8.00. If you have problems with an early morning call, outwit your mind: just put your clock two hours forward! So you'll get up at 6.30 instead of 5.00, sunrise is at 8 am and sunset at 8 pm. Wouldn't that be convenient ... Its actually easy to do when you fly such a long way, and you just adjust to a slightly different time zone.
Time doesn't matter in the Philippines. The schedule in our itinerary is only for your information. Sometimes the "early morning train" can leave the yard at sunset!
The temperatures are tropical. In the morning they rise quickly up to 30 degrees Centigrade and don't drop below 22 at night.
People are friendly and helpful. But, especially in the big cities like Manila, you should keep a careful eye on your belongings. Thefts are on "shopping tour"! Avoid going into the slums and certain districts during night.
For a long time, Negros had problems with rebels. These people operate from the remote mountains. In the recent years no incidents have been reported. Anyhow, for our security we will stop our activities after sunset. In the mills, on the main roads and in the villages you are safe also at night. Bacolod has a moderate crime rate, you can compare it with New York, not with Manila.
Electricity : 220 Volts, 50 Hz – sometimes blackouts can happen. The Mobile network is good. European mobile phones can be used, but, check roaming rates with your provider before using your mobile extensively.
Our hotels provide A/C, bath and toilet in the room. Charter buses represent the domestic standard. We'll not take one of the luxury A/C busses. These buses are not able to manage the unpaved roads in the fields. In addition it is not wise to take an A/C bus and then having to adjust to temperatures getting on and off several times. Most Europeans and North Americans who are not used to use an A/C day by will quickly catch a cold while travelling with A/C busses and jumping on and of 20 times a day. We will learn to stand the temperatures while taking pictures anyhow, so we can stand it in a bus as well. After a couple of days you'll be happy with this solution and feel cold when entering our hotel. Wear light clothes and a hat, drink sufficient water.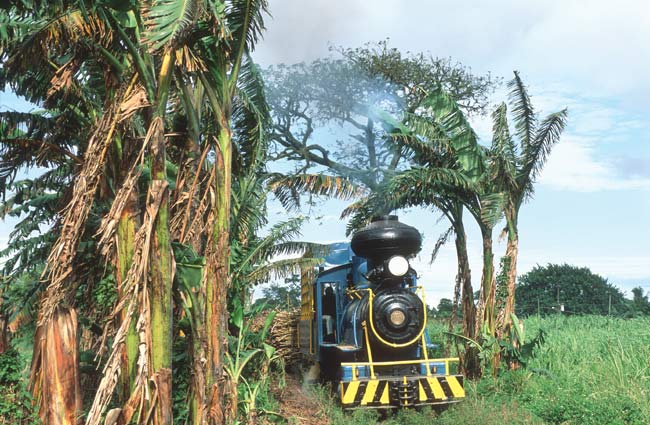 For citizens of the European Union no visa is needed. You need to carry a passport which valid at least for six month beyond the planned departure and must have at least one free page.
Please bear in mind that accommodation and transportation in the Philippines fall short of EU/US safety standards. Always use common sense when crossing roads and railway tracks. Please remember that being close to an active railway is risky, so please be careful. There are no platforms along the line and you may face is a ditch when getting off at a photo location. FarRail Tours cannot be held responsible and will not accept any liability whatsoever in the case of any accident or damage. We strongly suggest you take out a comprehensive overseas accident and health insurance policy.
Registration period ends September 30th, 2007
Price
| | | | |
| --- | --- | --- | --- |
| American Steam and Diesel in the Philippines | from 10 participants | £1,690 | $3,280 |
| 17.01. – 28.01.2008 | 6 to 9 participants | £1,970 | $3,790 |
| | Single room supplement | £105 | $200 |
Land only (tour from/to Manila): please deduct £550 or $1.050)
Minimum number of participants: 6
Maximum number of participants:25
The price includes:
Flight from Frankfurt/Main and London to Manila and back in economy class, probably KLM (please inquire for other airports)
Flights Manila – Negros and back in tourist class
Charter trains as described in the itinerary
All transfers in the Philippines
All hotels
Full board without drinks
Philippine and German Guides Bernd Seiler
Not included are:
Personal expenses like telephone, hotel mini bars, laundry service
Visa (if needed)
Beverages
Tips for local guide, loco crews, bus drivers etc. (please expect some 40 to 60 Euro).