Eritrea: Mallets in the mountains
Italian flair in Africa
18.3.2006 - 25.3.2006
Dear Railway Enthusiast,
You've probably been able to follow political developments in the Horn of Africa in the media. After reading the advice of the foreign office we contacted the German embassy in Asmara. Their reply was clear. Even though not all UN troops have been expelled, those remaining (mostly Indian and Kenyan) aren't able to guard the border or protect foreigners if a new border conflict does arise. The situation in Asmare changes by the hour. It was described as tense but quiet on the 17th Dec. and as very tense on the 21st. More and more military convoys are moving towards the border.
We wanted to offer you a adventurous film and photographic tour with many positive impressions. We can't guarantee this under the current circumstances. We would lose any insurance cover if a conflict did arise or even just a warning against travel was issued. There are also only a few flights to Eritrea so the return home in case of emergency couldn't be guaranteed.
All this forces us to move the tour to a more peaceful time. We are doing our best to offer you a alternative tour to a safe country, so any free time you may have already booked doesn't have to be wasted. Click here to see the alternative Cuba-tour.
The German Foreign Office states:
"The security situation along the Eritrean-Ethiopian border has worsened lately.
The UN Security Council has decided to pull US, Canadian and European staff serving in the peacekeeping mission in Eritrea out of the country on Thursday. Some 180 personnel, who are military observers and civilians, will be temporarily relocated to Ethiopia.
It can't be ruled out that these measures could lead to danger to foreign nationals. Non essential travel to Eritrea is not advisable."
Eritrea was occupied by Ethiopia for many years. After gaining independence in 1993, some of the former railway staff started to rebuild their totally destructed railway. Some of the mallets, built by Ansaldo (Italy) in 1938, were brought back to life. Also some of the small Breda built shunters, a diesel loco and on of the two diesel units have been put back into working order. These vintage machines are operated by similarly well aged railwaymen, and are used for specials on a line which can easily be compared with the lines in the Andes, the Semmering in Austria or the Darjeeling railway. Spectacular mountain sections with gradients of up to 3.5% were needed to enable the 950mm gauge line to gain 2400m height over a distance of 100kms. There are tunnels and stone viaducts. You can see deep gorges, steep rock faces and valleys, but only for a brief spell before you enter the next tunnel ...
Tour plan
Our itinerary does not show all planned events (as usual). Hans Hufnagel, our tour guide, visited the railways of Eritrea several times since the year 2000. According to his experience the itinerary below can be offered for sure even if a loco might be not able to work as planned. That's why you should consider to take more photographic material with you as you normally would do after study our tour plan.
Date
Tour plan
18.03.2006, Saturday
14.40 Line flight with Eritrean Airlines from Frankfurt/M. via Rome in the Eritrean capital Asmara.
19.03.2006
Arrival shortly after midnight in Asmara. Night in a good middle class hotel. Later in the morning a guided tour through the capital. In the afternoon our first special will be waiting at the station. Two B'B' mallets type 442 will doublehead our passenger train from Asmara to Arbaroba, without photo stops. There will be plenty of runpasts on the way back on the most spectacular and most winding part of the line.
Night in Asmara.
20.03.2006
The full day spent on a steam special from Asmara to Massawa on the Red See, will give us a good impression of the entire line. The down hill working will be tender first and without photo stops as there is no possibility to turn the engines in Massawa. But the stations and operational stops should yield some good scenes of the life around the railway line.
Night in Massawa
21.03.2006
In the morning we'll visit the oriental harbour town on foot. In the afternoon we'll photograph our special in the harbour of Massawa and on the dams which link the island to the mainland. One mallet will haul a freight special through the harbour scenery. We'll take the same train a bit further up the line to Dagoli, where there'll be further run pasts on a long viaduct. You can either ride the freight (no passenger coach) or chase the train by bus.
Night in Massawa.
22.03.2006
Full day steam special from Massawa through the dessert and further into the mountains to Ghinda. There is a second small depot with two operational B coupled tender locos type 202, which are only suitable for light shunting. We will use one of them for a small loco parade and a short run on the mainline. The bus will return us to Asmara where we'll spend the night.
23.03.2006
Early morning bus transfer back to Ghinda. We'll continue with our special over a multitude of bridges and tunnels from Ghinda to Asmara. There'll be many run pasts and photo stops.
Night in Asmara.
24.03.2006
Early morning we'll use an old Fiat diesel unit (called Litorina) to travel to Arbaroba, with many photo stops on the way. There a steam special, this time a mixed consisting of freight wagons and passenger coaches hauled by a mallet type 442, will cover the spectacular line to Asmara and back one last time.
We return to our hotel to prepare for the flight home. In the evening bus transfer to the airport and around midnight return with Eritrean Airlines via Rome to Frankfurt/Main.
25.03.2006 Saturday
Our tour ends around 06.00 at the Frankfurt airport.
Line description
The 950 mm line (some sources mention a different gauge in error) line runs from Massawa harbour through relative flat coastal land, with a dessert character up to Mai Atal (km 29). After Mai Atal several dry riverbeds are crossed by long stone arched viaducts before the assent becomes noticeable. Just before Ghinda (70 km, approx. 1000m above see level) there are the first tunnels. Then the really breathtaking part of the line starts, with many tunnels, bends, bridges and retaining walls. The summit is reached at 2430m above see level between Arbaroba and Asmara (km 118). After Asmara the line ran through slightly flatter country, but this part hasn't been rebuilt yet.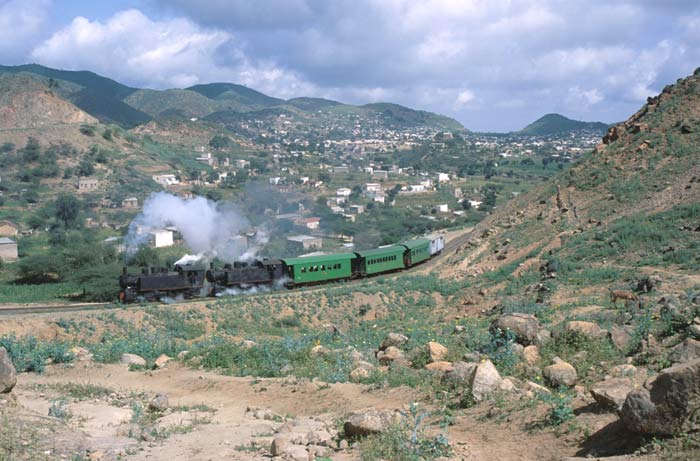 The railway, as already mentioned, was built through some difficult terrain. There are photo locations, which only have room for five or six photographers. In these cases we'll make several run pasts until everyone has got the shot. This also means that strict discipline is required. Nobody should get in the way of others, even if their location is supposedly better. If this is indeed the case other people will feel the same and the position of the shot can be altered. Please take note that the trains are hired for a specific period of time. This is naturally limited by the shadows of the mountains in early morning and late evening and by the harsh light at midday. We won't waste energy trying to get useful shots in the midday sun.
Please don't get carried away with the scenery, we are in the mountains. One wrong step can lead to a fall that can seriously endanger your health or even your life. If you take part in this tour you do so at your own risk, particularly when getting out of the train along the line and moving through the terrain. If you aren't up to a certain photo point, for example because the wine the night before was very nice, please stay in the train. There will be other opportunities that can be reached easier and will be just as good.
The railwaymen have already entertained several groups of railway enthusiasts and know what we want and how we want it. Even so, we are in Africa where time has a different meaning from our hurried world. We have to account for problems on a railway and with engines that are only used every few weeks. Delays are possible. And with a temperature of 32 degree Celsius in the shade there's no room for hectic when solving a problem. But there will always be a solution. Don't lose your temper or spoil other peoples fun if for example an injector doesn't behave itself. Even with the worst possible timekeeping you're guaranteed many very good pictures of a great mountain landscape.
Remarks
Eritrea is a country which has only recently gained independence. Before that, a civil war and independence war raged for decades. Even after that there was more fighting over the exact borders with Ethiopia. The country has not fully recovered from these long periods of war, there is widespread poverty. Unlike many other African countries this hasn't lead to high crime. Eritrea is one of the safest countries in the whole of Africa. The locals are very friendly. Even though tourism is still in it's infancy, our hotels are of a good standard (matching 2 or 3 star hotels in Germany) and are clean.
In Mai we expect temperatures of 20 degrees in Asmara and around 30 degrees in Massawa, where it barely cools down at night, unlike Asmare where the temperature can drop to 8 degree in the early morning. Rain is very unlikely, but the area near Ghinda often experiences fog, which can allow for some really atmospheric shots. Our hotel in Massawa has air conditioning.
The sum of rainfalls in Asmara and Massawa in March is the lowest during the year according to the weather statistics of many years. So one of the best months for travelling to Eritrea is March, followed by October. Anyhow, you should consider that this is only a statistics, some cloudy days are possible during the entire year.
Under 2,000 m height there is a risk of malaria the entire year. The best malaria prophylaxis is to avoid getting bitten by mosquitoes, so it's recommended you wear long clothing in the evening. Long clothing is also a cultural necessity as half of the population is Muslim (the other half Christian). Short trousers are unsuitable to wear in public even if it's really hot.
The electricity supply (220 Volts) is reasonably dependable, often you will need an adapter for your plugs. There is no mobile phone network. You can call abroad in the large towns via the telephone exchange. In Asmara and Massawa there is internet access.
For the rest you should take all the usual precautions for a stay in the tropics, if you prefer a trouble free trip to a hospital stay. Basis rules like only eating pealed and/or cooked food and not drinking tap water should be abided by. Beside the local food, which you really should give a try, many Italian influences remain from the colonial time. It's no problem to get a pizza in Asmara. You can order and buy lunch packets from our kind female attendants. Cold drinks can also be bought in the train for very reasonable prices.
Registration period expires January 17th, 2006
Later registrations will be accepted if flights and hotels are still available and the maximum number of participants hasn't been reached. It may however be necessary to increase the price to account for more expensive flights.
Prices
The prices already include tips.
| | | |
| --- | --- | --- |
| Eritrea: Mallets in the mountains | 18 to 32 participants | 2.340 Euro |
| 18. - 25.3.2006 | Single room supplement | 102 Euro |
Minimum no. of participants: 18
Maximum no. of participants: 32
The price includes:
Flight Frankfurt/Main - Asmara (please inquire about other departure airports)
all transfers in Eritrea
all hotels
Breakfast
German guide (Hans Hufnagel and Bernd Seiler, German, English and French speaking; flights without guides)
Visa for Eritrea
All tips
Not included:
Departure tax in Eritrea, at the moment (mid 2005) 20 US-$
personal expenses, like telephone, bar service, laundry service
Meals, besides the breakfast
Above prices are based on specific bookings with the respective airlines, which have to be confirmed well in advance. Your early booking is hence appreciated
This tour is organised in co-operation with Intra Express, Berlin.
All pictures by: Hans Hufnagel