Winter Steam on the last Forestry Lines in China
Narrow Gauge Steam in China: 11.01. – 19.01.2014
In spring 2014 the track of the last two remaining forestry lines of China will be probably lifted. Hence this is one of your very last chances to experience a forestry line in a way they used to be over the last decades, entering the once deep forests of Heilongjiang and Inner Mongolia. Once you leave the starting point of these 762 mm gauge railways, you feel catapulted 30 years into the past. Among the little and, sometimes, remote villages it can get busy along the tracks during the winter. In winter many farmers earn some money bringing logs from the cutting areas to the loading points of the railways. They use sleighs and oxen to carry the logs, only in winter when they can't work in their field's.
Both forestry lines have been operated by diesels for many years, but both have kept a steam loco of the 0-8-0 class C2 serviceable. We'll use these at the head of authentic looking logging trains and recall the bygone era when this was a common mode of transport in many areas of north-east China; a time which has been over since the last logging train reached Weihe a few years ago.
In January, it's freezing cold in Heilongjiang with temperatures from minus ten to minus 30 degrees Centigrade being no exception. The steam exhaust of the little C2 locomotives then is phenomenal. When there is no wind the steam trail marks the way of the line for many hundreds of metres and will remain in the usually crystal clear air for many minutes.
It's probably the very last season for both of the lines. Because they couldn't finish the cutting allocation for 2013 both lines will see another, final logging season. In the spring they will lift the lines and the chapter of forestry lines in China will come to its final end.
With our charter trains we'll make pictures from the good old times possible again. You'll not be able to see the difference between our trains and the steam hauled logging trains of ten years ago. But you should wrap yourself well ...
You can book both trips, forestry lines and the winter steam spectacle, together, separately or in parts.
Itineray
| | |
| --- | --- |
| Date | Itinerary |
| 11.01. | Individual flight to Haerbin via Beijing, flights can be arranged by FarRail Tours |
| 12.01. | Meeting the group at the airport of Haerbin, Charter bus to Suileng, hotel in Suileng |
| 13.01. | Full day charter train with runpasts from Suileng probably to the log loading area near Jianxing at km 98 (class C2). Accommodation in a typical forest worker's house, sparsely equipped and catalogued by us as a "One Black Hole" accommodation. |
| 14.01. | Full day charter steam logging train probably from Jianxing back to Suileng. Hotel in Suileng. |
| 15.01. | Charter bus to Xinglongzhen, visit to the depot of the forestry line (Diesel), afternoon charter train probably from Xinglong to Daling with C2. Overnight our loco will be brought behind a diesel to Xinming or Liuhe. Hotel in Dongxing, category "One Black Hole" or zero stars. |
| 16.01. | Charter steam train on the logging railway of Xinglongzhen (C2). Charter bus to the site where our charter train will start from. We planned for the section Liuhe – Dongxing. Hotel in Dongxing. |
| 17.01. | Today we'll go to one of the remaining loading stations of Xinglongzhen, probably to Xinlicun. Steam train at the loading area and line pictures on the branch line to the loading yard Dongxing – Xinlicun. Hotel in Dongxing |
| 18.01. | Morning charter train probably from Dongxing to Zhouxiang with steam. In the afternoon we'll return via Xinglongzhen to Haerbin. For those who will leave us here: overnight train to Beijing, for those going over to the winter spectacle: overnight train to Tieling |
| 19.01. | Morning arrival in Beijing, bus to a hotel next to the airport to have a shower and later shuttle bus to the airport, return flight home, arrival in Europe in the same evening |
Line description
First of all, we are at the edge of a steam-free age, so some of the locations are merely a shadow of their former self but still worth a visit. However, we can't rule out that some of the lines on the list may have changed to diesel locomotives before we arrive or even closed down completely. Information is from spring 2013, months before we go to these sites. There is sometimes no substitute nearby if a line is dieselised or closed and we may have to cover many miles to reach the next steam location. This also applies for the forestry lines.
Forestry Railway Suileng
It's one of the Chinese miracles that this line is still alive. I've heard several shut-down dates, but none of them has materialised – so far. Although they established a small tourist business about a decade ago the future of this system is dark: the line only will see another logging season because they didn't finish off their allocation of trees to be logged in 2013. In spring 2014 the line will be shut and lifted.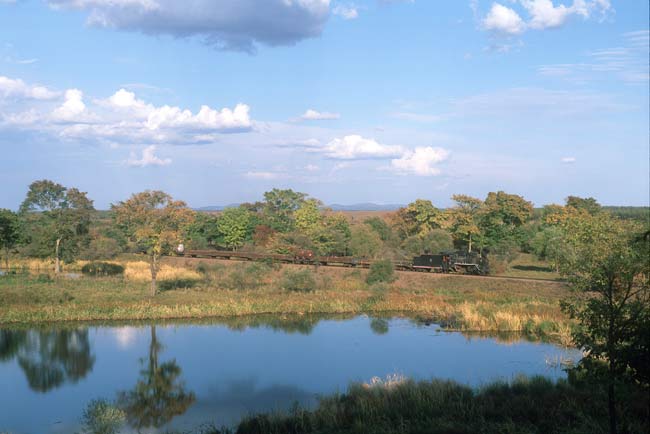 Our train will be hauled by a diesel loco. Only for the runpasts we'll use the steam loco. The water in the tender needs to be sufficient for both days as there is no water supply on the route. This will limit the number of possible runpasts somewhat, but we'll get many photos nevertheless. We'll travel in one of the tourist coaches which will be taken off the train for the runpasts.
This forestry railway, to the north of Haerbin and Suihua, was built under Japanese rule before the revolution.
The closures of parts of the railway started when the felling of trees ended (because no new trees had been planted the supplies were depleted) from 1997 in Dongguliu. The former mainline to Baer (km 124) was temporarily cut to Bayi and, after the closure of the branch to Dongguliu, the line was cut to Zhongleng near km 98. In 2000 the branches to the south of Xibeihe to Dongfeng and Wusi were closed. By 2001 the lines from Wuji to Shitoushan, the network of Wuchang and several small branches like for example the one km long connection to a wood loading point to the west of Shitoushan (km 10 behind Liukesong) had been shut down. The branches to the loading points around Wuchang, Dongguliu, Wuyi, Dongfeng, Yuejin and Wusi have all been removed until now. Wood is only loaded in between Jianxing and Zhongleng for the last logging season. Limestone was loaded 4.1 km to the north of Yuejin until recently and sand was moved from the 2.5 km long branch to the south of Zhangjiawan.
The railway runs through swampy, flat land and reaches more hilly, partially wooded terrain near Xibeihe (km 79). There are no steep gradients which require double heading or banking.
Wood is moved from the middle of November to the middle of April. In the wood felling season there were 4 to 5 pairs of trains a day. A complete roundtrip took 10 to 12 hours. Until they stopped the service there were approx. two limestone trains a week, each with 25 wagons. In the steam age the log trains consisted of 25 to 30 wagons. Since dieselisation 30 wagons is standard. Sand was transported irregularly, with mostly short trains. When requested, other goods, like fertilizer and coal were transported. In the summer months tourists are moved to the Ruamin River in a specially prepared railcar, no.5, and a red passenger coach equipped with modern video equipment and modern windows. A 1.1km long branch line, which starts at km 71 has been specially built for this traffic.
With the first line closures and cuts in freight in 1997, diesels took over entirely. Only C2 no. 021 was stored as a "souvenir" and can still haul short specials despite its dire technical state. In the depot there is a further C2 (scrap condition), whose number is thought to be 202. Specials consist of a diesel, a red passenger coach (the one for local tourists), the steam engine and any wagons you request. At each photo stop the diesel and passenger coach are uncoupled. When you choose a photo stop, you should consider the fact that there is no possibility of taking water and the quantity in the tender has to last for the entire trip. Once the tender is empty, you've had your last run past.
C2 021 hasn't had any exam or major repair since 1997. It's close to a miracle that this machine can still move under its own steam. Of course it can't move many wagons. Boiler and cylinders leak here and there, so that you should expect the engine would sometimes be completely enveloped in its own steam. The left crank was broken and only fixed with a piece of steel wire. The injectors leak more valuable water than they actually inject. On its last trip, nobody believed the engine would make it to the end of the long tour. But she did make it. At the end of the two days tour, she could even move into the depot under her own steam.
Because Suileng will be closed in spring 2014 track maintenance has stopped almost completely and it can't be guaranteed that our loco will make it all the way without a derailment.
Forestry Railway Xinglongzhen
This is another forestry line which survived despite never ending rumours of its closure. But the logging season 2013/14 will be very certainly the last one for this line. They had a C2 for charter trains, but the condition of the rarely used loco got worse and worse so they stopped offering steam charter trains for some time. In 2012 however, the C2 had an overhaul and is now available again for a short time.
We will run an empty train towards the forest and a logging train from the forests towards Xinglongzhen. We can use steam only on some sections which are considered to be in a state that we can make it without frequent derailments. Usual logging trains are much longer than a special could be (trains used to have more than 20 wagons when steam was the only motive power on this line). But there were always shorter logging trains on the line as well.
The scenery is typical for a north Chinese forestry line. Do not expect tunnels or high viaducts, there are forests, rural villages and hills which make this line charming. The line has two horseshoe curves and two interesting bridges which we'll photograph. The forested and partly hilly area starts in Dongxing.
Because the line will be closed in spring 2014 track maintenance has stopped already. The shape of the line is very bad and doesn't allow our steam loco to go over the entire remaining part of the system. The middle part of the line is in a very bad condition and they can't guarantee that our steam loco will make it to Dongxing without several derailments. They will try ...
Small Print
The tour was planned in spring 2013. Although it's only a few months before we go to China it's not certain that all lines will still have steam. In the unlikely case one line will be dieselised or closed before we arrive, we will make different arrangements to see as much steam as possible.
We expect morning temperature around minus ten to minus 30 degrees Centigrade in the north and up to zero degrees Centigrade in the afternoon in Beijing. The photo equipment usually has no problems with these temperatures, it's only the batteries. When not using them you should pack them in a warm place. We can warm up in our charter train or charter bus any time, so it's not too difficult to stand the hard winter with the right clothing.
The voltage in China is 220 Volts, 50 Hz. You'll need an adaptor for the power outlets. China uses the European mobile phone (GSM) standard.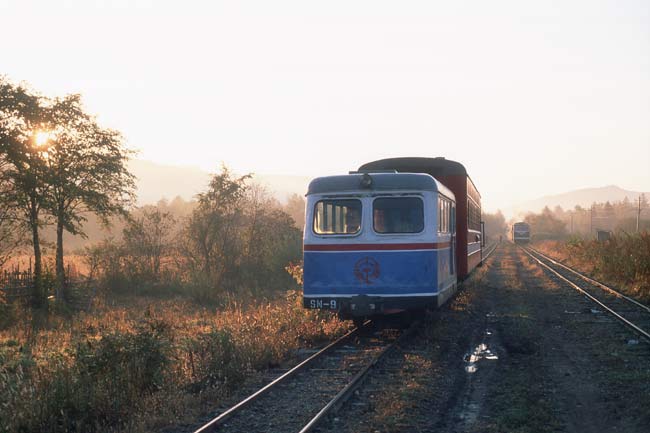 This tour is designed for both dedicated photographers and video film makers. Our philosophy is to provide opportunities to get that perfect sunrise shot rather than a time consuming 5-star breakfast buffet. Breakfast and lunch may be served as a packed meal. Dinner is planned to be a proper (Chinese) meal. Times for meals can vary. Beverages are not included in the tour price.
Hotels, charter buses and trains represent the standard of our host country, which may deviate from European or North American expectations. While we will endeavour to avoid long walks, some photo positions may require an extra but worthwhile effort.
The hotels used will be of medium class but in remote areas sometimes they are more basic. A hot shower and a private bath are available everywhere, except in the forests. Single rooms are available in all the hotels but not on overnight trains.
To give such places like forestry accommodations a star-rating, we extended the well know category system of how to rate a hotel's service and comfort to the bottom end. Zero stars would be too good. The accommodation in Jianxing on the Suileng system is another matter. Unless things have changed in a positive way since 2005 there are facilities outside but they can hardly be recommended. They have a simple washing room with cold water available. If you ask somebody about washing your hands he would probably point to a bowl with some water in – sometimes used by several others before. If you want something clean to wash in, you have to ask for fresh water or do it as the locals do – go to the river! The accommodation and the bedding might not be very clean. So you should bring a towel to put under your head or a light linen sleeping bag or sheet. With this equipment you can easily stand a night in circumstances that the locals have to use all their lives. The accommodation in Jianxing is rated by us as "one black hole". Lixin on the line of Huanan was rated as a three black hole accommodation. We used to use this quite often, and it didn't harm us. This time we'll not stay in Lixin, so nothing to fear! By the way, from four black holes onwards you would have to share your bed with small animals you might not appreciate. But for sure, this category is not on offer on FarRail trips. More seriously, it is very basic, but acceptable for most travellers and the rewards of being so close to the railway are wonderful. We'll sleep on Kangs, these are sleeping platforms with a built in stove, so they are warm and quite comfortable. You'll get some covers to put on the stove to soften it a bit. Most of the participants on other trips who have used this kind of a bed have been really surprised how well they slept! No one will remember another faceless three star hotel in a medium sized city, but when you're staying in the total tranquillity of the forests, sleeping on a well heated stove it's a memorable experience.
The overnight train rides are booked in soft sleeper class (four berth compartments). As the reservation system in China is a typical quota system where the station of origin typically gets an allotment of 50 % of the available tickets, it is not guaranteed that we can get soft sleeper tickets for all our rides. In such cases we'll use hard sleeper class, which, however, is not as hard as the name suggests. Hard sleeper compartments are open and normally comprise six berths.
Hygienic and environmental standards in China do not conform to Central European, Australian or North American expectations. Carrying some toiletries in your photo bag is hence advisable. Please bear in mind that accommodation and transportation in China falls short of EU/US safety standards. Always use common sense when crossing roads and railway tracks. FarRail Tours cannot be held responsible and will not accept any liability whatsoever in the case of any accident or damage. We suggest you take out a comprehensive overseas accident and health insurance policy.
Price
While booking your international flight please also book the connecting flight to Haerbin. Booking a through ticket is much cheaper compared to two separate tickets (one to Beijing and another one from Beijing to Haerbin). If you need help, FarRail Tours can book an appropriate flight for you. In any case you need to pick up your luggage in Beijing and check it in again. This procedure is for customs. You need to do it even if you already hold your boarding pass for the Beijing - Haerbin leg.
China
The Very Last Logging Trains on Forestry Lines
15 to 25 participants
£2,520
11.01.2014 – 19.01.2014
Single room surcharge
£120
Registration Deadline: 31.10.2013
Both logging lines will not be used this winter!
The price includes:
All transfers in China
All hotels and guesthouses
Full board (except beverages)
All airport taxes and fees
Chinese and European tour guides (flights are unguided)
Not included are:
Flight to Beijing/Haerbin
Beverages
Personal expenses like telephone, bar services, laundry service
Visa
Tips for Chinese guides, bus drivers etc. (please calculate with some £8 per day)
---