Winter Spectacle: Steam in China
Winter Steam in China 02.12. - 20.12.2009
It's getting tight for steam enthusiasts, even in China, so this year we'll run our big annual winter steam spectacle tour earlier, in December 2009. No-one knows what the future will bring except that it will be less and less steam, although China is still the best location for real steam action.
On this tour you'll experience:
Mountain high steam exhaust in deep blue winter air
More than 25 steam locos in service in Sandaoling, in and around the open cast mine
Classic Passenger steam trains in Nanpiao and Diaobingshan
A very active mine system with about a dozen steam locos in use
The scenery on these lines is quite varied. The deep open cast mine of Sandaoling offers spectacular climbs on steep gradients, and probably banked trains in moon-like scenery. Other lines have steep gradients in the loess mountains, semi-desert character, rural agricultural sights, grimy industrial spots or nice mountainous character.
Of course, this might not be the last winter tour ever, but the variety of locations will never be the same.
Itinerary
| | |
| --- | --- |
| Date | Itinerary |
| 02.12. | Flight from Berlin to Beijing with HU 490 dep. 19.30 hrs, connection flights to Berlin can be booked by FarRail Tours |
| 03.12. | 11.40 noon arrival in Beijing, continue with HU 7145 to Wulumuqi (Urumqi) 13.45 - 17.40 hrs, charter bus to the railway station, continue by overnight train N882 to Hami, departure Wulumuqi 23.38 hrs |
| 04.12. | 08.00 hrs arrival in Hami, by charter bus to Sandaoling, visit to the open cast mine of Sandaoling (JS, SY), hotel in Sandaoling |
| 05.12. | Visit to the open cast mine of Sandaoling, hotel in Sandaoling |
| 06.12. | Santa Claus ... no, another visit to the open cast mine of Sandaoling, in the evening we'll continue to Hami. Hotel in Hami |
| 07.12. | Visit to the 36 km JS-operated branch line Yamansu (JS), hotel in Hami |
| 08.12. | Visit to Yamansu, linesiding along the desert line, in the evening we'll return to Hami and continue by overnight train T296 to Lanzhou, dep. 21.14 hrs |
| 09.12. | 11.38 hrs arrival Lanzhou, continue by charter bus to Baiyin (SY), linesiding along the line into the loess mountains, Hotel Baiyin |
| 10.12. | Visit to the depot of Baiyin and linesiding, Hotel Baiyin |
| 11.12. | Linesiding along the loess mountain line of Baiyin, in the evening we'll take train 1718/1719 (only hard sleeper available) to Wuhai Xi, departure from Baiyin Xi 21.16 hrs. |
| 12.12. | 06.14 hrs arrival in Wuhai Xi. By charter bus we'll continue to the JS-operated mine system of Gongwusu (JS, SY), in the afternoon we'll continue to Yinchuan airport and take flight HU 7234 to Beijing, 18.30 – 20.10 hrs. Charter bus to Beijing main station and board train K19 at 23.00 hrs |
| 13.12. | 05.59 arrival Jinzhou, charter bus to Nanpiao, visit to the mine systems of Nanpiao (SY), hotel in Xiamiaozi |
| 14.12. | Visit to the mine system of Nanpiao, evening continue by bus Fuxin, hotel in Fuxin |
| 15.12. | Visit to the mine railway of Fuxin, evening continue to Diaobingshan (SY) (formerly Tiefa), hotel in Diaobingshan |
| 16.12. | Linesiding around Diaobingshan and visit to the depot, Hotel Diaobingshan |
| 17.12. | Linesiding around Diaobingshan, evening continue by charter bus to Meihekou, Hotel Meihekou |
| 18.12. | Linesiding along the coal mine line of Meihekou (SY), Hotel Meihekou |
| 19.12. | Linesiding along Meihekou's coal mine line, in the afternoon we'll go to Shenyang Bei to board overnight train K54, departure 21.25 hrs |
| 20.12. | 07.25 hrs arrival in Beijing, charter bus to a hotel near the airport, breakfast and return flight, departure 13.30 hrs, arrival in Berlin 16.55 hrs. Connection flight to your final destination possible. |
Line description
Many railway enthusiasts don't consider a visit to Sandaoling because it is far away from other steam lines and almost all trains in the pit are pushed. But this is only half of the truth. Of course there are hauled trains as well. We know where they are and will visit these places in a moon-shaped countryside. The given name of our local guide (necessary because Sandaoling is a restricted area where you still need an aliens travel permit) can be translated as "Moonflower". This says a lot about the countryside. The line from the state railway to the open cast mine (where trains are hauled chimney first and often assisted by a banker) is really steep and trains usually struggle. Unfortunately they want to acquire diesels for this line soon. It cannot be guaranteed that they'll still be using steam in December. The latest date for dieselisation which was announced was January 2010.
The pushed trains in the open cast pit are "push-pull" trains with a small signal wagon at the end of each train. With semaphores on the roof of these cabooses the loco driver gets the signal forward. This is a very unusual operation pattern in China and well worth photographing. Sunsets in Sandaoling can be amazing as well. There are quite a lot of reasons to go there, but the main reason is that normally there are more than 30 JS working in the area! Where else in the world can you find such a concentration of steam motive power?
South-east of Hami, in Shankou, a 36 km long branch line leaves the main line Wulumuqi – Lanzhou towards Yamansu. In Yamansu you'll find an open cast mine (ore) which is served by trucks. The ore will be loaded on the railway in the small station of Yamansu. The local depot serves two JS, some others are dumped out of use. The triangle is not used to turn the locomotives, so the daily pair of trains to Shankou are hauled tender first while the southbound trains run chimney first. The line passes a semi-desert. Especially close to Shankou are some interesting spots. Most parts of the line are not accessible by road, so we'll charter 4wd cars to get access to the photo positions. Even for tender first trains there are some reasonable positions like the steep gradient just beyond Yamansu. The recently reported problems with the local police are well known to us. We have arranged an official permit to visit the depot.
Baiyin is probably the last real challenge for the class SY in the mountains. Besides industrial locations, you have the only known line into the loess mountains which is still steam operated. Baiyin is close to the Yellow River and the typical loess mountain countryside is everywhere around. This line offers it all: green, traditional passenger trains, steep gradients with freight trains struggling up the line, and mountain scenery. This is one of the most beautiful lines in China that still sees regular steam service. The little workshop is able to carry out overhauls. We'll visit it, of course. On request they said that steam use will be sure to continue until May 2009. However, due to the dire economic situation they cancelled their diesel order. The prospects for the future are uncertain. Because the company still earns good money from their products (which includes silver) they are financially capably of buying a batch of diesels whenever they which to do so.
Gongwusu once had an open cast mine which was served by steam trains. Nowadays it's a shadow of its former self, using just two steam locomotives for shunting from the mine's yard to the China Railway interchange yard and serving a deep mine a few km outside of Gongwusu. One of the locomotives in use will be a JS, the second might be a JS or an SY. The locos have high front lamps which make them look different from their class mates. The line to the deep mine would offer some photographic potential, unfortunately there are only a very few movements along this line. Most traffic is on the short branch to the China Railway interchange yard. By the way, on Google Earth you can see the remaining lines, the closed open cast mine and even the two locomotives under steam.
The coal mines around Nanpiao (SY) are linked by two standard gauge lines. In early 2009, steam was still in use on these lines. Two to four BJ class diesels (also quite rare now) disturb the SY action. However, there are still sufficient steam hauled trains to make some nice shots. Nanpiao is surrounded by very interesting mountainous countryside. There are steep gradients, two long bridges and sections of free line as well as industrial backdrops. The steam powered passenger trains in the early morning and in the late afternoon are especially interesting for photography. The company are wanting to purchase further diesel locomotives second hand so it may be possible that this nice system will be completely dieselised soon. So far they are sticking to their steam locos as they have insufficient funds to purchase the diesels. However, it might be possible that all services have been taken over by diesels before we arrive. In this case we'll probably replace Nanpiao with Diaobingshan.
Fuxin has an operation of about a dozen SYs, but several diesels have arrived already. There are shots with grim industrial and mine backdrops possible. The daily line up at the shift change is a sight in itself. Many of the small houses along the lines have been demolished and replaced by modern buildings now but there are still positions left which are worth pointing the camera at.
In early 2009 we still found a dozen SYs under steam, about eight of them in line service. Others would call this a Mega Steam Gala ... It's just a glimpse of what it has been, but even this little part is such a powerful playground for photographers and video film makers that there is hardly any competition from Europe. The density of possible exciting shots per square inch are similar to what you can find in Europe per square mile!
Diaobingshan, the former Tiefa, has two to three locomotives in use for passenger services. There are quite a lot of passenger trains each day and besides the rather flat countryside there are superb shots possible in the station at Diaobingshan, where up to three passenger trains, all steam hauled, start within 25 minutes. Passengers bustling along the platforms and over the pedestrian bridge which spans over the platforms, the steam crane filling the tender of an SY and flowers giving you a colourful foreground. Besides this there are shots in rural countryside possible, one of the best positions is a church at the end of one of the four lines. Some interesting bridges can be found as well. The line to Faku/Dongguangtun is the best of all four lines. It passes through a hilly countryside and even offers a tunnel. The line usually sees diesel trains only, but for our group we'll replace diesel by steam.
At Meihekou a mine railway connects several deep mines. In addition they have a connection to the state railway. The line passes open fields, mines and photogenic, typical north Chinese villages. Gradients against chimney first trains offer several good positions. While freight trains are usually diesel hauled, the four pairs of passenger trains were still steam operated in the winter season 2008/2009. The passengers consists of the classic green YZ coaches. One SY is sufficient to handle all eight daily passenger trains.
Small Print
Because of the good connection and the offered price we'll fly with Hainan Airlines on their direct service Berlin – Beijing. The times of the flight are (April 2009):
HU 490 Berlin Tegel – Beijing 19.30 – 11.40
HU 7145 Beijing - Wulumuqi 13.45 – 17.40
HU 489 Beijing – Berlin Tegel 13.30 – 16.55
The tour was planned with short connection times. We didn't create a plan B and C in case we miss one of the connections. In such a case we'll find – as always – a solution on the spot. If you tend to get nervous about a missed train connection please do not book this tour.
The tour was planned in April 2009. In the time between when the itinerary was published and our departure date, for China, there may be changes required due to time table changes or the dieselisation of some of our lines. The final update to our tour will be made about a week before we leave for China.
In Fuxin, Diaobingshan and Nanpiao we expect morning temperatures around minus 15 to 25 degrees Centigrade. The cold is dry and there is often no wind, so it's not really difficult to stand the climate. Further to the south, in Beijing, and in the west like Sandaoling, temperatures can be around plus five to minus ten degrees at noon. You need very good winter clothes as well as good batteries for your cameras. Packaged hand and foot warmers that can be placed in boots or pockets can be welcome on long days too. We recommend that you take Lithium batteries or Lithium-Ion rechargeable batteries. You can recharge batteries in all the hotels. Sometimes an adapter is necessary (always for UK visitors). On overnight trains there are only occasional working outlets available. The mobile phone service is compatible with the European standard. The coverage in China is amazingly good.
The hotels used will be of medium class. As the train reservation system in China is a typical quota system where the station of origin typically gets an allotment of more than 50 % of the available tickets, it is not guaranteed that we can get soft sleeper tickets for all overnight trains. Our other overnight train had to be booked in hard sleeper class, which, however, is not as hard as the name suggests. Hard sleeper compartments are open and normally comprise six berths. Hygienic and environmental standards in China often do not conform to European expectations. Carrying some toiletries in your photo bag is hence advisable.
Single rooms are not available on train rides.
Charter buses and trains represent the standard of our host country, which may deviate from European and North American expectations. While we will endeavour to avoid long walks, some photo positions may require an extra but worthwhile effort.
This tour is designed for both, dedicated photographers and video filmmakers. Our philosophy is to provide opportunities to get that perfect sunrise shot rather than take a time consuming 5-star breakfast buffet. On occasions lunch will be served as a packed meal or cancelled. In the evening we'll have time for meals which are usually sumptuous. Beverages are not included in the tour price. It is a good idea to take along some nutritious snacks in your camera bag, or perhaps some packaged instant soups to help keep warm. Hot water is usually available.
Please bear in mind that accommodation and transportation in China fall short of EU or US safety standards. Always use common sense when crossing roads and railway tracks. FarRail Tours cannot be held responsible, and will not accept any liability whatsoever in the case of any accident or damage. We suggest you take out a comprehensive overseas accident and health insurance policy. We also suggest carrying a small travel first aid kit.
Registration period ends September 1st 2009
Later registrations will be accepted if flights and hotels are still available. Flight prices may change. If you're not sure whether you can participate or not please announce your interest well in advance so that we can hold your place.
Price
China
Winter Spectacle
10 to 28 participants
£3,990
02.12.2009 – 20.12.2009
7 to 9 participants
£4,270
Single room surcharge
£360
Registration Deadline: 18.08.2009
You can book parts of the tour, if your wish. Land only prices (without flight to Beijing) are:
| | | |
| --- | --- | --- |
| 02.12. - 13.12.2009 | from 11 participants, incl. hotel in Beijing 12.-13.12. | £2.370 |
| | Single room supplement | £235 |
| 11.12. - 20.12.2009 | from 11 participants | £1.670 |
| | Single room supplement | £160 |
Part time bookings need to be announced in the remark field in the booking form.
Without flight to Beijing (land only): Please subtract £520 from the tour price.
The price includes:
Return flight Berlin - Beijing
Domestic flights
All transfers in China
All hotels in China
Full board except beverages
All airport fees and taxes
Chinese and European tour guide (flights are not guided)
Tips for Chinese guides, bus drivers etc.
Not included are:
Personal expenses like telephone, bar services, laundry service
Visa (please make your own arrangements for a visa)
Beverages
Above prices are based on specific bookings with the respective airlines, which have to be confirmed well in advance. Your early booking is hence essential.

DISCLAIMER

As a service to our UK-based clients FarRail Tours accepts and will continue to accept payments made out in Pound Sterling until further notice. However, please note that from January 28, 2009, all prices quoted in Pound Sterling are indicative only and are subject to change without prior notice. This measure was taken by FarRail Tours due to the unprecedented volatility in the international foreign exchange markets and its impact on the valuation of the Pound Sterling versus other major currencies, namely the Euro as FarRail Tours' accounting currency.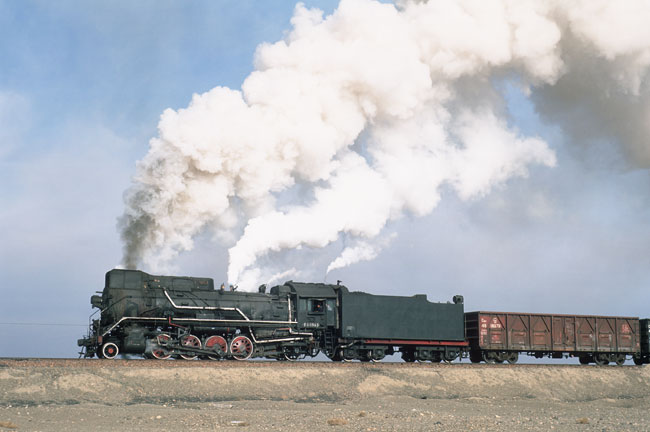 ---