Full Steam Ahead – 100 Steam Locos in Real Service in 16 Days
China: 16.09. - 03.10.2007
This might be one of your last chances to see a massive number of steam locomotives in just a few days. For all those who thought steam was dead, only preserved in museums, this tour is the proof, steam is still alive! But the clock is ticking, and with every tick a steam loco dies. Tick – another one dropped the fire. Originally we planned this tour for 2008, but time is running out quickly. Say good bye to the last dinosaurs of the age of industrialisation. Take a deep breath, full of steam and smoke, before the last steam clouds will disappear beyond the horizon.
This tour is made for the decent photographer and video film maker. It is designed for the maximum output of good results. We'll cover huge distances to get to the last highlights for steam enthusiasts. We tried hard to avoid domestic flights and could reduce their number to just one.
Autumn colours with chilly mornings and pleasant noon temperatures will give us the chance of outstanding pictures. We'll not only try to get as many locos as possible in front of our lenses, we'll make line shots as well.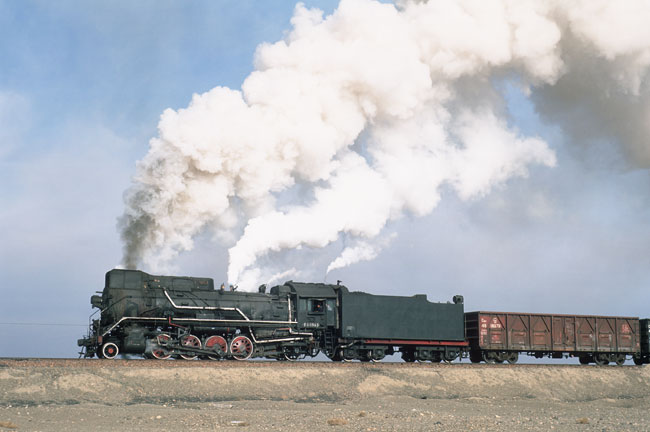 Itinerary
| | |
| --- | --- |
| Date | Itinerary |
| 16.09. | Flight to Beijing |
| 17.09. | Morning arrival in Beijing, connection flight to Hailaer CA 1135 17.10 hrs to 19.10 hrs (Boeing 737), continue by charter bus to Manzhouli (110 miles), hotel Manzhouli |
| 18.09. | Visit to the open cast mine of Zhalai Nuer (expected some 25 - 30 SYs), hotel Manzhouli |
| 19.09. | Visit to the open cast mine and the underground mines around Zhalai Nuer, hotel Manzhouli |
| 20.09. | Visit to the coal washery Dongfanghong, the depot Yunxiaochu and the workshop Jidianzongchang, overnight train 1302 to Tieling, departure Zhalai Nuer Xi 13.12 hrs |
| 21.09. | 7.55 hrs arrival in Tieling, continue by charter bus to Diaobingshan, visit to the coal mine system Tiefa (expected 4 SYs), in the evening continue to Fuxin, hotel Fuxin |
| 22.09. | Visit to the coal mine system of Fuxin (expected: 12 to 15 SYs), hotel Fuxin |
| 23.09. | Morning visit to the coal mine system of Fuxin, late morning transfer to Nanpiao, afternoon visit to Nanpiao (expected: 3 SY), hotel Nanpiao |
| 24.09. | Morning visit to Nanpiao, continue by train T12 from Jinzhou to Beijing, departure Jinzhou 11.31 hrs, arrival Beijing 18.17 hrs, continue by overnight train to Baotou departure 20.01 hrs |
| 25.09. | 08.36 arrival Baotou, visit to the steelworks of Baotou (expected 11 to 15 SYs), continue by overnight train 1717/1720 to Baiyin, departure 17.15 hrs |
| 26.09. | 06.44 hrs arrival Baiyin, visit to the loess mountain line to Shenbutong (expected 6 SYs), hotel Baiyin |
| 27.09. | Visit to the loess mountain line to Shenbutong, visit to the depot of Baiyin, around noon continue by charter bus to Lanzhou, overnight train T295, departure 16.27 hrs |
| 28.09. | Arrival Hami 08.56 hrs, continue by charter jeeps to Sandaoling, visit to the open cast mine of Sandaoling (expected some 25 - 30 JS and SYs), hotel Sandaoling |
| 29.09. | Visit to the open cast mine of Sandaoling, overnight train T54/T51 from Hami to Lanzhou, departure 21.49 hrs |
| 30.09. | Aboard of train T54/51 |
| 01.10. | 05.04 arrival Zhengzhou, by charter bus to Pingdingshan, line siding around Pingdingshan (expected 15 – 20 SYs, JS and QJs), hotel Pingdingshan |
| 02.10. | Visit to the depot of Pingdingshan, line siding along the lines of Pingdingshan, overnight train K180 to Beijing, departure 22.16 hrs |
| 03.10. | 06.04 hrs arrival Beijing, hotel for having a shower, return flight to Europe/America |
Line descriptions
To see 100 steam locomotives in just 16 days is not easy anymore. As the busy steam system at Jixi fades away in May 2007 we needed to find other destinations which are still worth a visit. The itinerary is jam-packed with steam locations which will probably stay alive until Autumn 2007. We expect to see these numbers of locomotives at a minimum:
Zhalai Nuer 25 SYs
Tiefa 3 SYs
Fuxin 12 SYs
Nanpiao 3 SYs
Baotou 11 SYs
Baiyin 5 SYs
Sandoaoling 27 JS and 2 SYs
Pingdingshan 11 JS, 3 QJ, 1 SY
All together about 100 engines. We only count locomotives in steam. On recent visits we could see more locomotives than indicated here, so we think we are on "the safe side". However, there is no guarantee at all that it is still possible to see so many locomotives in just 16 days in 2007. But, the longer you wait, the less the chance to get this steam concentration in regular use. You can hardly beat this by visiting preserved steam operations.
Zhalai Nuer: Let me say it from a personal point of view: I have been there several times already – but as I have been there in January 2007 again, I couldn't stop saying: Fantastic! It's a unique experience to see ten locomotives at once, four of them hard working uphill. You can make such great shots here – and not only in the pit – that it makes me wonder why people think that after JiTong China isn't worth a visit any more. I'm sure you'll be excited by this operation, chimney first and tender first, steep uphill and through rural villages, mine backdrop and steam cranes, workshop and horse carts, there are uncountable opportunities for outstanding shots.
Tiefa has four locomotives in use for passenger services. There are quite a lot passenger trains each day and beside the rather flat countryside there are superb shots possible in the station at Diaobingshan, where three passenger trains, all steam hauled, start within 25 minutes. Passengers hustling along the platforms and over the pedestrian bridge which spans over the platforms, the steam crane fills the tender of an SY and flowers give you a colourful foreground. Besides this there are shots in rural countryside possible, one of the best positions is a church at the end of one of the four lines.
Fuxin has an operation of some 15 SYs, but one diesel has arrived already. There are shots with mine backdrops possible. The daily line up at the shift change, is a sight in itself. Many of the small houses along the lines have been demolished and replaced by modern buildings now but there are still positions left which are worth pointing the camera at.
The coal mines around Nanpiao are linked by two standard gauge lines. In March 2007, steam was still in use on these lines. Two BJ class diesel (also quite rare now) disturbed the SY action. Anyhow, there are still sufficient steam hauled trains to make some nice shots. Nanpiao is surrounded by a mountainous countryside. There are steep gradients, two long bridges and sections of free line as well as industrial backdrops. The steam powered passenger trains in the early morning and in the late afternoon are especially of interest for photography.
Baotou had still 15 SYs in service in January 2007. The most interesting operations are the furnace blast area shunts (usually tender first), the depot and – of course – the slag tip (chimney first) where hot, red slag will be tipped about every 30 minutes. Environment protection is almost unknown – so you can see an industrial site which could have been in central Europe some 100 years ago.
Baiyin is another matter. Beside the industrial places you have the only known line into the loess mountains which is still steam operated. And this line offers it all: passenger trains in the best morning light, steep gradients with freight trains struggling up and mountain scenery. This is one of the most beautiful lines in China which sees regular steam service. Although we can capture all six locomotives here within one day we add another morning to get more pictures from the scenic and steep line.
Many railway enthusiasts don't consider a visit to Sandaoling because it is far away from other steam lines and almost all trains in the pit are pushed. But this is only half of the truth. Of course there are hauled trains as well. We know where they are and will visit these places in a moon-shaped countryside. The given name of our local guide (necessary because Sandaoling is a restricted area where you still need an aliens travel permit) can be translated as "Moonflower" This says a lot about the countryside. The line from the state railway to the open cast mine (where trains are hauled chimney first and often assisted by a banker) is really steep and trains usually struggle. The pushed trains in the open cast pit are "push-pull" trains with a small signal wagon at the end of each train. With semaphores on the roof of these cabooses the loco driver gets the signals forward. This is a very unusual operation pattern in China and well worth photographing. Sunsets in Sandaoling can be amazing as well. There are quite a lot of reasons to go there, but the main reason is that normally there are more than 30 JS working in the area! Where else in the world can you find such a concentration of steam motive power?
In January 2007, Pingdingshan, a mining area, had still five QJs in service. We expect to see still three of them in use. The coal mines are linked by several lines. Some of them passing the city and going steep uphill, others are flat and in the countryside while others offer some good potential. An early morning visit to the depot, when about ten locomotives will be served, is a must. The passenger trains of this system are steam hauled while among more than a dozen steam locos there are already five diesels. High noon in Pingdingshan as well.
Small Print
In Zhalai Nuer we expect morning temperatures around minus five degrees Centigrade. Further to the south, in Beijing, temperatures can be around plus five degrees Centigrade in the morning and 25 at noon while in central China you should be prepared to have more than 25 degrees Centigrade in the afternoon.
You can recharge batteries in all the hotels. An adapter is necessary. On overnight trains there are only occasional working power outlets available. The mobile phone service is compatible with the European standard. The coverage in China is amazingly good.
The hotels used will be of medium class. The train rides are booked in soft sleeper class (four berth compartments). As the reservation system in China is a typical quota system where the station of origin typically gets an allotment of 50 % of the available tickets, it is not guaranteed that we can get soft sleeper tickets for all our journies. In such cases we'll use hard sleeper class, which, however, is not as hard as the name suggests. Hard sleeper compartments are open and normally comprise six berths. Short daytime trains may have to be booked in hard seater class. Hygienic and environmental standards in China often do no conform to European or North American expectations. Carrying some toiletries in your photo bag is hence advisable.
Single rooms are not available on train rides.
Charter buses and trains represent the standard of our host country, which may deviate from European and North American expectations. While we will endeavour to avoid long walks, some photo positions may require an extra but worthwhile effort.
This tour is designed for both dedicated photographers and video filmmakers. Our philosophy is to provide opportunities to get that perfect sunrise shot rather than a time consuming 5-star breakfast buffet. On occasions lunch will be served as a packed meal. In the evening we'll have time for meals which are usually sumptuous. Beverages are not included in the tour price.
Please bear in mind that accommodation and transportation in China fall short of EU or US safety standards. Always use common sense when crossing roads and railway tracks. FarRail Tours cannot be held responsible, and will not accept any liability whatsoever in the case of any accident or damage. We suggest you take out a comprehensive overseas accident and health insurance policy.
On this tour we'll cover huge distances by train and domestic flights. Taking a good book with you is not a bad idea.
Registration period ends May 1st 2007
Later registrations will be accepted if flights and Hotels are still available. If you're not sure whether you can participate please announce your interest well in advance so that we can hold your place.
Price
| | | |
| --- | --- | --- |
| China: Full Steam Ahead | from 10 participants | £1,950 |
| 16.09.2007 to 03.10.2007 | Single room supplement | £170 |
Minimum number of participants 10
Maximum number of participants: 24
Without flight to Beijing (land only): Please subtract £440 from the tour price.
The price includes:
Flight from London, Manchester or Frankfurt/Main - Beijing (other ports of departure possible, please enquire)
All transfers in China
All hotels
Aliens Travel permit where required
Full board except beverages
All airport taxes
Chinese and European tour guide (flights are not guided)
Not included are:
Personal expenses like telephone, bar services, laundry service
Visa
Beverages
Tips for Chinese guides, bus drivers etc. (please expect some £40)
---