China's last Narrow Gauge Steam
China: 22.11. - 06/07.12.2006
Once upon a time in China more than 2,000 kilometres of narrow gauge lines were built to develop remote areas, forests, coal and ore mines and other industries. These days only seven narrow gauge lines with steam service remain in this huge country. Five out of the seven are allowed to make a visit to, the other two are a prison railway to transport prisoners and coal, and a line inside a steel works who's management doesn't allow visits. Among the five is one line, Huangjinggou, which is running on borrowed time. According to the manger they may close the line any week. And the rest of the lines have a certain future as well: their shutdown! So it's high noon for the lover of beautiful, steam operated narrow gauge lines!

On this tour we'll visit lines in the near-arctic northern part of China as well some lines in a tropical surrounding some 3,000 kilometres to the southwest. The railway operations are as different as the climatic conditions. From a forestry line which is only transporting coal these days and a clay railway, to a passenger line with the cutest, glassless and unlit four-wheel coaches, almost everything what creates the charm of narrow a gauge line is still present. There is still a line with steam hauled and banked trains over a summit, a reverse (switchback), tunnels, high (non-concrete!) viaducts and a crossing with a modern motorway. There are hundreds if not thousands of pleasant photographic opportunities.

The very last chance for filming and photographing a logging train in the Chinese forests (better to say what is called a forest after decades of ruthless deforestation) will be offered on one of the last remaining forest railways in northern China. The Suileng railway line was dieselised almost a decade ago, and only one steam loco was kept as "a souvenir". With this loco we'll haul a logging train for our group. This will be one of the very last opportunities to arrange such a logging train! Even if you would be willing to spend enormous sums, after the logging season from November 2006 to March 2007 you'd not be able to arrange such an event any more as the line will be lifted when the temperatures allow in spring 2007. So this is one of the last chances, and an opportunity not to be missed!
Itinerary
Date
Itinerary
22.11.
Departure from Europe to Beijing
23.11.
Morning arrival in Beijing, visit to the railway museum of Beijing, hotel for having a shower and dinner, overnight train K269, departure 21.08 hrs
24.11.
06.32 hrs arrival in Zhengzhou, charter bus to the narrow gauge line of the brickworks Xingyang, Evening continue to Mianchi, hotel Mianchi
25.11.
Charter bus for line siding along the narrow gauge line of Yinghao, hotel Mianchi
26.11.
Charter bus for line siding along the narrow gauge line of Yinghao, In the late afternoon continue to Sanmenxia, overnight train K385/388 to Chengdu (only hard sleeper available), departure 18.11 hrs
27.11.
13.50 hrs arrival Chengdu, continue by charter bus to Shibanxi. On the way we'll stop at the largest lying Buddha in Leshan, if time allows, hotel Qianwei
28.11.
Visit to the Shibanxi narrow gauge line, travelling on the train and linesiding by walking alongside (remote area without road access), return in the evening with the late afternoon passenger, continue by charter bus to Qianwei, hotel Qianwei
29.11.
Visit to the Shibanxi narrow gauge line again, travelling on the train and linesiding by walking alongside, return in the evening with the late afternoon passenger, hotel Qianwei
30.11.
Visit to Shibanxi once again for our last day there, travelling on the train and linesiding by walking alongside, return in the afternoon by passenger train and continue by charter bus to Weiyuan, hotel Weiyuan
01.12.
Visit to the Huangjinggou narrow gauge mining line (only one pair of trains a day, if not closed already in December 2006), afternoon return by charter bus to Chengdu, domestic flight to Changchun 14.10 - 18.40 hrs, continue by overnight train 2007, departure 21.20 hrs
02.12.
Arrival Jiamusi 07.57 hrs, charter bus to Huanan, linesiding along the narrow gauge line in the section Huanan - Tuoyaozi, hotel Huanan
03.12.
Line siding Huanan - Lixin, overnight in private houses in Lixin (category three black holes) Hotel Huanan for those who can't stand a night without facilities, see small print
04.12.
Line siding Huanan - Lixin, hotel for having a shower, evening by charter bus to Jiamusi, overnight train 4138, departure Jiamusi 20.55 hrs
Without Suileng extension
With Suileng extension
05.12.
Arrival Haerbin 06.02 hrs, breakfast, continue by express train T72, departure 07.30 hrs, arrival Beijing 19.13 hrs, charter bus to a hotel in Beijing
Arrival Haerbin 06.02 hrs, Charter bus to Suileng, charter train with a C2 steam locomotive on the forestry line Suileng, accommodation in the guest house of the forestry administration (category: one black hole)
06.12.
Return flight to Europe, arrival in the same evening
Return with our steam operated steam train to Suileng, charter bus to Haerbin, hotel in Haerbin
07.12.
Morning flight Haerbin - Beijing (arrival 08.20 hrs), continue to Europe, arrival in the same evening
Line description
All narrow gauge lines use a gauge of 762 mm and are served by C2 class 0-8-0s.
Shibanxi (Jiajang Coal Mine): This is the best known narrow gauge railway in southern China because of it fascinating train operation and beautiful landscape. The first four kilometres are electrified while the remaining very scenic 16 kms sees steam only. In the middle of the line is a reversal station. Several tunnels, rice paddies, cliffs, lush vegetation and rural villages offer the possibility for plenty of extraordinary pictures. There are four pairs of passenger trains every day, three of them during daylight. In addition, on the steam operated part of the line, you may see a pair of coal trains. These coal trains runs on demand. Usually there are three to five freight trains per week. The usual departure time is shortly before or just after the second passenger train in the best morning light. Although there is a very rough road, it's impossible to chase the trains by bus. So we'll walk along the line all day. Therefore we use the first train at 7 am to go to the summit station at Xianrenxiao. Travelling by train in the tiny, homemade passenger cars is an unforgettable experience. There is no glass in the windows or any kind of lamps in the wagons, just cheerful and friendly people. This experience alone is worth a visit to Shibanxi. From the summit station we will start to walk to the most exciting sites of this beautiful line. While taking pictures of the bypassing trains you can walk to Bagou, Caiziba, and Mifengyan. To return to our hotel in Qianwei we'll take the afternoon train to Yuejin, were our bus awaits us. The is no "group pressure", and after travelling along the line by train you can walk to your favourite position in this peaceful area on your own. The only thing you should keep in mind - do not miss the last passenger train back to our charter bus.
Locomotives are the electric class ZL14-7 and the well known steam locomotives of class C2.
There have been announced several dates for shut down this line. The current one, 2006, has been just extended to 2007. Anyhow, there is no time to loose!
The Huangjinggou narrow gauge line of passes through a beautiful scenic landscape. The line is short but has exciting photo spots on offer. Normally there is only one train per day in the morning, due to the coal mine in Huangjinggou nearly running out of coal. Recently they opened up a new mine, but of course without any railway connection. The line passes first through the "town" of Huangjinggou and heads down to the power plant, passing an impressive gorge over a fantastic high bridge with stone pillars. The line terminates near the power plant. Wagons are unloaded automatically, the loco uses the loop to run round the train and returns immediately with the empties uphill. A narrow road follows the line all the way and will give a good chance to chase the train with our charter bus.
Because of the deeply uneconomic situation of the line it is subject to shut down very soon. The operation lingers on a week to week basis. According to the boss of the line they want to find a "solution" by October 2006. A solution means, they want to widen the road in Huangjinggou which is already blocked by cars and buses. The railway passes through the centre of the town, right past the market and the trains disturb it going and coming back once, or a maximum of twice a day. Trucks would cause impossible traffic jams as well as disrupting the market constantly. So several times local politicians have refused to accept the idea of closing the railway. How long they'll be successful - from our point of view - is uncertain. If the line is closed before we arrive, we'll stay another day in Shibanxi.
Xingyang has a big brickworks which operates its own narrow gauge railway to the clay quarry. The line passes an unusual area with huge, deeply eroded valleys. The most interesting spot is a nice arc bridge built from bricks. The bridge spans over some large ponds, which give several very good opportunities. If the railway is working, we can see about six pairs of trains. Unfortunately there are several reasons for closing down the work for several days at a time. When rain makes the clay to wet, when technical problems occur, or when there are too many piles of unsold bricks around, there may be no traffic. According to the chief of the brickworks, the railway has a safe future until the end of 2006. After this date even he doesn't know what will happen.
Foto: Ian Lawrence
Yinghao is a busy narrow gauge line that carries coal. The most scenic parts are the loading and unloading facilities as well as the turning triangle and the line to the depot (some 2 km long). In addition, the steep gradients often require a stop to blow up the steam pressure. Just before the main station there is a short tunnel. The cutting in front of the tunnel is another good spot for both photography and video. Last but least, is the depot itself. Here the engines get everything from running repairs to heavy overhauls. The full site looks like a big repair shop which is working under military field conditions. It's full of dumped locos, spare parts and scrap. In dark halls, illuminated by dim, yellow lamps, workers are carrying out repairs and maintenance on the rolling stock. This depot makes a deep impression on every foreign visitor and is worth the visit to this line alone.
Yet again, we're facing the problem that there might be no traffic for a few days, but the risk is minor as the winter holidays will start soon after our visit and there is a high demand in coal. As the depot is working even when the line is not there will be still the main reason for visiting this line.
Once, Huanan was the starting point of a large forestry railway system. This 762-mm narrow gauge railway survived because of the existence of a coal mine 46 km east of Huanan. The remaining line climbs over a pass 2.5 km west of Lixin. From both sides there are steep gradients and sharp curves. The gradient against loaded coal trains is so steep, that every loaded train needs a banker at the rear end of the eight wagons. This operation is the last known regularly banked narrow gauge steam train in the world and gives you the chance for taking some outstanding photographs and video sequences.
Because it's a long way to get there, there is plenty of scenery and only two to four pairs of trains running during daylight we will spend a reasonable amount of time here. The distance between Tuoyaozi and Lixin is approximately nine kilometres. As there is no passable road we either have to walk or use the daily railcar. The railcar driver will ask you for extraordinary high prices, usually ten times the normal fare. As we do not want to support racist prices we will not offer this service. However, if you like to use the railcar, you can take it on your own. Several times we saw the track gang's trackmotor (speeder) running just behind a freight train. This would be another option to avoid long walks The use of local motorbikes is also possible but not recommended. If you know the style of driving in China you can imagine what I mean. Anyhow, it's everybody's own decision. Walking nine or ten kilometres in a whole day is not that far. In the winter time walking is the best thing you can do, not to get freezing cold.
If you are uncomfortable with the private houses in Lixin we can arrange the hotel in Huanan for you instead. In this case you may have to give the early morning train up to the summit a miss.
Huanan stops the rail service several times during the year. However, as elsewhere, the risk is minor because we will be there in the beginning of the winter.
The Suileng forestry railway is the last forestry line in China where you can recall the days when logging trains ran behind a C2. From the many forestry railways that operated all over Heilongjiang and in some parts of Inner Mongolia, only a very few now survive. And only a single line - Suileng - is able and willing (the management of Xinglongzhen will not let you charter their serviceable steam locomotive any more) to run a special train with steam. Suileng (and Xinglongzhen) will see their last logging season in 2006/2007. In spring, when temperatures allow, both systems will be closed and tracks will be lifted.
As Suileng was dieselised, they kept one C2 as a "souvenir". This loco, C2 021, hasn't had any overhaul or major repair since 1997. It's close to a miracle that this machine can still move under its own steam. Our special train will consist out of a diesel locomotive, a red passenger coach, C2 021 and a freight train. This arrangement is necessary, because there are no water facilities left along the line. So a single filling of the long distance tender has to be sufficient for the round trip over two days. In autumn 2005 it was amazing how many runpasts could be offered with just this single filling. In the end the loco was even able to return to the depot with its own steam. For all photo stops and runpasts we'll remove the diesel and the passenger coach.
The railway runs through swampy, flat land and reaches more hilly, partially wooded terrain near Xibeihe (km 79). Although there are no outstanding highlights the line offers pretty some rural scenery, hills and forests in the backdrop and small villages. Some bridges are there as well.
The forestry line transports timber only when the land is snow covered. Normally they start in November. In the unlikely event that there is no snow, we will have to charter an ordinary freight train.
The price for the train has increased immensely. All the people there know that this will be the last year for such a service. Due to the high costs we offer Suileng only as an extension to the standard tour. Anyhow, it's really the last chance, and so we will take it.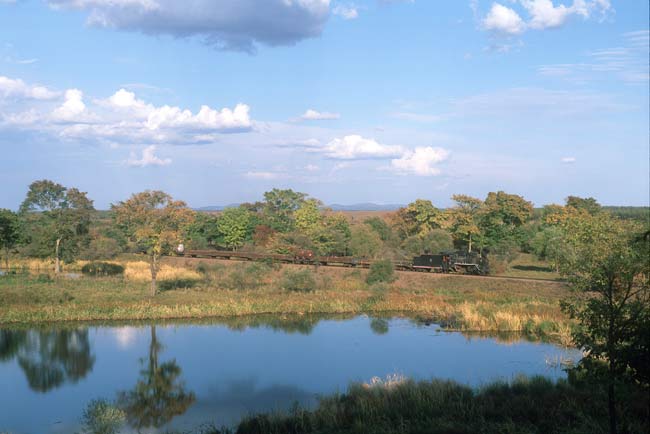 Small print
The hotels used will be of medium class, and in remote areas they are sometimes basic. The train rides are booked in soft sleeper class (four berth compartments). As the reservation system in China is a typical quota system where the station of origin typically gets an allotment of 50 % of the available tickets, it is not guaranteed that we can get soft sleeper tickets for all our rides. In such cases we'll use hard sleeper class, which, however, is not as hard as the name suggests. Hard sleeper compartments are open and normally comprise six berths. Short daytime trains may have to be booked in hard seater class. Hygienic and environmental standards in China often do no conform to European expectations. Carrying some toiletries in your photo bag is hence advisable.
Single rooms are not available on train rides, in the guest house of the Suileng forestry line (Yuejin), nor in the private houses of Lixin.
We offer an unique opportunity in Lixin and Yuejin: if you can stand the lack of comfort you can sleep in one of the private houses around there. To give the room type a rating, we extended the category-system of how to rate hotel's service and comfort to the bottom end. The guesthouse of the Suileng forestry administration is rated with one black hole. Zero star would be too good. There are some facilities of doubtful quality, but no running water. However, the bedding and the rooms are clean. We'll sleep on Kuangs, these are sleeping platforms with a built in stove, so they are warm and quite comfortable. You'll put some covers on the stove to soften it a bit. Most of the participants on other trips who have used this kind of a bed have been really surprised how well they slept!
The accommodation in Lixin on the Huanan system is another matter. There are facilities outside but they can hardly be recommended. Better go into the forest! If you ask somebody about washing your hands he would point on a bowl with some water in - used by several others before. If you want something clean to wash in, you have to ask for fresh water or do it as the locals do – go out and use some snow! The accommodation and the bedding can hardly be described as clean. So you should bring a towel to put under your head or a light linen sleeping bag or sheet. With this equipment you can easily stand one night in circumstances that the locals have to use all their lives. The accommodation in Lixin is rated at three black holes. By the way, from four black wholes onwards you would have to share your bed with small animals you might not appreciate. But for sure, such a category is not on offer on FarRail trips. More seriously, it is very basic, but acceptable for most travellers and the rewards in being so close to the railway are wonderful.
All who spend a night in Lixin, rated this experience very highly. No one will remember another faceless three star hotel in a city, but when you're staying in the total tranquillity of the forests around Lixin, sleeping on a well heated stove, and a train sets off to the summit, you can hear the two locomotives for almost half an hour, climbing up the hill. In a star bright night it's a very memorable experience. If you are uncomfortable with the private houses in Lixin we can arrange the hotel in Huanan for you instead (at no additional costs).
Hotels, charter buses and trains represent the standard of our host country, which may deviate from European and North American expectations. While we will endeavour to avoid long walks, some photo positions may require an extra but worthwhile effort. This is especially the case in Huanan and Shibanxi, where there is no road access to the line.
The temperatures in southern China are expected to be in the range from 20 to 30 degrees Centigrade. In Northern China you should be prepared to find the same temperatures – but on the minus side of the thermometer's scale! Normally it can be minus ten degrees, but you never know. In April 2006 we had a sunny afternoon with 28 degrees centigrade, while the next morning welcomed us with minus two °C and snow!
It might be possible that some of the lines will be closed before we're able to go there or they may have shut down the operation temporarily. In this case we'll go to another line. It would be better if you already EXPECT that one line will not run. We stay in permanent contact with the lines and will know such an unpleasant fact in advance.
This tour is designed for both dedicated photographers and video filmmakers. Our philosophy is to provide opportunities to get that perfect sunrise shot rather than a time consuming 5-star breakfast buffet. On occasions lunch will be served as a packed meal. Alcoholic beverages are not included in the tour price.
Please bear in mind that accommodation and transportation in China fall short of EU or US safety standards. Always use common sense when crossing roads and railway tracks. FarRail Tours cannot be held responsible, and will not accept any liability whatsoever in the case of any accident or damage. We suggest you take out a comprehensive overseas accident and health insurance policy.
On this trip we'll cover huge distances. Beside the international flight we'll travel some 10,000 Kilometres in China. So carrying a good book with you might not be a bad idea.
Registration period ends: 20.8.2006
Later registrations will be accepted if flights and hotels are still available. If you're not sure whether you can participate or not, please advise us of your interest well in advance so that we can hold your place.
Price
The price is not fixed yet. The prices below are approximate only. In times of oil prices which are hitting the sky, prices for air tickets are changing on a daily basis – and only in one direction. Your early booking is hence appreciated.
| | | | |
| --- | --- | --- | --- |
| China's last Narrow Gauge Steam | from 11 participants | £1,980 | 2.680 Euro |
| 22.11. - 06.12.2006 | 5 to 9 participants | £2,180 | 2.970 Euro |
| | Single room supplement | £180 | 245 Euro |
| China's last Narrow Gauge Steam & forestry line Suileng | from 10 participants | £2,360 | 3.200 Euro |
| 22.11. - 07.12.2006 | 6 to 9 participants | £2,730 | 3.730 Euro |
| | Single room supplement | £202 | 276 Euro |
Unlike our other tours, you can book this particular tour only if you are prepared to travel with a small group as well.
Minimum number of participants: 5, for Suileng 6
Maximum number of participants: 25
The price includes:
Flight London or Frankfurt/Main - Peking (other ports available on request)
all transfers in China
all hotels, guest houses and accommodation including the private houses
Full board (without beverages)
all airport taxes
Chinese, English and German tour guides (flights are unguided)
Chinese Visa for German residents
Not included are:
Beverages
Personal expenses like telephone, bar services, laundry service)
Visa (non-German residents)
Tips for Chinese guides, bus drivers etc. (please expect some 40 to 60 Euro)
Above prices are based on specific bookings with the respective airlines, which have to be confirmed well in advance. Your early booking is hence essential and much appreciated.