Belarus – Magistral-Diesel
Railways in Belarus 31.5. - 10.6.2010
Why Belarus?
Russia is large enough, Ukraine is far easier for travelling, Estonia, Latvia and Lithuania are all members of the European Union now. Belarus remains a mystery, or we get bad news, similar to the cold war times of the Soviet era. Additionally, there are no high mountain summits or spectacular coastal lines. Nevertheless, you'll quickly grow to like this small country and its people, landscapes and railways! It's the irresistible charm of the Russian villages - wooden houses with typical ornate carvings, deep in dense forests yet close by glittering lakes and impenetrable swamps. Horse-drawn vehicles are the normal means of transport and this is the home of the legendary East European hospitality.
Belarus, the name of the country in the local language, is not rich in mineral resources. The people are also not rich but Russians and Ukrainians envy them for their punctually paid wages and pensions. In the bigger cities can be found more and more of the Western style discount shops but the real Belarussians buy their food at the "Rynok", the typical street markets with cheap bread, milk, vegetables, meat and fish – often directly from the farmer and free from toxic pollution. There is everything else too, delicious Russian style sweets, spicy garlic, the unavoidable sunflower nuts, clothing of all kinds, even a fur coat, and everything you'd need for house and garden. The country's policy of self sufficiency has formed the basis for the rapid development of mechanical engineering and vehicular industries. There's not only the world famous Belarus tractors but also trams and building and forestry machines which bear comparison with other well known international manufacturers. Remarkable is the overriding order and cleanliness evident in Belarus. The Soviet style dawdling no longer exists here.
Most Belarussians are Christians. The Western part – formerly Polish – is catholic, the rest is Russian orthodox. A lot of churches have been renovated and some are newly built. Our excursions along the railways will give us many possibilities to take pictures of the architecture and the rustic lifestyle, all in landscapes which are free from tourism.
The network of the state owned railways, Belarus'ka Chyhunka (BCh), is the same as the Belorusskaya Zheleznaya Doroga of the former Soviet transportation ministry MPS. Even today, most infrastructure and stock is to the Soviet standard and, despite being very old, is still in very good condition. In the European Union – at least in Poland, Lithuania and Latvia the BCh has a very good reputation. Reliability and efficiency are a high priority. Transit traffic to the Baltic Sea ports are one of the most important sources of foreign exchange.
The BCh manages two railway museums, one in Brést and the other in Baranavichy. Both have a good selection of steam and diesel locos and other interesting objects. Baranavichy is planned in our programme. In all loco depots there are "tradition rooms" like small museums. Keeping the memory of the victims of World War II is a high priority. Almost a quarter of the Belarus population lost their lives between 1941 and 1944 during the German occupation.
Exceptional sights are often the Russian styled station buildings. Widely unknown is Orsha Central'naya one of most beautiful stations of the world, where our travel around the Southeast of Belarus will start. While riding the fast train through the country to Orsha we'll see firstly the marks left by the former Polish State railways (PKP) between 1922 – 39. A lot of buildings were destroyed in World War II but then came to new splendour after the war.
Of major importance for the Belarussian railway traffic are the "Magistralas", (Warszawa –) Brést – Minsk – Orsha (– Smolensk – Moskva) and (Kaliningrad – Vilnius –) Maladzyetchna – Minsk – Homel' (– Kyjiv/Charkiv). The first has full double tracks with electrification, the second one has electric traffic only between Maladzyechna and Asipovichy. Also important for main line traffic is the (Daugavpils –) Polack – Vicyebsk – Orsha – Homel'/Kalinkavichy line. On this line we'll find heavy freight trains with big double-section diesel locomotives (2TE10M/2TE10U). They use ten-stroke opposed-piston engines licensed by Fairbanks Morse in the early 1950's. They sound amazing, with no silencer these 2TE10-types have gained the nickname "Rolling earthquake" - the main subject of our travel. Also impressive are the long and heavy passenger trains, usually headed by the six-axle Kolomna built TEP70 or the very beautiful, old and loud TEP60. The bass of the silencer-free TEP60 sounds also unbelievable. Some passenger trains have 20 or more coaches.
Good times also for friends of the "Taiga Drums", the M62 diesel locomotive family.
Widespread in service are the ordinary types M62, DM62, 2M62 and 2M62U. Plus we'll find special Belarus types, 2M62- and 2M62UM-, reconstructed as power units for DDB1, DRB1 and DRB1M diesel multiple units.
Our journey is designed mostly for photographers and video film makers. The most important things are good pictures of trains at interesting locations and stations. Taking railway pictures is widely unknown in Belarus and getting permits was impossible for more than a century. So it has needed careful handling of the government and the railway. Some strategic properties like big bridges are guarded and taking pictures can be prohibited.
Some visits have been included for enthusiasts of locomotive history and statistics. We have managed to get permits for eight locomotive depots. If you think there are too many depots, there will be chances to go your own way in some of the cities. There may well be other group members wishing to do the same.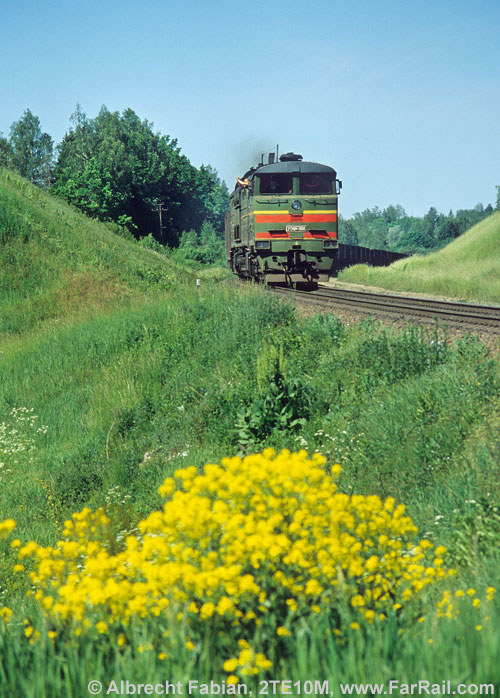 This is now the second FarRail Tours visit to the Belarussian railways. This tour is based on the experience of the first one in spring 2008. Although we had a few unforeseen problems – and horrible weather conditions – most travellers on the first tour wanted to see more! If you'd like to experience Belarus, please join us! The initial experience will be standing on the platform of Berlin Ostbahnhof station, waiting for the long distance coaches of the "Moskva-Express". The neat stewardess welcomes you but will not believe you if you say you want to go to Orsha as a tourist – to one of the most beautiful station buildings in the world ...
Itinerary
| | |
| --- | --- |
| Date | Itinerary |
| 31.05. | Departure: Berlin-Ostbahnhof 15.33 Train No.14The most of the group members start travel at the Berlin-Ostbahnhof station. |
| 01.06. | Arrival: Orsha-Centralnaya 13.30 Train No.14Official start of our journey.Visit to the loco depot TC-15 Orsha* (TEP60, TEP70, M62, 2M62, 2M62K, CME3, DR1, DR1P); We will take pictures of the imposing Orsha station and go for linesiding around this city; there is not only a big selection of diesel locomotives and DMU´s, enthusiasts of electric operation will experience classes VL80S and CS4T of the Belarussian and Russian railways;Hotel: Orsha |
| 02.06. | Linesiding between Orsha and Mahilioú* (Mogilyov), mostly in and around Shklov; at noon visit to the TC-12 Mahilioú depot (home of the reconstructed 2M62UM for DDB1 und DRB1-DMU´s and M62, 2M62, CME3, CME3T, TGM4A, TGM23D); in the afternoon linesiding along the Magistrale Mahilioú – Zhlobin, most interesting places are Dashkaúka (Dashkovka) and Bykhaú (Bykhov);Hotel: Mahilioú |
| 03.06. | Day exploring in the East of Belarus: linesiding along the line Mahilioú – Krichaú (Krichev); we take pictures in and around the Krichau junction (maybe we'll see Russian locos of the Roslavl' and Bryansk depots); visiting the small loco depot TC-14 Krichaú* with CME3 shunters and guest locos;Hotel: Mahilioú |
| 04.06. | More linesiding along the Mahilioú – Shlobin Magistrale with priority Rahachaú station (Rogachev); it will follow the visit of the TC-10 Zhlobin* depot with it's M62, 2M62, CME3 and some rare TEM2, TEM2UM und TGM6; after pictures in the Zhlobin station we'll go one more time to the Magistrale – direction Homiel' (Gomel'); best conditions for linesiding we hope to find in and around Buda-Kashalyova (Buda-Koshelevskaya);Hotel: Homiel' |
| 05.06. | The early morning is the best time for passenger traffic at Homiel'-Pass station in the second largest city of Belarus; after this we planned enough time for visiting the large TC-8 Homiel'* loco depot – here are the stored "rolling earthquakes" 2TE10U with their opposed piston engines, M62, 2M62U, CME3/3E/3T, TGM6A locos and DR1A/DR1B-DMU's; if there are any trains we'll go linesiding along the tracks from Homiel' to the East (Unecha – Bryansk in Russia) or southbound to Chernihiv / Shtshors in the Ukraine;Hotel: Homiel' |
| 06.06. | After a bus tour in the morning we'll start the day with a visit of the loco depot TC-11 at Kalinkavichy* junction (Kalinkovichi) nearby Mazyr (Mozyr') – we find here a lot of M62, 2M62 and CME3/3T diesels; friends of suburban traffic get their chance in Mazyr: the oil refinery at Mazyrskiy Neftjepjeregonnyy Zavod has a 20km long light rail transit (broad gauge) Molodjoshnyy direct to the refinery – they have in Mazyr KTM-5 trams from the Ust' Katav works or a new Minsk built type in service; in the afternoon we'll go for linesiding along the state railway lines again – depending on the timetable it will be the Kalinkavichy – Svietlahorsk (Svyetlogorsk) – Zhlobin line or the Rabkor/Akciabrski (Oktyabrskiy) – Babruysk (Bobruysk) branch;Hotel: Babruysk |
| 07.06 | The first item today is visiting the TC-13 Asipovitschy* depot (Osipovitschi) – only with diesels for freight and shunting services (M62, CME3/3T, TGM4/4A, TGM23D); the rest of the day will bring us linesiding in and around Babruysk and Asipovichy; the Asipovichy-1 station is at the southern end of the electric network – turning point of the "Elektrichka"-EMU's (ER9M/9E/9T or 9TM, depot Minsk Severnyy)Hotel: Asipovichy |
| 08.06. | If we get lucky, we'll experience a genuine "Gruzo-Passashirskij", a mixed passenger and freight train on the Viareycy (Vereycy) – Hradzianka (Grodzyanka) line served by a M62 or CME3; in between we are searching for good photostops in the Asipovchy area – mainly on the electrified Magistrale Asipovichy – Mar'ina Horka/Puchovichy (-Minsk);Hotel: Asipovchy |
| 09.06. | The last action day of our journey will bring us in the potash mining area around Salihorsk (Soligorsk): After an early bus trip we'll arrive at the small Sluck* loco depot, branch of the Asipovichy depot; at the Sluck – Kaliy-1 – Salihorsk branch line we'll find some DR1A-DMU's, and there is also heavy freight traffic – mostly potash trains to national and international destinations; before we go on our way home we'll visit the Baranavichy Railway museum with some historic steam and diesel locomotives and other interesting subjects;Official end of our journey.Departure: Baranavichy-Centraln. (17.07/)17.09 Train No. 13 |
| 10.06. | Arrival: Berlin Ostbahnhof 08.22 Train No. 13 |
top
Small Print
The Republic of Belarus (Belarus) is a basically agricultural country of the GUS. There is a big trade association with Russia and a customs union between Belarus and the Russian federation.
In addition to the Belarus language, most people can speak Russian but not often other foreign languages. However, there will always be a way for understanding.
Because there are few tourists coming to Belarus the tourist infrastructure is undeveloped. The hotels come up to the requirements of the domestic businessmen who profit by state subsidies. Western tourists often don't get, despite higher prices, the usual standard (toilets and bathrooms outside the rooms).
Contrary to the reports in the western press, Belarus is a friendly land with not everything subject to strict rules or a prohibition. The crime rate is one of the lowest in the world. Petty crime such as theft or pick pocketing is no worse than in other European countries. Nevertheless, you would be well advised to keep a close eye on your photo equipment and your baggage.
Photographing of railways is at most unknown in Belarus. FarRail Tours has got all the official permits for linesiding and taking pictures in stations. On the day of publishing this itinerary FarRail Tours have also permits for loco depots and branch loco depots of the BCh marked in the itinerary with *. However, there can't be any general guarantee, the orders of the local authorities are the one and only law.
As in Germany or other western countries, in big stations there are police patrols. For filming and photography it is better if all group members could stay together. To avoid any problems, a railway police officer will officially escort our travel.
Please remember, the recording of fabrication numbers on the frames of locomotives can be misunderstood by railway workers and police.
The journey is arranged on a full-board basis but please note that on a few occasions, depending on train movements, we may not have time for regular meal breaks. That's why breakfast and lunch may be given as lunch bags. During bus rides we'll serve tea or coffee. It's a good idea to bring your own coffee cup. All dinners will be served in restaurants.
Paying with credit cards in restaurants and shops is not widespread. Cashing traveller cheques is generally possible in a bank but it costs a lot of time which we don't have on this trip. The best way is by changing banknotes (Euro, Pound Sterling, US-Dollar). Money exchanges ("abmen valut") exist in big railway stations and in all cities. Import and export of Belarus Rubels is not allowed.
Electricity (220V, 50 Hz) is available in all our hotels, power cuts are very uncommon. You may need an adapter for the sockets. Mobile phone coverage is good in and around cities. Belarus uses the normal European standard. Please take care as you will have to pay roaming costs for incoming phone calls as well as outgoing.
Entry to Belarus requires a minimum 6 month valid passport with a complete free side for the visa. Together with two passport photos you must apply for your visa at the Belarus embassy in your own country. The application form can be sent by FarRail Tours if you ask. You'll also need a certified invitation or hotel reservation is necessary which FarRail Tours will also supply.
Travellers to Belarus need an acceptable health insurance. Normally an internet print is not valid. Please ask your insurance company for an insurance confirmation with stamp and signature.
We must warn you of the risks with railway traffic. A high visibility vest must be an obligatory part of your luggage. Recommended for all people is an accident insurance because FarRail Tours and partners cannot accept liability.
The journey begins officially on the 1st of June 2010 in Orsha-Centr. and ends on the 9th of June 2010 in Baranavichy-Centr. If you would like FarRail Tours will obtain the train ticket (Berlin Ostbahnhof – Orsha-Centr./Baranavichy-Cent. – Berlin Ostbahnhof) and also the ticket for a bed in the sleeping coach (2nd class, UIC-standard triple-bed-compartment). If you want to make your own arrangements to Orsha/from Baranavichy please chose the option "land only".
Price
Belarus
Magistral Diesel II
6 to 30 participants
£1,440
31.05.2010 – 10.06.2010
Single room surcharge
£175
Registration Deadline: 31.03.2010
Included are:
Tour guide (German/English)
All accommodation (simple or medium standard range hotel)
Full board excluding beverages (sometimes packed meals)
Permits, admission fees
All bus transfers in the course of the journey inside Belarus
Train ride Berlin Ostbahnhof – Orsha-Centr. / Baranavichy-Centr. – Berlin Ostbahnhof in an UIC-standard, triple-bed-compartment (except "land only" bookings)
Not included are:
Visa for the Republic of Belarus
Private excursions outside the journey programme
Beverages
Additional hotel service (minibar, laundry service, Pay TV, Hotel phone, etc.
Possible fee for official registration (government's law for longer stays in the same city)
Tips