Opposed Piston Power & the Crimea
Diesel in Ukraine 17. bis 30.09.2011
Let's go for Ukraine – one more time! Time does not stand still. The worldwide economic crisis has slowed development for the Ukrainian Railways (UZ) but hasn't stopped it. The large fleet of Czechoslovakian ChME3 shunters isn't homogeneous anymore; there are a lot of rebuilt locos in service now. The earthy VL8's, produced from 1955 until 1967, are still the usual electric loco in the South East of Ukraine - but for how long?
Omnipresent in the world of the MPS, the former Soviet railways, were the members of the TE10 family. Their unique sound brought them fans from around the globe. It's the sheer volume of the two-stroke 10 cylinder diesel engine of opposed piston design, created by Fairbanks-Morse in America in the middle of the 20th century. You will never find a better diesel sound than this unruffled three-quarter metallic bass sound. "Rolling Earthquakes"– that's the nickname of the "Tens". Kazakhstan, Russia, Turkmenistan and Belarus have all initiated long-term engine replacement programmes for their Tens, in use for over twenty years. Russian and American diesel engines from Kolomna and General Electric now substitute for the old 10D100(M1/M2) engines from the Ukrainian Kharkov Locomotive Works. Only in Ukraine can now be heard the authentic bass of a 2TE10M, U und UT. But all Ukrainian locomotive works now have Russian owners ...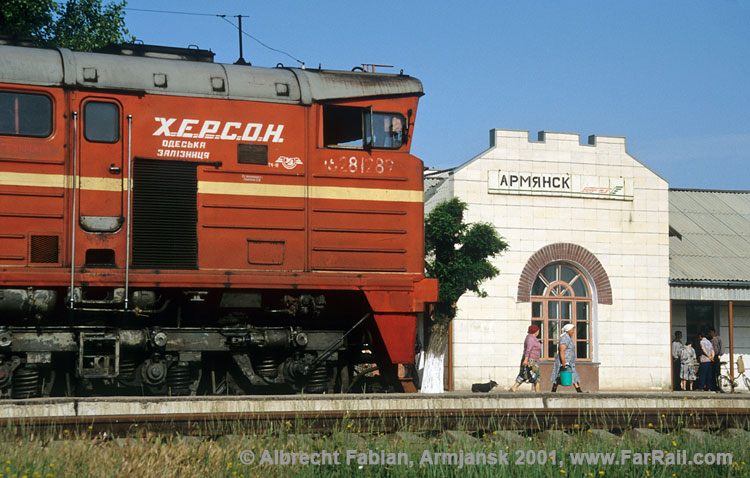 The ordinary 2TE10M (and some younger 2TE10U) haul heavy freight trains to the ports of Odessa, Illyichivs'k, Mykolayiv and Kherson. The railway network in these areas is mostly made up of single track lines. Sometimes one heavy freight train is followed by another. So we can experience a lot of train crossings and powerful starts, with good possibilities for photography or sound recording. That's why we've planned a long time for this big diesel fest in the southern Ukrainian steppes.
An absolute phenomenon in locomotive history is the 2TE10UT, an opposed piston express diesel locomotive. Their most important reserve is the racetrack of Mykolayiv – Kherson – Dzhankoj. But a dangerous enemy is on the way: Ukrainian Railways want to electrify this "Magistral" line! May be this is the last chance to experience the amazing "UTs" in every day, ordinary fast passenger service!
There will not only be fun for diesel enthusiasts. The railway network of the Crimean peninsula is mostly electrified. Generally, the Czechoslovakian six-axle ChS2, and a rebuilt variant, dominate passenger service with the elderly VL8s on freight - both types free of modern electronics. We'll also hunt for them in the industrial district of Ordzhonikidze, Nikopol' and Marhanec'. This mining area will surprise us with other veterans too; electric mining locos, Elektrichka EMU's, and maybe a very old SR3-EMU ...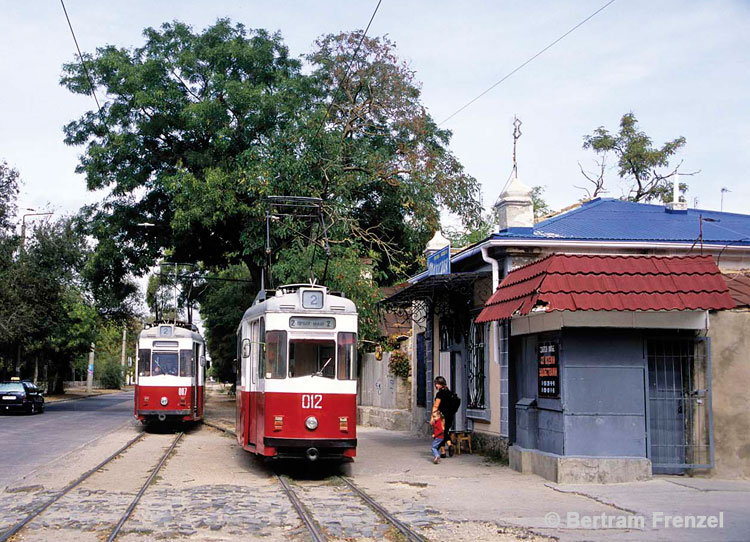 We'll explore also some urban traffic subjects. Three very different tramway networks are on our route. The broad gauge network of Mykolayiv, over 70 kilometres long, uses KTM-5 trams from Ust' Katav works. Old Russian style wooden houses in the downtown area, and also bigger city buildings from Stalin's period offer interesting scenery for us in this pleasant harbour town. Distinguishing features of the Yevpatoria network are the rare meter gauge and equally rare Gotha trams with some Tatra KT4SU cars. Single and double track lines interchange. Finally, bizarre minimalism in Molochne. From the holiday resort to the beach, a one and a half kilometre long line with only one switch and two united Gotha cars ...
Russian, Tartar and Ukrainian people – all live together in the Crimea. It was total change when the Soviet leader, Khrushchov, gave the Crimean peninsula to Ukraine in 1954. Since 1992 the Crimea has been an automonous republic within the Ukrainian state. However, public life is still mostly influenced by Russia. Not only the holiday makers from Moscow, St. Petersburg, Krasnoyarsk or Khabarovsk, there for the mild sea climate, Sevastopol' is also the garrison of both the Russian and the Ukrainian Black Sea fleets. Looking around the Crimean towns we find a lot of cultural marks of the Crimean Tartars. First destination is in downtown Bakhchisaray where we spend an evening in a wine house, tasting the world famous Crimean wine. The landscape changes abruptly, from the wide steppes, over the 1,500 meter high Crimea mountains, to the Black Sea. That's why the Crimea was one of the most beautiful and best known tourist highlights of the former Soviet Union. Please come and enjoy it!
Our journey is created primarily for photographers and video film makers. The most important thing is to achieve good pictures of trains at interesting lines and locations. With our charter bus we'll try to find the best places. But there are more options outside the official programme. The weather is too bad for photography? You want to ride an ordinary suburban train through the steppe? On some days it will be possible. For example Thursday 22.09 with a Ganz-Mávag styled D1 diesel railcar from Mykolayiv to Kolosivka or Dolins'ka. Or what about Saturday 24.09 in the first coach behind a 2TE10UT from Kherson to Vadym and back? Or maybe one long day listening to the sound of the DC electric motors inside an Elektrichka EMU? Also possible, Nikopol' – Dolins'ka via Kryviy Rih or to Zaporishshja-2 on Tuesday 20.09, no problem!
Railways, landscapes & people. Photography, filming & enjoying.
Let's go for Ukraine ...
Itinerary
| | |
| --- | --- |
| Date | Itinerary |
| 17.09. | Departure: Berlin Ostbahnhof approximately 15.32 hrs.Night train No. 30/29 |
| 18.09. | Changing the carriage bogies at the Polish-Ukrainian border station in Jagodin; Arrival in Kiev Pass. station approx. 16.48 hrs. (alternatively it is also possible to come to Kiev by aeroplane); short sightseeing bus trip through the wonderful Ukrainian capital; continue to Dnipropetrovs'k by night train No. 282, from Kiev Pass. station approx. 22.49 hrs. |
| 19.09. | Arrival in Dnipropetrovs'k approx. 06.12 hrs;With our charter bus, we go for linesiding along the (Dnipropetrovs'k –) Surs'ko – Zhovtokam'yanka (– Apostolove) line; in the afternoon we have a look at the Ordshonikidze mining railways near Chortomlyk with their legendary fifty year old SR3 EMUs in semi-official passenger traffic;Hotel in Nikopol' |
| 20.09. | Linesiding in and around Nikopol' – dominated by big industrial plants; visiting the UZ loco depot TCh-12 Nikopol' (ChME3,ChS2, VL8, different Elektrichka-EMU's); excursion to Marhanec', the city with broad and narrow gauge mining railways;Hotel in Nikopol' |
| 21.09. | Visiting the loco depot branch Apostolove – meeting of the big double diesels 2TE116 with the (only) superficially similar "Tens" 2TE10M/UT; linesiding of 2TE10M and UT on the steppe line Apostolove – Bila Krynycya – Snihurivka – Mykolayiv;Hotel in Mykolayiv |
| 22.09. | Visiting the UZ loco depot branch Mykolayiv Pass.: here the opposed piston express diesels 2TE10UT start their daily service; we will take pictures at the Mykolayiv Pass. station, in the city area and go for linesiding around Mykolayiv; free time in the late afternoon – possibility for a private excursion on the broad gauge trams and the trolley buses;Hotel in Mykolayiv |
| 23.09. | First visiting the UZ loco depot TČh-8 Mykolayiv (2TE10M, 2TE10U, 2TE10UT, ChME3, ChME3T und Ganz-Mávag styled D1 DMUs); then linesiding along the "Magistral" line Mykolajiv – Kherson and inside the city of Kherson;Hotel in Kherson |
| 24.09. | Visiting the UZ loco depot TČh-10 Kherson (2TE10M, 2TE10U, 2TE10UT, ChME3, ChME3T), the second big centre of the Tens on our journey; one more time linesiding with "opposed piston sound" around Kherson; Hotel in Kherson |
| 25.09. | In the morning the next "opposed piston session" along the "Magistral" line Kherson – Brilivka – Vadym – Armyans'k – Krasnoperekops'k; bus trip to the famous Crimean sea resort of Yevpatoria – leisure time to explore the meter gauge tramway network with Eastern German Gotha and Czechoslovakian Tatra trams – and finally for swimming in the Black Sea!Hotel in Yevpatoria |
| 26.09. | Exploration of industrial railway branch lines (quarries, salt lakes etc.) in the Yevpatoria and Saki area; charter trip with a Gotha tram and visit to the tram depot Molochne; visit to the tram depot of Yevpatoria; bus trip to Bakhchisaray; sightseeing tour and wine tasting in the historic downtown of Bakhchisaray;Hotel in Bakhchisaray |
| 27.09. | Linesiding in the Crimean mountains between Bakhchisaray, Inkerman and Sevastopol' – priority rocky monastery near Inkerman; leisure time in Sevastopol' with a possibility for exploring the trolleybus networkHotel in Sevastopol' or nearby |
| 28.09. | Sightseeing tour of Sevastopol', the world famous Black Sea harbour city; bus trip to Simferopol'; visit to UZ loco depot TCh-5 Simferopol' (ChS2(M), ChS7, ChME3/3T), different Elektrichka EMUs);Departure Simferopol' station approx. 15.34 hrs;Night train No. 40 (if available in the through sleeping coach to Berlin) |
| 29.09. | (Arrival) Kiev Pass. station 07.08 hrs. (alternatively transfer to Kiev Airport)(Departure) Kiev Pass. station approx. 09.24 hrs.;Overnight train No. 30/29 |
| 30.09. | Arrival Berlin Lichtenberg ca. 07.15 hrs. |
Small Print
Ukraine is an agricultural and industrial country of the GUS. There is a big trade association with Russia.
The country is Europe's largest state and is divided into two parts, with different languages. People in the east and on the Crimean peninsula feel associated with Russia and speak Russian (but with the characteristic "h", instead of the Russian "g"). The Western part uses the Ukrainian language, which is related to Polish and Slovakian. The whole country, though, understands Russian and, additionally, many younger people are English speakers. The majority of older people don't speak any other foreign language. However, there will always be a way to be understood. Ukraine is well known for its friendly hospitality.
Since the implosion of the Soviet Union and the subsequent independence of Ukraine, the country has experienced a period of enormous development. Unlike other European countries, the Ukrainian state invested large amounts in its railway network. The economic crisis of the last few years has slowed down the replacement of locomotives and carriages but hasn't stopped it.
On the Crimean peninsula, the tourist infrastructure is at a high level. In the rest of the country it is somewhat underdeveloped. It's very possible that the hotels are not to the usual western European standard (toilets and bathrooms may be outside the rooms).
The crime rate in the bigger cities is similar to western European or American cities, with social problems. There is petty crime such as theft or pick pocketing. In the countryside such things are far rarer. Nevertheless, you would be well advised to keep a close eye on your photo equipment and your baggage.
Photographing railways is almost unknown in Ukraine. We will get all necessary official permits for linesiding and taking pictures in stations, but there can be no general guarantee. The orders of the local authority can be the one and only law. As in Germany and other western countries, in the bigger stations there are often police patrols working. For filming and photography it is best if all the group members stay together. The spotting of works numbers on the frames of locomotives can be misunderstood by railway workers and police.
Exploring industrial railways and branches is only guaranteed from public places. We have applied for visits to industrial loco depots inside private property, such as at Ordzhonikidse and Marhanec', but there is no guarantee. Decisions will be made at the time.
The journey is arranged on a full board basis but please note that on a few occasions, depending on train movements, we may not have time for regular meal breaks. That's why breakfast or lunch may be given as a packed bag or we may stop spontaneously at a snack bar or a food store. During bus rides we serve tea and coffee. It would be advantageous to bring your own coffee cup. All dinners will be served in restaurants.
Paying with credit cards in restaurants and shops is not widespread. Cashing travellers cheques is possible in a bank but takes a lot of time which we don't have on this trip. The best way is to change banknotes (Euro, Pounds, US Dollars, Swiss Francs). Money exchanges ("obmin valut") exist in big railway stations and in all cities.
Electricity (220V, 50 Hz) is available in all our hotels and power cuts are very uncommon. You may need an adapter for the sockets. Mobile phone coverage is good in and around cities, and also in most areas of the countryside. Ukraine uses the normal European standard. Please take care as you will have to pay roaming costs for incoming phone calls as well as outgoing.
Entry to Ukraine requires a minimum of 6 months passport validity. People of most European countries no longer need a visa. If you are not sure, please ask the Ukrainian embassy in your country. They will provide a visa application form if necessary.
Travellers to Ukraine need health insurance accepted by the Ukrainian government. Normally a photo copy is not valid. Please ask your insurance company for an insurance confirmation with stamp and signature.
Hygienic and environmental standards in the Ukraine do not conform to west European or North American expectations. Please bear in mind that accommodation and transport in the Ukraine falls short of EU/US safety standards. Always use common sense when crossing roads and railway tracks. FarRail Tours cannot be held responsible and will not accept any liability whatsoever in the case of any accident or damage. We suggest you take out a comprehensive overseas accident and health insurance policy.
Price
Prices land only from Kiev Pass. to Simferopol'
Ukraine
Opposed-Piston Engine Power & Crimea
11 to 25 participants
£1,610
17.09.2011 – 30.09.2011
Single room surcharge
£290
Registration Deadline: 18.05.2011
The tour is guided from Berlin Ostbahnhof September 17th to September 30th, 2011. However, the official journey starts and ends in Kiev Pass. (Kiev). Train tickets between Berlin Ostbahnhof and Kiev Pass. and return from Simferopol' to Berlin Ostbahnhof are not included. If you want to take part from Berlin the price for the return train tickets (sleeping car 2nd class, UIC-standard triple bed compartment) is 285 Euros.
Alternatively we can book a flight for you. You'll be picked up from the airport.
Included are:
Tour guide (German/English speaking)
All accommodation (simple or medium standard range hotel)
Breakfast (not every day in a restaurant)
Lunch (as lunch packs)
Dinner (in a restaurant)
Permits, admission fees
All bus transfers in the course of the journey inside Ukraine
Not included are:
Visa for the Ukraine (if necessary)
Private excursions outside the journey programme
Cold drinks (soft drinks, beer, wine, spirits etc.)
Additional hotel services (mini bar in hotel rooms, laundry service, Pay TV, hotel phone, etc.)