North Korea – a Glimpse at the Railways and the Country
Flights, Steam and Diesel in North Korea: 25/11 – 04/12/2016
North Korea is a place you hear about in the news almost every week. Many feel the need to express their views about this country, but only a very few have ever visited it. FarRail Tours has successfully guided five tours to North Korea, having stopped with the end of steam operations on the state railways in 2007. Since then the country has changed. A new leader now guides the country and two steam locomotives have been restored and made operational. We'll not be able to see all the locations of the previous tours this time but we are able to add some new spots and events which haven't been possible before.
North Korea, indeed, is quite an experience. It's unique from many aspects. Having said that, we do not need political activists on this tour, nor do we need journalists with a view to confirming their predetermined views and opinions. This tour is designed for curious and open minded people who want to experience North Korea as it really is. If you're open to new horizons, this is your tour.
North Korea is a safe country. As long as you follow and respect their rules, you have nothing to fear. The officials will treat us with courtesy and our guides will ensure that you'll see as much as they can show us. Photography is permitted, even from the air. And we'll fly quite a lot on this tour. A Russian An-24 is chartered for our group as well as a Russian Mi17 helicopter. Not many tourists before us have had the chance to do a sightseeing flight over Pyongyang.
On the rails, we'll see the trams in Pyongyang and Chongjin, both Metro lines in Pyongyang, a Russian M62 diesel loco, a 2-6-2 tank loco and a 2-8-2 Mika class. And there'll be more, especially when travelling by train, we'll be able to see much more from the railway.
This tour was initiated, planned and organised together with Florian Schmidt from Singapore. Florian, as well as your tour leader Bernd, have been arranging FarRail's successful North Korean ventures in the past and know most of the places we will be visiting, as well as the culture of our host country.
Itinerary
| | |
| --- | --- |
| Date | Itinerary |
| 25.11. | Individual flight to Beijing. Flights can be booked by FarRail Tours if required. |
| 26.11. | Morning arrival in Beijing, connecting flight by Air Koryo JS 152 to Pyongyang 12:00 – 14:30 hrs, on the way from the airport to the city we'll do a little city tour, welcome dinner in the "National BBQ Restaurant", Koryo Hotel**** in Pyongyang |
| 27.11. | In the morning we start with the "must sees" of Pyongyang: visit to the large statues of the leaders of the country, Kim Il Sung and Kim Jong Il on the Mansudae Hill. Afterwards we'll visit the Arch of Triumph, the tower of the Juche Idea and the Kim Il Sung Square, all sights of Pyongyang. Then we've chartered a Czech Tatra tram from Kwangbok Supermarket to Pyongyang main station, then we'll travel by a locally built round shaped trolley bus from the 1960's and change later to a modern, North Korean built trolleybus from 2012 from the department store No.1 to the Munsu Street in eastern Pyongyang.Afterwards we'll go to the underground and visit parts of both metro lines. Koryo Hotel**** in Pyongyang |
| 28.11. | Before we take off into the sky, we'll pay a brief visit to the metro museum and the railway museum in Pyongyang. Sightseeing flight with a Russian built Mi17 helicopter over Pyongyang. This heli flight needs to be paid for separately in US Dollars (see below). In the afternoon, charter flight in a Russian Antonov An-24 to Orang and continue by charter bus from Orang to Chongjjn (approx. 90 minutes), brief city sight seeing tour which includes the Seamen Club, the Main Square and a foodstuff factory. Chongjin Tourist Hotel*** (with its famous microbrewery). |
| 29.11. | Charter steam train Chongjin – Ranam with a 2-6-2 tank locomotive. Afterwards city tour through Chongjin with a chartered tram. In the afternoon we'll continue with a charter flight to Hamhung. In the late afternoon we'll visit one of the showcase fertiliser factories (in Hungnam near Hamhung). We may see some of the suburban trains in the area which has a dense railway network. In the evening we'll pay a visit to Donghung Hill with its statue of the Great Leader. Accommodation in the Mayon Deluxe Hotel***** |
| 30.11. | Charter bus to Wonsan (approx. two hours), visit to the old railway station. On our way to Pyongyang we'll have lunch at the Masikryong Hotel***** in the Masik ski resort. From there it'll take us some four hours to Pyongyang. Koryo Hotel**** |
| 01.12. | Charter train with a Russian Class M62 diesel loco from Pyongyang to Kujang. Here our charter train will be taken over by a 2-8-2- Mika class steam locomotive which will bring us onwards to Hyangsan. We'll perform some runpasts. Visit to the Buddhist Pohyon Temple. Accommodation in the Hyangsan Hotel***** |
| 02.12. | By charter train we'll return to Pyongyang. Late afternoon visit to the US spy ship "Pueblo". Farewell dinner and accommodation in the Koryo Hotel**** |
| 03.12. | At 10.10 am the international express train to Beijing leaves Pyongyang. If you've booked the add on programme in China you'll go with us to Dandong, were we'll arrive at 16.30 hrs and continue by charter bus to Fuxin, or you'll stay aboard and will reach Beijing the next day in the morning. |
| 04.12. | 08.31 hrs, arrival in Beijing main station, transfer to the airport and return flight home. Arrival in the same evening in Europe and the next day in America. |
Fuxin will replace the steam locomotives by the end of June 2016. Hence we'll go to Sandaoling (update 19/04/2016).
| | |
| --- | --- |
| Date | China-Extension |
| 04.12. | 08.31 hrs arrival in Beijing main station and visit to the forbidden city. After lunch we'll visit the crowded Great Wall, some 70 km outside of Beijing. Hotel in Beijing. |
| 05.12. | Morning flight from Beijing T3 to Hami (CA1269 08.55 – 12.50 hrs), charter bus to Sandaoling, spectacular steam in Sandaoling (class JS), visit to the accessible points of the open cast mine of Sandaoling. We'll focus on the mainly chimney first operating coal trains which need to work hard to bring the coal from the loading station in the pit to the loading place. Hotel in Sandaoling |
| 06.12. | A full day dedicated to the uphill thrashing coal trains out of the open cast pit of Sandaoling. Hotel in Sandaoling |
| 07.12. | Today we'll focus on the unloading point of Sandaoling, where the coal trains deliver the coal to the washery. In addition we'll watch out for the works train, which often carries a steam crane. Hotel in Sandaoling |
| 08.12. | Another visit to Sandaoling. We'll visit the eastern end of the mine with the coal trains. Maybe we can take a sunset shot. Hotel in Sandaoling |
| 09.12. | The best location for genuine steam in the world: Sandaoling. It'll never become boring! |
| 10.12. | A last full day in Sandaoling. This will be likely the last real steam you will see in your life. |
| 11.12. | Time to say good by to the open cast mine of Sandaoling. One more time we'll take pictures and videos of the famous last heavy coal trains out of the pit. Around noon we'll return to Hami and fly to Beijing (CA1270 16:20 – 19:25 hrs). Hotel in Beijing |
| 12.12. | By hotel airport shuttle bus to the airport and return flight home, arrival in Europe in the same evening |
Pictures from Sandaoling can be found in the trip report section.
Line description
Our visit to the capital city of Pyongyang includes a tour on the world-famous metro system. The Pyongyang Metro is reportedly the deepest in the world, more than 150m below the surface, and as such part of a huge underground system into which the two million people of the capital could be evacuated in case of an attack on the DPRK. The design of some of the stations is breathtaking, thanks to the lavish use of marble, chandeliers, impressive sculptures, carvings, mosaics and other murals. Many of the latter depict the founder of the country, President Kim Il Sung. The names of the stations like "Torch", "Glory" or "Liberation" surely sound exotic to western ears.
Another important part of the mass transit system is the Pyongyang tramway. The cars originate from formerly friendly countries of the European socialist block. A special ride through the grand city of Pyongyang with its monumental socialist architecture and beautiful parks will be a part of our itinerary.
A visit to the Zurich trams is not possible on this tour, the location is closed to foreigners.
Another urban transportation system is the trolley bus system. We'll see one of the oldest survivors, a locally made round shaped trolley bus. Our charter tour needs to fit into the flow of traffic, and due to the overhead electric wires used we can't perform runpasts when travelling by this vehicle, over 50 years old. The same applies to the modern, locally made trolleybus and the tram tour, but we'll have photo opportunities while visiting the city, and before and after we board the bus/tram. If you are keen to take more pictures of the trolley bus you can "chase" the trolley bus using our chartered diesel bus.
The short line, Chongjin – Ranam, is electrified and quite flat. The only photogenic spot is a large steel bridge over a river. It was the only agreed line where we can see the locomotive, as harbours and steelworks are rated as a secret, so we can't use the locomotive on its former playground. The train composition is not confirmed yet. We asked for a freight train. Chasing the train by bus will be possible in this case. The other possible option is using Korean built passenger coaches. The railway wanted to offer Swiss built coaches which we declined. The final train composition will only be confirmed a few days in advance. We expect only a few wagons, the loco would be able to haul a longer train, but the people involved do not want to risk anything. They will be responsible if something does not go to plan and for obvious reasons they want to avoid that.
The line from Pyongyang to Kujang leads through a hilly countryside with good photographic potential. However, we are only able to stop at a few permitted locations for runpasts. The line is electrified as well, but power cuts are common, hence using diesel (and steam) was and is common in North Korea. The train will be formed of Korean built passenger coaches and will look like an ordinary, authentic train. So the few pictures we can take will look good. From Kujang we'll continue by steam to Hyangsan. This line passes along a river and through a mountainous area. We've planned several runpasts with tunnels, mountains and bridges. The electrified line is about 20km long. The photos shown here are from this line, so you can see the potential. We'll use the recently overhauled Mika 163. It has a beautiful outline with smoke deflectors. This type of locomotive was widely used all over the country so our train will be authentic.
Wonsan was home to a steam workshop but we're only permitted to have a look at the nicely refurbished old railway station. We also expect to see a plinthed steam locomotive here. The workshop itself is off limits.
The tourist spots of North Korea are all described on various internet sites. You can even find plenty of pictures of these sites. What you can't find easily, however, are pictures taken from a helicopter flying over Pyongyang. The Mi17 has ten seats. The flight takes about 30 minutes. We'll do it in two or more shifts, depending of the number of participants. The Mi17 is still in production in Russia and under licence in China. It was sold to many countries and is in commercial use in North Korea. The $180 per person for the helicopter sightseeing flight needs to be paid in cash on the spot in US Dollars.
The An-24 is a very safe airplane, even under rough conditions. Our charter flight will take about an hour and a half. It's likely that we'll not fly very high, so you can see the beautiful mountain scenery of North Korea at least from the air.
Our trip to Beijing will be by international train, surely an opportunity for priceless observations of this rarely visited country. Various types of the locally-built electric "Red Banner" class, as well as several diesels of the Chinese DF4 type or Soviet-made M62 "Taiga Drums" can be seen. If we're lucky we'll see some East German built metro remodelled train sets in use on the main line. The train to Beijing is booked in soft sleeper class (four berth compartment), the train ride to Dandong for those who want to see steam in China, is booked in hard sleeper class (six berth compartment, but as we'll get on board at 10.10am and leave the train at 4.30pm we'll not need the beds).
Our tour to North Korea can be combined with the extension to China. Details about China dn Fuxin you can find in the itinerary China January 2017. Here just one picture: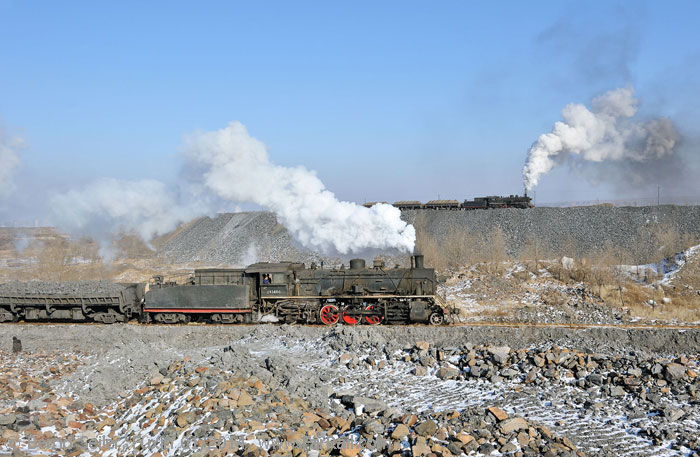 Small Print
The tour starts and ends in Beijing at the capital airport. You will need a double entry visa for China. In principle it is possible to travel with a single entry visa, but from experience it's highly recommended to purchase a double entry visa. The visa will be issued with confirmation from the North Koreans that you'll visit North Korea via Beijing.
The visa for North Korea will be processed in Pyongyang. We'll send you the visa form and instructions. With a booking we will need a copy of your passport and a passport picture. Both as jpg or pdf in a readable resolution (no 10MB files please).
The North Korean authorities will check your identity carefully. To obtain the visa we have to give several personal dates and details including employer and profession. Please expect that they'll call your employer and ask whether you have given the correct information about your position. Journalists, neither "normal" or investigative, are not allowed on this tour. North Korea is very sensitive regarding information that is published. So please note that all records are for private use only. It's possible to publish videos and pictures in the railway related hobby press. If you plan to publish something please give us the information beforehand. We want to avoid any kind of trouble on the tour and not slam the door behind us for other railway enthusiasts who might be interested in visiting the country on a later tour. We'll find a solution that will not harm our partners in Pyongyang (you might risk that our partners who have helped arrange the trip will at least loose their job – at least!). Please be honest when you state your occupation. They will find out and may cancel the full trip in the case of untrue statements.
The Koreans will monitor us during the trip. If you want to make a photograph or a video outside the permitted places, please ask in advance. This is simply to avoid trouble. On train rides we'll try to maximise the results (photo & video). Sometimes it's a little difficult to go beyond the agreed and permitted arrangements but sometimes we can take a lot more pictures than initially permitted (as it was usual on our previous trips). We'll try continuously to expand the opportunities and offer more than initially permitted.
You can't leave the trains at stops if it is not a declared photo stop. We always need to wait for the advice of our guides/monitoring people. It is not possible to explore any place or town on your own. There will always be someone with you. Don't even try to escape the hotel for a private visit. Unless you're looking like a Korean and are fluent in the Korean language they'll register your escape instantly and the rest of the group may need to leave the country instantly – while you may have to spend an extra couple of weeks in a not so comfortable "hotel". We will see many places and also normal live with our guided group. You need to learn to read between the lines and interpret the signs and the shadows in order to understand the country better. You'll definitely experience the country, even without unpermitted extra visits.
Charter buses and trains represent the standard of our host country, which may deviate from American and European expectations. While we will try to avoid long walks, some photo positions may require a bit of an extra effort. The itinerary is designed especially for photographers and video filmmakers.
Temperatures are expected to be in the range of plus 10 to minus 15 degrees Centigrade (50 to 5 degrees Fahrenheit). The early winter season is often dry and sunny. Please expect some snow and ice and wear warm winter clothes.
The hotels are usually well heated, at least the parts we're staying in. Some restaurants, however, might be a bit chilly. Except for one night, our hotels are good four or five star hotels. Please be prepared, however, that food isn't available in unlimited quantities as it seems to be in China. Full board is included, but lunches will sometimes be simple, not to say "basic", especially during special train rides, while dinners are usually good. The Korean cuisine is different from the Chinese one. Please inform yourself about the standards and the highlights. Noodle soups served cold, or Kimchi, are not cold because they can't cook them due to a fuel shortage: this is the Korean cuisine! Of course, if you wish you can take some muesli bars or chocolate with you. But it's recommended that you taste the local cuisine as well. We'll also have western food available, pizzas for instance. Beverages are not included in the tour price, but are usually available including good beer.
The regulations for bringing certain items to the DPRK are changing from time to time. On the internet you may find reports that laptops or lenses above 150 mm are not permitted. We have written permission from our partner that we can bring in laptops, telephoto lenses up to 200 mm, picture storage (external hard drive, discs) etc. Please note, mobile and smart phones are mainly not allowed in North Korea. Sometimes there are exceptions, sometimes not. Either you have to hand over your mobile phone to officials and will get it back on the last day of our tour or they'll seal it with an envelope and check the seal when leaving the country. Voltage is 220V, 50Hz in both countries, North Korea and China. An adapter for the outlet is necessary. In the DPR Korea it is not guaranteed that the voltage will be sufficient to recharge batteries in the time normally needed. Please be prepared and consider taking extra batteries.
Single bed compartments are not available on overnight train rides.
Environmental standards in North Korea do not conform to Central European, Australian or North American expectations. Carrying some toiletries in your photo bag is always advisable, especially on charter train events. Please bear in mind that accommodation and transportation in North Korea as well as China falls short of EU/US safety standards. It is not unsafe, but it follows a different approach. Always use common sense when crossing roads and railway tracks. Neither FarRail Tours nor our local partners can be held responsible and will not accept any liability whatsoever in the case of any accident or damage. We suggest you take out a comprehensive overseas accident and health insurance policy. Taking part in this tour is at your own risk. It's not risky to our understanding from the world traveller's point of view, but if you haven't seen any Asian or African country before you might be a bit irritated that you will need to use common sense instead of relying on fully comprehensive protection everywhere and anytime. You need to use your eyes, ears and your brain – then it's not dangerous at all.
Price
North Korea
Steam, Metro and a Heli
23 to 38 participants
£2,470
25.11.2016 – 04.12.2016
14 to 22 participants
£2,970
Single room surcharge
£365
Registration Deadline: 25.08.2016
Stronghold of Steam: Sandaoling
12 to 20 participants
£1,590
03.12.2016 – 12.12.2016
Single room surcharge
£145
Registration Deadline: 25.08.2016
After September 30th, 2016 bookings for the tour to North Korea will cause a supplement of 435 Pounds. China is not affected and can still be booked at the original price.
The price includes:
North Korea:

Flight from Beijing to Pyongyang
Soft sleeper ticket for train Pyongyang – Beijing
All transfers in China and North Korea
All hotels in North Korea in mainly four and five star hotels, one night in a three star hotel
Full board (excluding beverages) and not in the international train on the North Korean side
North Korean and European tour guides (all English speaking), tour guide: Bernd Seiler
Chinese guide (English speaking) on the overnight train ride Dandong – Beijing
Single-entry visa for North Korea

China:

All transfers in China
All hotels (of basic standard, see description in China itinerary)
Two domestic flights Beijing – Hami and back including airport taxes
Chinese and European tour guide
Not included are:
Double entry visa for China
Personal expenses for phone, bar service, laundry
Beverages
Helicopter flight over Pyongyang
Tips for local tour guides, bus drivers, train crews etc. (Please expect some 15 US Dollars per day)
---