16 Cylinders Attacking 2000 Meters
Spectacular Railways in Iran
"I will need to confiscate your camera ..."
When you're thinking about the worlds most spectacular railway lines you immediately think about the Central Railway in Peru, crossing the Swiss Alps or the Darjeeling Himalayan Railway. But have you ever thought about Iran? You may have heard about the '190 Railway Operating Company' which emptied shiploads of mainly oil-fired 8Fs into Iran to master the Trans-Iranian Railway, delivering war materials to Russia in WW II. The Trans-Iranian Railway connects the Persian Gulf with the Caspian Sea via Tehran and, in achieving that, it needs to climb and fall more than 2,000 metres leaving one sea and repeat this to arrive at the other sea. For good reasons, many of today's photographers have never made it to Iran. This is primarily because, for decades, sanctions have been in place and railway photography was and still is strictly prohibited.
In October 2015, on a preparatory tour, I went to the main station building in Tehran where I hoped to take a photo of an image in the main concourse showing a relief of a steam train. Instantly an official arrived with the words, "if you take this photograph I will need to confiscate your camera". However, he was a 60th of a second too late!
As we travelled with an official from the State Railways, the security police took him to one side for a couple of minutes to "sort things out". Following our Golden Eagle Luxury Train tour and a visit to the headquarters of the railway, I believe for the first time we have been granted a photographic permit for a small group of enthusiasts to take photographs over what I believe to be one of the most spectacular railway journeys worldwide.
I feel this change may be one of the many political gestures by the Iranian authorities aimed at the lifting of sanctions. It might be only a narrow window in time when the state railways will allow photography on their superbly scenic lines and of their approximately 40 year old American diesel locomotives. Hence I didn't want to wait long before setting the date for a tour. The potential is huge, the access somewhat difficult and some of the lines see very few trains in daylight, while the Trans-Iranian operates at its peace time limits. So the programme will also include a diesel charter train to Isfahan (and on to Yazd and Tehran), where the line climbs again to over 2,000 metres. As well as the railways, we'll see some of the impressive remains of the ancient history of Iran, including one of the oldest, if not the oldest, city in the world.
Iran is a very safe country to travel through despite the negative touches of many western reports. It has friendly, interested people, tasty food and many totally unexplored sights, off the beaten track. Many of these fascinating attractions have never made it into a 'Lonely Planet' guide. I would strongly recommend a visit to one of the most interesting and challenging railway lines of the world! You will be impressed. Don't miss this opportunity, it may never come again.
After visiting this country, I can only say that I am enthusiastic about what I found culturally – and regarding the railways, thrilled would be the word to describe what is there to be found between deserts and mountains. This country is, for me, a new discovery and a number one destination. Have you seen a rock face, towering 150 metres above and alongside the rails? Impressive? You should go to Doroud! Between Doroud and Andimeshk rocks loom large and almost vertical right beside the railway line to 500 metres, 800 metres, yes even more than one kilometre. And between these intimidating, towering mountains our great grand fathers dynamited a masterpiece of civil engineering with deep cuttings, tunnels, high bridges and spirals through the Zagros and Elburz mountains. The US troops called the section between Andimeshk and Doroud the "subway", with so many long tunnels following one after another on this line. The bridges between these tunnels are reminiscent of the central European ones from the 1920s.
Or the northern ramp of the Trans-Iranian Railway. The gradient here is even stiffer (1:36) as the line winds its way up the mountains, so that it makes you feel giddy. The Austrian engineer responsible was asked by Reza Shah to stay together with his family under his bridge when the first official train ran over it to prove that he trusted his long bridge, some 100 metres high and 65 metres long. He did as he was asked, and he, his family and the bridge survived. The latter, until today!
Veresk bridge
The photo permit is hard to impossible to get, at least for the independent traveller. To discuss things with the Ministry of Railways was another reason for travelling to Iran in October 2015. I came back with solutions, and herewith let me show you the solution:
Itinerary
updated March 8th, 2016
Date

Itinerary

07.05.

Flight to Teheran, Arrival in the evening, transfer to our hotel in Tehran.

08.05.

By charter bus we'll go to Semnan, from here we'll explore the Trans-Iranian Railway section to Mahmoodabad by 4WD cars. In Mahmoodabad we'll change to our bus again and continue to a simple hotel in Firouzkuh or Pol-e Sefid.

09.05.

Our charter bus will bring us to the most scenic photo spots between Firouzkuh and Pol-e Sefid, Hotel Firouzkuh or Pol-e Sefid

10.05.

With our charter bus we'll do linesiding from Pol-e Sefid via Firouzkuh and Mahabad to Semmin Dasht, from where we'll return to Tehran. Arrival at our hotel in the late evening.

11.05.

In the morning we'll visit some of the cultural highlights of Tehran, using the metro. In the afternoon we'll probably visit the diesel depot of Tehran before we board an overnight train to the south, departing at 16.55 hrs. Accommodation in a sleeper coach.

12.05.

At the small station Shabazhan (Qapi) we need to leave the train. Our train has no scheduled stop here, so we've requested a three minutes halt. From here we'll explore the ultra-scenic section between Shabazhan and Tang-e-Panj. In Tang-e-Panj train 131 stops at 18.33 hrs and will bring us back to Doroud. Arrival about 21.30 hrs, Hotel in Doroud.

13.05.

After a short night we'll start by train 940 departing from Doroud at 6 am. On the journey you can see what to expect today. This train terminates in Chamansgar but we've requested an extension to Keshvar. About 8am we'll arrive in Keshvar, from were we'll start our day excursion into the Zagros Mountains. We'll focus on the section Keshvar – Sham Sekar and board train 119 from Chamansgar to Doroud at 18.08 hrs, arrival 20.09 hrs, Hotel in Doroud.

14.05.

With off-road capable vehicles we'll explore the upper section between Doroud and the "eight" in Sepid Dasht. In the afternoon we'll return to Doroud and board overnight train 131, departing 21.40 hrs from Doroud.

15.05.

At 3.11 am we'll reach Ghom (Qom). Here, a charter train is waiting for us. Already at 03.20 we'll depart to cross with train 525 in Badrud at 4.25 hrs. From Espidan, where the line starts to meander up to another pass of more than 2,000 metres above sea level, we'll arrange a couple of photo stops. We'll use the morning light for our photo stops and reach Isfahan around 11.30 to noon.
In the afternoon we'll see some of the highlights of the fantastic and ancient city of Isfahan. Hotel in Isfahan

16.05.

Isfahan is a very interesting city and we'll visit some more sights including the Vank church in the Armenian quarter. If you wish, you can use the time for travelling on their brand new metro. In the early afternoon we'll continue by charter bus to one of the oldest cities of the world, Yazd. After about 220 km we'll stop at a desert-like setting with mountains as the backdrop for taking a picture of the regular passenger train. In the evening we'll do a brief visit to the Friday mosque, built in the 14th century, beautifully illuminated. Hotel in Yazd

17.05.

In the morning we'll stroll through the mainly intact ancient city of Yazd. After lunch we'll continue our tour by charter bus to Tehran. Roughly 80 km before Tehran, we'll go for a railway photo location in a wide, open countryside setting. We'll reach Tehran around 21.00 hrs. Hotel in Tehran

18.05.

Return flight from Tehran, flights can be booked by FarRail Tours if required.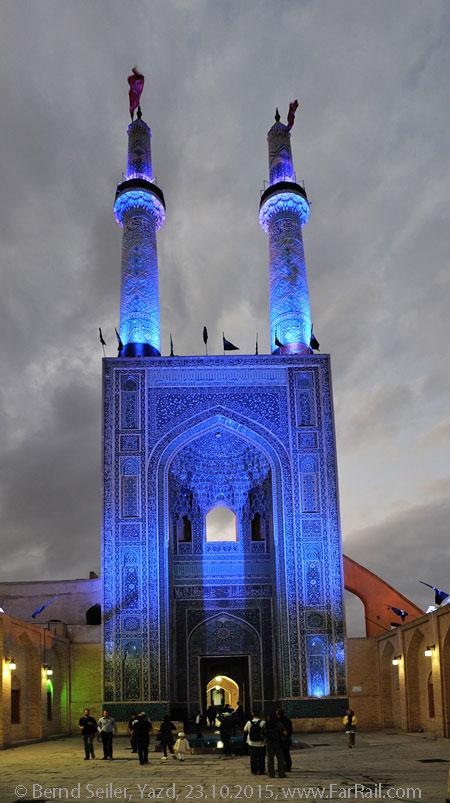 Line description
Breath taking. There is nothing more to say. Maybe, you'll need a wide angle lens to get the complete mountain scene, together with the railway, in the viewfinder.
Isfahan - Shiraz line
A bit of history of the Iranian State Railway – "RAI"
Long time silence – then a masterpiece of engineering
It took a long time before Iran built the first noteworthy railway line. Iran, at that time still called Persia, had fallen victim to the whims of foreign interests. The UK and Russia feuded over their influence and interest in the region and so impeded the construction of a railway in Persia. There were several attempts, but they all failed except the 9 km long metre gauge railway from Tehran to Ray and the mosque Abd-al-Azim, but this railway never gained economical relevance.
The first lines were finally opened during WWI, as Russian, Turkish and British troops occupied the country. Besides a number of military and industrial narrow gauge lines especially in the oil fields and the northern forests the first, 148 km long line from Tabriz to Jolfa was opened in Russian broad gauge (1524 mm). Otherwise, Persia remained a blank area on the railway map, until a 1676 mm broad gauge extension from British ruled Quetta in India (today Pakistan) from Mirjaveh to Zahedan was opened in 1921. This line remained isolated and economically marginal until 2009.
The railway age only really started after Reza Shah Pahlavi recognised a modern transport system as important for the future development of the country. Other countries had almost erected their entire networks by the end of the 1920s, while in Iran construction only started in 1927. Although foreign powers preferred an east-west line (and preferred even more an Iran without a railway), Reza Shah aimed for the more important north-south connection between the Caspian Sea, Tehran and the Persian Gulf. He avoided external influences by introducing a task-related tax on sugar and tea, both on which the state had a trading monopoly. One of the most spectacular railways was financed from these taxes. An American-German consortium started construction in the low lands of the north and of the south from 1927 onwards. In 1933 the Danish-Swedish consortium, Kampsax, took over and planned and co-ordinated the construction of the mountainous sections, i.e. some 1,000 km of railway line. They split the contract into 50 km long sections and subcontracted many Austrian, German and Italian companies to complete the line. For the construction, ten two cylinder 0-10-0 compound locomotives were purchased from Austria and remained in Iran after the completion. The Trans-Iranian Railway went from Bandar Shah at the Caspian Sea via Ahwaz, Andimeshk, Doroud, Arak, Ghom (Qum or Qom) and Teheran to Bandar Shahpur at the Persian Gulf. The 1,392 km long line climbed twice over passes of more than 2,000 metres above sea level and fell in between below 1,200 metres in Tehran. The complete line was handed over by Kampsax in 1938, several months ahead of schedule and below the calculated costs. The esteem of our great grandfathers' work rose further if we compare their performance with today's infrastructure projects.
Bayer-Peacock Garratt on the Veresk bridge
Under British/American/Soviet Administration during WW II
The Trans-Iranian was the foundation of today's network of railways in Iran. It had less than three years of peaceful operation, when British and Soviet troops invaded Iran, demanded the eviction of all Germans and arrogated Reza Shah to abdicate and leave the country. The railway was taken over by British and Soviet troops and became the famous "Persian Corridor" to supply lend-lease military material and fuel to the Soviet Red Army "through the back door". But the line wasn't built either for military use or for the daily shipping of thousands of tons. Nor did they have any appropriate rolling stock available. The backbone of the railway was the 49 2-8-0 locomotives from the German builders Krupp, Henschel and Maschinenfabrik Esslingen (known as "Ferrostaal locomotives" after the Kampsax subcontractor) and 16 2-10-0 locomotives from Henschel. Besides these, the Iranian State Railway owned a dozen Nohab built 2-8-2s which were unsuitable for the mountain lines and four very powerful 4-8-2+2-8-4 Garratts from Beyer Peacock for the steep and long gradients of the northern ramp between Pol-e Sefid up to the summit near the station of Gadouk. The occupying forces found only the 2-10-0 Henschels to be in suitable technical condition. To deal with the expected loads of freights, the UK sent almost 150 2-8-0 LMS 8Fs to the country which were assembled and erected by the "190 Railway Operating Company", the "153 Railway Operating Company" and the "155 Railway Workshops Company". When the British troops handed over the majority of their southern section to American troops, they first brought in 91 2-8-2 War Department engines of class USATC 200 and later 75 1,000 hp Alco diesels of class RSD-1 in three batches.
Before the invasion of Iran, the Trans-Iranian Railway handled about 200 tons of freight each day. The British troops reached 1,530 tons on average per day in late 1949 while the US troops topped that with 6,489 tons per day on average in 1944. In the Soviet zone they used mainly German locomotives and, after repair in the Tehran workshops by British men, the four Beyer-Peacock Garratts. The Russians had to master the steeper gradient, but they didn't need to cope with as many tunnels as the railwaymen on the southern section between Andimeshk (146 metres above the sea) and Doroud (1,454 metres above the sea). In addition, water supply in the Soviet zone was much easier. In the British zone it was in permanent short supply before collapsing totally. Several stations had to be supplied with tank wagons. Boiler wash-outs were difficult due to the shortage of water supply, and in the days before internal water treatment was introduced boiler wash-outs were a frequent task for the railwaymen. Water, boiler conditions, injectors and emissions in the tunnels remained a permanent challenge until the US troops introduced the Alco RSD-1 diesels which had to be run double headed on the steeper sections.
Henschel loco 51 03 in Tehran
Between December 1941 and May 1945 over 3 million tons of goods travelled over the Trans-Iranian. During the occupation only military railway extensions were constructed, for instance to another port on the Persian Gulf because the jetty in Bandar Shahpur was too small to handle the incoming freights.
Developments after 1945
In the cab of a Siemens Iran Runner
The expansion of the railway network, already started under Reza Shah's reign, could only be continued after the US troops left the country in late 1945. The Soviets left far later, after they had tried to annex the Azerbaidshan province. In the following years, Iran was able to connect its railway system to Turkey. The list of the most important railway extensions shows the ongoing development:
| | | |
| --- | --- | --- |
| Line | Length in km | Construction period |
| Teheran – Ray (1.000 mm) | 9 | 1886 – 1888 |
| Tabriz – Jolfa (1.524 mm, now 1.435 mm, 1975 electrified) (– Armenia) | 148 | 1912 – 1916 |
| Zahedan – Mirjaveh (1.676 mm) (– Pakistan) | 93 | 1920 – 1921 |
| Tehran – Bandar Shah (all following lines: 1.435 mm) | 461 | 1927 – 1937 |
| Tehran – Bandar Shahpur | 928 | 1927 – 1938 |
| Ahvaz – Khorramshahr | 121 | 1942 – 1943 |
| Sar Bandar – Mahshahr | 12 | 1950 – 1951 |
| Garmsar – Mashhad | 812 | 1938 – 1958 |
| Tehran – Tabriz | 736 | 1939 – 1959 |
| Gorgan – Bandar Shah | 35 | 1960 – 1961 |
| Tabriz – Bazargan (– Turkey) | 192 | (1912) – 1971 |
| Qom – Zarand | 847 | 1939 – 1971 |
| Isfahan – Zarrin Shahr | 111 | 1969 – 1972 |
| Zarand – Kerman | 80 | 1975 – 1979 |
| Bafq – Bandar Abbas | 670 | 1982 – 1995 |
| Arpin – Maleki | 24 | 1993 – 1997 |
| Arpin – Mohammediya | 128 | 1994 – 1999 |
| Chadormalu – Meibod | 219 | 1992 – 1999 |
| Bafq – Kashmar – Mashhad | 756 | 2001 – 2004 |
| Isfahan – Shiraz | 506 | ? – 2009 |
| Kerman – Bam – Zahedan | 545 | ? – 2009 |
| Sarakhs – Mashhad (– Turkmenistan) | 165 | 1996 – 2014 |
| Khoramshahr – Shalamche (– Iraq) | 16 | 2014 |
Classic American diesel in Andimeshk
Today road traffic is preferred by the politicians. Motorways are constructed, cheap and sometimes subsidised fuel makes car driving affordable for many, trucks are the backbone of freight traffic. At the turn of the last century, Iran had some 12 million inhabitants, nowadays there are roughly 80 million Iranians. This leads to an enormously increased demand for transport, but also to hefty pollution in the megacities and a large number of traffic deaths. Only 9% of transport is handled by rail. That's why Iran announced an ambitious railway construction programme, spoiled by the Iranian Revolution in 1979 and the even newer sanctions, introduced because of their nuclear programme. However, since the 1990s, many lines have been handed over to traffic and the investments are ongoing.
These lines are currently, among others, under construction:
| | |
| --- | --- |
| Line | Length in km |
| Qazvin – Rasht – Anzali/Astara (Azerbaijan) | 372 |
| Hamedan – Jokar | 75 |
| Malayer – Kermanshah – Khosravi | 450 |
| Tehran – Ghom – Isfahan (high speed line, electrified) | 424 |
| Nezamiye – Miyandasht | 37 |
| Miyane – Ardebil | 175 |
| Mahabad – Oroumiye | 97 |
| Maraghe – Miyando Ab-Mahabad | 86 |
| Arak –Malayer | 90 |
| Shiraz – Boushehr – Asalouye | 647 |
| Khaf – Herat (in Afghanistan) | 140 |
| Tehran – Hamedan – Sanandaj | 418 |
| Chabahar – Zahedan – Mashhad | 1,350 |
Other large projects are in the pipeline and are going to be co-financed by the private sector. There a feasibility studies for instance for a line along the Persian Gulf shore from Ahwaz to Bandar Abbas, another very large project. In 2010 the state railway planned to enlarge its network by 2025 from around 11,000km to 25,000km. Such expansion rates are, elsewhere, only known in China.
The first high speed line between the megacities of Tehran and Isfahan is under construction. For a long time on the "to do" list is the electrification of the double tracked line, Tehran – Mashhad. There are also ideas for turning this into a high speed line. Probably only after the sanctions are lifted and the oil price has recovered, will Iran have the money to finance their ambitious plans for another 850km long 250km/h high speed line. At the moment there is still a shortage of many things they can't import easily. Many construction plans are behind scheduled or stopped completely. The line to Azerbaijan, Qazvin – Rasht – Astara, for instance, should have been opened in 2011, but is still under construction. The sanctions are painful for Iran's economy, but especially for the population. After decades of long experiences with American sanctions against Cuba and the current dilettantish EU-sanctions against Russia, it remains very doubtful if sanctions will have any influence on the politics.
Iranian Railway's Locomotives
Alas the plans to electrify the line to Mashhad have died thanks to the sanctions. Despite, in 2009, contracts for electrifying the important east-west line being signed, including the purchase of 70 electric locomotives. That's why, besides the metro lines (Chinese locomotives class TM1 to TM3), the only electrified line is still Tabriz – Jolfa with eight ASEA-Locomotives. The model is based on the Swedish RC4. The line is electrified with 25 kV/50 Hz.
Predominating are diesel locomotives. They burn rather heavy fuel oil instead of diesel. Despite a few newer locomotives the fleet is still quite traditional. The main classes of diesel locomotives are (in order of construction/delivery):
| | | | | | | | |
| --- | --- | --- | --- | --- | --- | --- | --- |
| Class | RAI-numbers | Manufacturer | Number | Type | Year o.m. | Power (kW) | vmax |
| G12 | 40-01 - 136 | EMD | 136 | Bo'Bo' | 1956-62 | 965 | 100 |
| G8 | 40-401 - 413 | EMD | 13 | Bo'Bo' | 1959 | 644 | 100 |
| G16 | 60-301 - 320 | EMD | 20 | Co'Co' | 1959 | 1324 | 105 |
| G18W | 40-451 - 452 | EMD | 2 | Bo'Bo' | 1968 | 644 | 105 |
| G22 | 40 137 | EMD | 1 | Bo'Bo' | 1968 | 965 | 105 |
| GT26CW | 60-501 - 569 | EMD | 69 | Co'Co' | 1970-73 | 2200 | 124 |
| HD10C | 40-601 - 638 | Hitachi | 38 | Bo'Bo' | 1971-75 | 772 | 100 |
| GT26CW | 60-801 - 914 | EMD | 114 | Co'Co' | 1974, 76 | 2200 | 124 |
| G22W | 40-138 - 158 | EMD | 21 | Bo'Bo' | 1975 | 1100 | 105 |
| G22W | 40-159 - 178 | EMD (Đuro Đaković, Yugoslavia) | 20 | Bo'Bo' | 1982 | 1100 | 105 |
| GT26CW-2 | 60-915 - 974 | EMD (GMD London, Canada) | 60 | Co'Co' | 1984 | 2200 | 132 |
| GT26CW-2A | 60-975 - 994 | EMD (Hyundai, Korea) | 20 | Co'Co' | 1984-85 | 2200 | 132 |
| LDE626 | 60-351 - 360 | Electroputere Craiova (Romania) | 10 | Co'Co' | 1986 | 1385 | 100 |
| U30C | 2001 - 2021 | GE (Montreal, Canada) | 21 | Co'Co' | 1992 | 2205 | 107 |
| 30C-7i | 2022 - 2062 | GE (Montreal, Canada) | 41 | Co'Co' | 1993-94 | 2205 | 113 |
| AD43C | 201 - 300 | Alstom | 100 | Co'Co' | 2000-09 | 2600/2880 | 110/150 |
| IR22 (ER24PC) | 1501 - 1650 | Siemens | 150 | Bo'Bo' | 2010-11 | 2400 | 160 |
There are a number of second hand Romanian class 060DA, five Ukrainian 2M62 and one Chinese diesel loco in Iran, but they do not play an important role in rail transport.
While on local trains you need to be satisfied with second hand elderly Danish or German coaches there is a number of modern and fast railcars. Siemens delivered 20 Paradise DH4-1 160 km/h permitted railcars. More will be manufactured by Iranian companies under a technology transfer agreement. The same happened with the (by the railwaymen) highly appreciated 160 km/h fast Siemens Iran Runner, where only the first 30 units were produced by Siemens.
Hyundai Rotem delivered 150 railcars between 2007 and 2009. However, the purchase of second hand British rail buses of Class 141 in 1998 seemed to be a failure, they are all parked in dump sidings now.
Class 141 - dumped in Zarand near Kerman
More remarkable are the four French RTG Turbotrains, which came to the country in 1976. In 2008 they were converted to be driven by traditional diesel engines. In 2015 only one could still be seen – hauled by a Siemens Iran Runner. Those Turbotrains once accelerated the speed on the classic track bed to Mashhad with jointed tracks, wooden sleepers and manual points to 160 km/h.
French RTG Turbotrain on the Mashhad - Tehran line
It is to be expected that the Iranian State Railway will develop quickly once the country generates a steady income from oil and gas exports again. There is only one line with semaphores, the northern ramp of the Trans-Iranian Railway between Sari and Garmsar. Several lines will see double tracking and the electrification of the Tehran – Mashhad line is likely. Then new locomotives will come to the country and replace the traditional American designs.
The railway is surprisingly on time and fast. This is an enormous advantage against the road traffic – and the travellers appreciate this fact. Many long distance trains seem to be sold out days in advance.
The current timetable between Andimeshk and Doroud sees only a few passenger services, but the line is operated at their peacetime limits due to heavy freight traffic:
Tehran – Ghom – Doroud – Andimeshk – Ahvaz – Khorramshahr

km

Station/Train number

132

150

940

915

118

130

0

Tehran

15:45

16:55

11:30

13:35

180

Ghom

17:53

19:05

13:42

15:41

320

Arak

20:31

21:40

16:19

18:11

467

Doroud

00:11

01:11

06:00

15:00

19:46

21:51

478

Gharoun

00:38

|

06:17

15:16

|

|

495

Bisheh

|

|

06:42

15:41

20:55

22:40

508

Sepid Dasht

01:34

02:21

07:07

16:04

21:17

23:05

526

Chamansgar 4

|

02:48

07:35

16:26

22:00

23:32

541

Keshvar

02:31

|

16:49

22:32

|

554

Tang Haft

|

|

17:14

22:56

|

570

Tang panj

|

04:13

17:38

23:20

00:59

588

Talehzang

|

|

18:08

23:46

|

601

Shahbazan

|

|

18:30

00:07

|

617

Mazou

|

|

19:10

00:29

|

637

Balaroud

|

|

19:32

00:56

|

649

Gol Mahak 5

|

06:07

19:52

01:28

|

662

Dokouheh

|

|

20:09

01:46

|

675

Andimeshk

05:54

06:55

20:25

02:02

03:23

816

Ahvaz

08:35

04:30

05:45

937

Khorramshahr

07:55
Khorramshahr – Ahvaz – Andimeshk – Doroud – Ghom – Tehran

km

Station/Train number

941

119

131

133

151

914

937

Khorramshahr

11:25

816

Ahvaz

11:25

13:13

14:40

Miyanab

675

Andimeshk

14:01

15:53

16:58

|

23:00

662

Dokouheh

14:25

|

|

|

23:14

649

Gol Mahak

14:44

|

|

|

23:30

637

Balaroud

15:15

|

|

22:22

23:48

617

Mazou

15:42

|

|

22:44

00:15

601

Shahbazan

16:04

|

18:50

|

00:49

588

Talehzang

16:25

18:05

|

|

01:12

570

Tang panj

16:51

18:33

|

00:07

01:53

554

Tang Haft 1

17:14

18:56

|

|

02:16

541

Keshvar

17:37

|

|

|

02:40

526

Chamansgar

15:40

18:08

|

|

01:08

03:04

508

Sepid Dasht

16:02

18:36

20:29

21:33

|

03:29

495

Bisheh

16:27

19:20

20:51

|

|

03:57

478

Gharoun

16:54

|

|

22:17

02:26

04:20

467

Doroud

17:15

20:09

21:40

22:41

|

04:40

320

Arak

23:44

00:53

01:46

05:24

180

Ghom

02:17

03:11

03:58

|

0

Tehran

04:45

05:30

06:30

Ali Abad
In different publications you find different spellings of the city names. There is no unified transliteration for Farsi, as there is Pinyin for Chinese.
Remarks
The tour is designed especially for railway photographers and video film makers with a broader interest also in the ancient culture of Iran. The focus is not laid on five star accommodation with selected chief cooks, but on using the just opened opportunity to capture some scenes of an almost unknown and very interesting railway. This tour is not compiled for political campaigners, religious, environmental or human rights activists, investigative journalists, missionaries or notorious do-gooders. At the slightest suspicion of your motives, your participation on this tour will be denied. I have ongoing plans to open other lines to photographers and am hence not interested in anyone who aims to profile themselves in certain communities for selfish reasons and spoil the relationship with the state railways.
Iran is a safe country to travel to, although your media may paint another picture. The greatest danger you'll face when travelling to Iran is not militant Muslims (actually I only met very open, helpful and lovely people on my trip) or unknown diseases but the dense and fast road traffic – as in many other countries of the world. However, it's not as chaotic as put about by many publications, the road traffic in the neighbouring country, Pakistan, is much worse. It's rather simple: keep eyes and ears open and use common sense (if you haven't lost it through years and years in your "fully comprehensive insurance" country). Be far seeing and forbearing: he who does not see a green traffic light as his right of way, is the one who returns healthy and happy from the tour.
In the Andimeshk – Doroud section of the Transiranian Railway
You'll take away many good impressions from a not so well known country. Many you talk to will advise you not to travel to Iran. Always ask them how often they have been to Iran to come up with their advice. Don't trust everything you read in a newspaper. Again, just use your common sense before going on such a tour. If you are willing to learn a bit about the history of the country you'll find some irritating facts, such as the Soviets killing many civilians by bombing a city. Iran was never a threat to Russia ... when looking into history you'll also understand why Iranians might have a problem with American or British politics. They have no problems with American or British tourists however; they're warmly welcomed.
To reach the best photo positions you might be tempted to hike into the mountains. You'll need solid footwear and – again – common sense. Always think about your own safety. Better skip climbing in tricky places if you're not sure how it feels to fall several hundred metres.
In May it's warm and often dry. Temperatures are expected in a range of 15 to 35 degrees Celsius. Sunrise in Tehran is at 6.00, sunset at 20.00 hrs on May 14th. Especially on the northern ramp of the Trans-Iranian we may have some rain.
Hotels in minor cities offer often only a very basic standard. In larger towns like Tehran or Isfahan, we'll book suitably good hotels. Single rooms are available at a premium except on overnight train journeys.
Electricity: 230 V, 50 Hz; blackouts are uncommon. In some cases you'll need an adapter for the sockets. Mobile phones can be used, but there isn't roaming available everywhere and if so, it's expensive. Internet is available in our hotels. It's not the fastest, but it's stable. Some websites are not reachable from Iran.
Please do not wear high visibility clothing. We are on a photo tour!
When travelling in an Islamic country you should be considerate of their rules. Short trousers are a no-no and will terminate the tour for you. Carrying drugs beyond a certain amount brings about the death penalty. Drinking alcohol is prohibited, but there is alcohol-free beer and wine on offer.
Our meal times are very flexible up to the possibility of cancelling the one or other meal. We're photographically active. You'll not starve but times and choice might be challenging for you. It is recommended that you carry some muesli bars with you.
Environmental standards in Iran do not conform to European, Australian or North American expectations. Please bear in mind that accommodation and transportation may fall short of EU/US etc. safety standards. Always use common sense when crossing roads and railway tracks. Neither FarRail Tours nor the local providers can be held responsible and will not accept any liability whatsoever in the case of any accident or damage or issues caused by delays. A comprehensive overseas health insurance policy is compulsory for the visa application. We also recommend you to have accident insurance.
Tehran main station
Price
Iran
16 Cylinders Attacking 2000 Meters
28 to 40 participants
£2,640
08.05.2016 – 18.05.2016
21 to 27 participants
£2,970
Single room surcharge
£400
Registration Deadline: 10.04.2016
The price includes
All transfers in Iran
All Hotels
Full board without beverages
Photo permission
Charter trains according to the itinerary
Entrance fees for all cultural sights
Iranian and German guides (English speaking) - flights are without guide.
Not included are:
Travelling to and from Tehran
Visa
Beverages
Personal expenses like telephone, laundry, mini bars in the hotels
Tips for local staff (please calculate with around £7 per day)