Africa's Pearl of Art Déco: Eritrea
Italian Flair in Africa: Eritrea 17. – 27.1.2019
Many want to escape from there, but Eritrea is one of the most pleasant travel destinations of the whole of Africa. Holding a return ticket, Eritrea and especially Asmara are wonderful places with a decent climate, welcoming people, Italian architecture and tasty Italian food. Our visit is against the normal trend – away from main stream mass tourism. We'll see almost no other tourists on our tour, although the country deserves more visitors.
Our tour allows a fantastic insight to this rarely visited corner of Africa. The tour starts and ends at the charming capital of Asmara, at an altitude of 2,300mt above the sea and hence a pleasant place to be at any time of the year, but especially in the European winter. You will have plenty of time to check out some of the Italian style cafes and bars before we'll head north-west to Keren, famous for its antique camel market. Next, along a side road, we'll travel to the Red Sea Coast and the city of Massawa, a place with an engaging, exotic character and a delight to explore. After returning to the capital, we'll take an excursion to the interesting town of Decamhere and also the historical site of Qohaito.
The capital of Eritrea, Asmara, has an irresistible Italian flair. Whether you enjoy an afternoon pizza or Cappuccino in a garden restaurant, the "Dolce Vita" is everywhere in the streets of Asmara. The Art Deco style of the buildings gives the city a real Italian feel. Recently the city made it to the list of world heritage sites. If you want, you can stay a bit longer here for a holiday. You'll not be bored!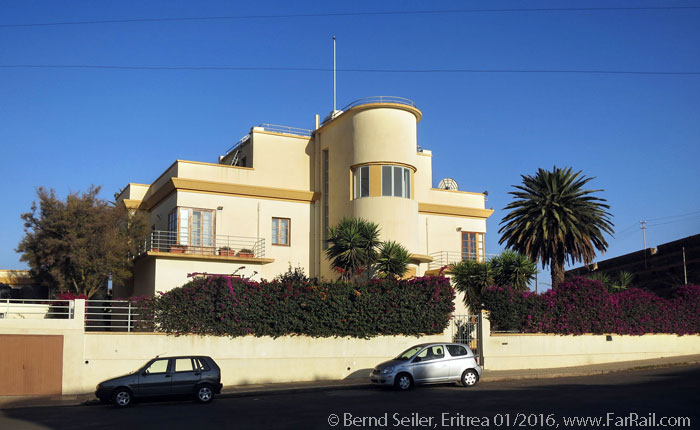 Itinerary
Date

Itinerary

Hotel in

17.01.
Thu

Departure from Europe, for instance by Turkish Airlines via Istanbul to Asmara. Flights can be booked by FarRail Tours if required

Asmara

18.01.

Night arrival in Asmara, transfer to our hotel, time to relax and recover. In the afternoon we'll explore the city by walking over to one of the numerous cafes to have a real Cappuccino. An English speaking local guide will accompany you.

Asmara

19.01.

City sight seeing tour through Asmara. We'll see the highlights of the Italian Art Déco. In the late afternoon we'll also visit the railway station, where Italian steam locomotives, beautiful shaped Fiat railcars from the mid 1930's and German Krupp diesel locos from the 1950's lay around idle. Today, however, a group of railway enthusiasts has chartered a steam train, and if you wish you can take photographs of the train at the summit of the line, just outside of Asmara.

Asmara

20.01.

Using our charter bus, we'll head north-west through the rocky highlands to Keren which we'll reach in the early afternoon. Keren is surrounded by ochre mountains, laying on a plateau of about 1,390 metres altitude. Keren is one of the most attractive cities of Eritrea. The people make a living mostly from agriculture and cattle, that's why you can find the most important livestock and camel market in Eritrea here. The market appears unchanged for decades if not centuries. Traders travel great distances to reach this particular market to trade camels, donkeys, cattle and goats.

Keren

21.01.

Visit to the Monday-only, famous animal market with its many camels, cattle, goats and donkey. Afterwards we'll focus our attention on the history and architecture of the city. We'll visit Mariam Da'arit, a Maria statue in a huge Baobab tree, the British and Italian-Eritrean war cemetery, as well as some of the Art Déco buildings of the town.

Keren

22.01.

We continue from Keren to the Red Sea Coast and the city of Massawa. Our leisurely drive will take us through Filfil, home to Eritrea's last remnant of tropical forest. It forms part of the Semenawai Bahri or 'Green Belt' area and, amid the arid starkness of the surrounding landscape, rises up oasis-like before you - cool, lush and verdant. It is also one of the best places in the country to see birds and mammals. There is a good chance of spotting vervet monkeys and hamadryads baboons.

Massawa

23.01.

In the morning we'll do a trip to Adulis and the Gulf of Zula. In the afternoon we'll stroll through the narrow streets of Massawa.

Massawa

24.01.

Along the road from the Red Sea to the capital Asmara, winding up the serpentine bends, we'll see the changing countryside, rusty tank wrecks from the independence war, and the spectacular railway which winds up from sea level to over 2,300 metres in 120 kilometres. Shortly before we reach Asmara, we'll pass Devil's Gate with its fantastic view.

Asmara

25.01.

Today we'll go via Decamhare and the valley with fantastic, huge trees, to Adi Keyih. One of the gigantic trees from this valley can be seen on the back of the 5 Nakfa banknotes. In the valley, dense fog often rests and makes the countryside look as though in a fairy tale.

Adi Keyih

26.01.

From Adi Keyih, we'll continue to Qohaito, where we'll visit the archaeological sites, the cave paintings and the breath taking view from the edge of the rift valley. In the afternoon we'll return to Asmara. We've booked the hotel until the next morning, so you can relax and prepare for the flight back home.

Asmara

27.01.
Sun

In the early morning, we'll transfer you to the airport to catch your return flight. Arrival home later the same day.

Asmara
Asmara
Asmara is the capital of Eritrea. Asmara is a gem (if not THE gem) of the Art Déco building period. In 2017, it was added to the list of world heritage sites by Unesco. It was built by well known Italian architects during the time that Eritrea was an Italian colony. The busy time for construction of buildings came to an abrupt end with the invasion of British troops during World War II and construction has never since gained much ground over the Ethiopian period or after independence. Hence, you'll still find the Art Déco city almost untouched from more modern influences. Asmara has more cinemas than many other cities in Africa three times its size. All of these cinemas are landmarks of the modern art of building such locations, around 70 years ago. Most of them are still in use. Coffee houses, pizza and pasta restaurants, small shops, apartment blocks and official buildings, churches and mosques, villa quarters and poorer corners, markets and the fish market and even a synagogue dominate the picture of one of the most scenic cities in Africa. Even the local brewery is built in the Art Déco style. And the beer coming from it is very tasty!
Prices have gone up seriously over the last few years, especially after they changed the banknotes. However, begging is very rare. In the villages, you often will meet children who will ask you for a pen. If you hand one out, you can be sure that you'll soon be in contact with all the other hundreds of children in town who also want to have a pen. So better not to start with the first pen. If you wish to donate something to the poorest of the poor we'll arrange a collection and make sure it reaches the people in need.
Asmara is renowned as one of the most pleasant cities in Africa, situated on the edge of an escarpment on the Rift Valley and Eritrean Highlands. Founded in the 12th century, it originally consisted of four villages, and by the 16th century had become a significant city. Its name derives from these original villages, being an Italianised version of the local for 'four united villages". It gained prominence when, in the 19th century, a local governor appointed by the Ethiopian ruler, moved his capital here and established an important marketplace. In 1889, Asmara was occupied by Italian forces bent on creating an African empire, and was developed greatly, later with many superb examples of Art Deco architecture, many of which remain today. Asmara in the 1930's had a sizeable Italian and also a vibrant Jewish community, but almost nothing of it remains today. After the Italians were pushed out of the country during the Second World War, Asmara was administered by the British before Eritrea was effectively transferred to the rule of Ethiopia. Asmara today, with its elegant palm lined streets, is a great place to wander around, taking in the old Art Deco buildings as well as admiring the numerous other styles of early 20th century architecture, such as the futuristic Fiat Tagliero building. You can also take a ride on one of the traditional horse and carts that still ply the streets. It also has a great market and is dotted with small Italian style cafes where it is possible to grab a cappuccino and lazily watch the world go by. Unlike many other towns in Eritrea, it was largely undamaged during the thirty year war for independence against Ethiopia.
If you want to spend more time in Asmara you can extend your stay. With three star hotel accommodation, transport and a local, English speaking, guide you should calculate on £235 per day. For the four star hotel, described further down you must add quite a premium.
On the way from Asmara to Keren, we will pass through the highlands, past steep terraces of coffee and orange groves.
Keren
Keren is a fascinating city at 1,392 m altitude, surrounded by dusty, ochre mountains. Only a few tourists go there, so you can see authentic African life almost everywhere. The city is rich in mosques and churches and merges several architectural styles. Some of the most interesting events are the camel, the cattle and the general markets, the latter one usually held in a dry river bed. The hustle and bustle of these colourful markets is remarkable, but around midday the activities fade and the markets disappear, leaving empty places and a dry river bed. Then comes the time to have a close look at the interesting buildings of the town. Keren is well worth the visit, especially when you've flown so far already. It will widen your horizons about Eritrea.
Keren, whose name means 'highland', was once a small town, but developed quickly with the advent of the railway linking it to Asmara. Known as one of Eritrea's prettiest towns, it wasn't all roses for Keren. During both World War Two and the war for independence, Keren was the scene of much conflict including one of the fiercest battles of Britain's fight against fascist Italy. Today it contains an interesting British War Cemetery as well as the Italian style railway station, and is overlooked by an old Egyptian fort dating back to the 19th century. It has an overtly Moslem feel to the town and is inhabited by a number of Eritrea's different ethnic groups. The pace of life here is best reflected in the way that camels and donkeys still outnumber cars.
We will visit Mariam Da'arit, a statue of Mary inside a baobab tree, and also the British, Italian and Eritrean cemeteries from the Second World War and the architectural buildings that shows the creativity and beauty of the Italian era.
Massawa
Massawa has very much of an Arab feel to it, reflecting its trading links with the Arabian Peninsula. It consists of two islands connected to the mainland by a causeway, and is the largest natural deep water port on the Red Sea. With its strategic position on the Red Sea Coast, it was much coveted by foreign powers and has been occupied by the Portuguese, Arabs, Egyptians, Turks, British and Italians. Originally, it was the capital of Italian Eritrea, before a decision was taken to move the capital to Asmara. It gained prominence back in the 16th century when it was captured by Ottoman forces, who developed the old town using traditional Ottoman architectural styles, often with corals instead of bricks. Many of these old buildings remain today. One of the delights of Massawa is exploring its narrow streets, chancing upon old mosques, tombs and merchants' houses dating back several centuries, and giving you a real feel for what the town was like in its heyday. The streets are only crowded in the mornings and late afternoons/evenings, because Massawa is one of the hottest cities of the world. The year's average temperature is just above 30 degrees centigrade.
Some of the heaviest fighting of the independence war took place in Massawa, the city was even bombed. The palace of Haile Selassie was destroyed and still lays in ruins, as do many other historical buildings too. Massawa was also the place where the independence fighters won, probably, the most important battle of the fight against Ethiopia. There is a memorial with three Russian tanks in town, remembering the fights.
Adulis and the Gulf of Zula
The port of Adulis is one of the ancient ports once numbering among the greatest ports of the ancient world with links to the Roman, Egyptian and Greek Empires. From there, we'll continue to the Gulf of Zula - a deep cleft in Eritrea's coastline which is the birthplace of the Great Rift Valley of the African continent.
Decamhare
Decamhare is a small, charming town once called "secondo Roma" (second Rome) designed to be the transport hub of the Italian Empire within the Horn of Africa. It contains some good examples of old colonial architecture. The town was built by the Italians, planned to be the industrial capital of Eritrea. It was a favourite settlement of the Italians by all accounts and was a beautiful town. Despite being one of the last battlefields before the independence troops surrounded Asmara in 1991, most buildings of the city's 30,000 inhabitants survived the war.
Adi Keyih and Qohaito
Adi Keyih must have played an important role in ancient times. Unfortunately, archaeological progress in recent decades have been minor, hence many secrets are still veiled. One thing for sure: this area was inhabited already by at least 1,000 BC, proven by the cave paintings nearby. Quohaito is the archaeological and historical site located about 20 km from Adi Keyih. It is 2,600 meters above sea level and 121 km south of Asmara. As legends say, it was built during the time of Queen Sheba, approximately 750 BC. The historical relics include an engraved stele 4 to 5 meters high and buildings of the Axumite period (first to seventh century were its heydays) and many cave writing and tombs. The antique buildings are situated at the edge of the Rift valley. If you walk close to the edge you have a phenomenal view over the valley. Maybe some clouds will be below the view point …
Our accommodation in Adi Keyih is very basic and cannot be compared with Asmara.
Remarks
Eritrea is facing difficult times. In the western media you read about refugees from Eritrea, but you can hardly find any evidence of why so many people are leaving the country. When you travel through Eritrea, you'll find friendly and welcoming people, an infrastructure among the best in this part of the world, a working educating system and tasty food. But, of course, there are reasons for young people to leave the country. Military service can virtually hit anyone between the ages of 18 and 80, no matter whether male or female and without children (with them you are exempted), and the duration is unpredictable and unlimited. In the economy, almost everything is under the control of the government. Licences to start up your own business are hard to attain and, in the case of the slightest irregularity, you may lose your licence. Working in a state owned company will guarantee you only a very limited income which would make even a bottle of beer a week beyond affordability. Hence educated, young people barely see any chance to build a life in Eritrea.
Having said this, you shouldn't be concerned about lethargy or reluctance when you need something special, although they earn the same money, even if they don't move. This amount can be so little that they rely almost entirely on the help Eritreans abroad send to their families. If they do something, but do it the wrong way, they may even lose their job or, even worse, get a national call – which everyone tries to avoid.
Eritrea is a country which has only recently gained independence (in 1991/1993). Before that, an independence war raged for decades. Even after that there was more fighting over the exact borders with Ethiopia. The country has not fully recovered from these long periods of war and there is widespread poverty. Unlike many other African countries, this hasn't led to high crime. Eritrea is one of the safest countries in the whole of Africa. The locals are very friendly. Even though tourism is still in its infancy, our hotels are of an acceptably good standard (matching 2 or 3 star hotels in Europe) and are quite clean. Sometimes, hotels may have a problem with the hot water supply for a shower.
As Eritrea is still a young country, the process of getting all official processes "streamlined" is not yet finished. Visa regulations can change with very little notice. But so far, we've always got our requested visas. Some embassies require that you pick up your visa personally.
Please don't get carried away with the scenery, we are in the mountains. One wrong step can lead to a fall that can seriously endanger your health or even your life. If you take part in this tour you do so at your own risk.
In Asmara, we offer an option: if you like you can stay in a lovely four star hotel near to the city centre. They have only double beds. That's why they are only suitable for single room bookings or travellers with their partner. It's a classical hotel from the late 19th century which was refurbished a couple of years ago. Slow wireless internet is available in the lobby. Their price is much higher than the other hotel we're using. A premium of 65 US-Dollar (or equivalent) a night plus the standard single room supplement (except when you're travelling with your partner) is required.
We expect temperatures of 20 to 26 degrees in Asmara and Keren and around 30 degrees in Massawa. In Asmara the temperature can drop to around 10 degrees in the early morning. Rain is rather unlikely but the area near Ghinda, Filfil and Decamhare often experiences fog.
Below 2,000mt altitude there is a risk of malaria throughout the year. The best defence against malaria is to avoid getting bitten by mosquitoes, so it's recommended you wear long clothing in the evening. Long clothing is also a cultural necessity as half of the population is Muslim (the other half Christian). Short trousers are unsuitable for wearing in public, even if it's really hot. Short trousers are popular among the poorest of the poor when they need to do a hard job, as well as by soldiers of invading western troops, not something you should even think about copying. Also short trousers indicate that you don't care for their culture and you're somewhat arrogant. If you see some foreign tourists wearing short trousers you can only shake your head.
The electricity supply (220 Volts) is reasonably dependable due to generators in our hotels. Often you will need an adaptor for your plugs. There is a mobile phone network available but no western company has signed a roaming contract so far. That's why you can't use the mobile network of Eritrea. International calls are possible from our hotel in Asmara. You can also call abroad in the large towns via the telephone exchange. We can arrange a local SIM card at some extra cost (needs to be negotiated as these cards are private cards from Eritreans and need to be given back at the end of the tour). In Asmara and Massawa there is slooooow internet access.
You should take all the usual precautions for a stay in the tropics, if you prefer a trouble free trip rather than a hospital stay. Basic rules like only eating pealed and/or cooked food and not drinking tap water should be abided by. Besides the local food, which you really should try, many Italian influences remain from the colonial time. It's no problem getting a pizza in Asmara. Breakfast (except for early morning departures) and dinner are planned in our hotels or restaurants not far from our hotels, while lunch is a small snack which will be served in the train. Cold drinks can also be bought in the train for local prices which cannot be described as being cheap any more. A 330ml bottle of beer is now about 2 US-Dollars, while drinking water has a very similar price!
Prices changed since they introduced new banknotes (looking the same as the old ones, but the issuing date is important). There is a shortage of cash and the black market dried up completely. The official rate is 1 Dollar = 15 Nakfa which makes everything very expensive. A proper dinner costs you easily 30 Dollars, without alcoholic beverages.
Hygienic and environmental standards in Eritrea do not conform to Central European, Australian or North American expectations. Carrying some toiletries in your photo bag is hence advisable. Please bear in mind that accommodation and transportation in Eritrea falls short of EU / North American / Australian / Japanese or generally so called western safety standards. Always use common sense when crossing roads and railway tracks. Neither FarRail Tours, the local agency nor the railway can be held responsible and will not accept any liability whatsoever in the case of any accident, damage, delay or cancellation. We suggest you take out a comprehensive overseas accident and health insurance policy.
For most of the places we want to go to we need a special travel permit which will be issued only after we have a stamp on our visas. The permits are issued at the discretion of the local authorities and although the process is generally routine, we are unable to offer any guarantees that they will be issued for all of the places shown in this itinerary. In the event that permits are not available, then we may have no other option but to make late changes to the itinerary and to arrange an alternative programme for the places it is not possible to visit. Prices will not be changed to cover this risk. On the other hand there are no refunds possible even in case we need to alter the itinerary. Programme changes without notice in advance are possible.
Price
Eritrea
Eritrea Explorer
21 to 28 participants
£1,740
17.01.2019 – 27.01.2019
12 to 20 participants
£2,040
Single room surcharge
£300
Registration Deadline: 11.10.2018
The price includes:
Airport pick-up and drop-off in Asmara
All transfers in Eritrea
All hotels in a shared double room
All travel permits as far as available
Full board except beverages and 2 bottles of drinking water per day
Lunch as a small sandwich
Eritrean and European tour guides (flights without guides)
Access fee for the tank cemetery in Asmara
Not included:
Flights
Personal expenses, like telephone, bar service, laundry, travel insurance
Visa
Other beverages
Tips (some 20 Dollars per day)