Cadillacs and workhorses: 25NC and 15F in South Africa
Great Cape Gauge Steam and narrow gauge Garratts in South Africa 23.06.2023 – 04.07.2023
The 4-8-4 locomotives of the classes 25 and 25NC are technical masterpieces on Cape gauge. Cast steel frame, roller bearings, stoker, 6.5 m² grate area, 290 m² heating surface and thus over 3,000 hp – with the exception of American locomotives, none of the mass-produced standard-gauge freight locomotives can compete with the Cape-gauge 25 or 25NC. They were licensed for 90 km/h, but could easily exceed and maintain 100 km/h, on only 1,067 mm gauge! They were called the Cadillacs of the South African State Railways, and they served everything from the heaviest goods train, often double headed, to the fastest express train. 50 locomotives of the 25NC series were built in the 1950s. In addition, 90 locomotives with condensing tenders (class 25) were built, of which 87 were later converted to class 25NC (NC = non-condensing).
Apart from the Red Devil, the Super-25NC (class 26), only two locomotives currently have a track licence and valid boiler certificates: 25NC 3437 and 25NC 3482. The former is an original 25NC, whereas the 3482 was converted from a class 25 condenser into a 25NC (NC stands for non-condensing).
Bringing the two locomotives back to life after a long period of storage took a lot of effort and money. Then Covid-19 came along and wiped out all the efforts. The boiler period expired after two years, and thus before the locomotives could go on long journeys again. After intense efforts from various sides, both locomotives have now received a boiler ticket extension. This runs until the third quarter of 2023; and we have to take advantage of this, because nobody knows whether there will be another chance to see these fantastic engines in operation after that. Sure, anything is possible, but who wants to pre-finance the boiler inspections again after the risks of such a venture became so apparent by Covid-19. In any case, it requires a huge portion of craziness, and I have used that up in the meantime with regards to South Africa. What David Rodgers and I wrote in the introduction to the 2019 itinerary still applies, and today perhaps more than ever. In addition, prices have now also reached new levels and it does not look as if they will ever return to what we consider to be a normal level. 6.5 square metres of grate surface are voracious, and we have to settle a bill of over 35,000 Euros for coal deliveries alone.
Therefore, there is this one chance out here that one should take as it is, or possibly leave out unused forever. Even if you don't photograph or film trains: just to see and especially to listen to these magnificent locomotives is an experience that is no longer available in our computerised plastic age. A German 41 may be well know for its great staccato, the Bulgarian 46 may bellow an unsurpassed muffled roar into the landscape from the depths of its huge smoke box, but when you see one or even two 25NCs storm past you, it puts everything else that is driven on tracks with steam power in front of goods trains in the shade! If you don't believe it, you have to come along to be disbelieved!
The journey, like all other tours, is a risk. There are only these two operable and line approved 25NCs, both have stood for many years, and have moved very little since. Technical problems can always occur, even here and after intensive work on the locomotives in Kimberley. Therefore, the usual warning at this point: these are technical machines with an inherent risk of failure. This risk cannot be excluded or minimised, no matter how much effort is put into it. And if we are unlucky, it doesn't work. But - and please take this seriously - the money is spent. It will not come back and cannot be claimed. If you are afraid of this risk, please do not book this (or any other) tour. Because even if we do everything to ensure that everything will work: we, i.e. all those involved from the locksmith, welder, fireman, loco driver and all other organisers and contributors are not God and cannot perform magic.
The use of an also mighty 4-8-2 class 15F requires its refurbishment. The 15F is also an impressive machine: 5.9 m² grate area, depending on the boiler manufacturer between 295 and 320 (!) m² total heating surface and with 255 units the most numerous type of the South African State Railways. These locomotives were to be found on many lines, and over three dozen still exist today. However, none of them is operational. But there are four locomotives that can (hopefully) be made roadworthy again at a reasonable cost. The selection will be made in January 2023.
Itinerary
There is no detailed itinerary yet because several options are on the table. However, the plan for the deployment of the 25NC is set:
One day we will travel from Belmont to Douglas, the next day from there back to Belmont. Three days we will spend on the main line Kimberley – Bleomfontein.
The use of the 15F depends on which one is refurbished. Transferring a locomotive across the country is so expensive that it makes more sense for us to go to where the loco sits. Since the locomotives were widely used, there are no problems with authenticity on the possible lines.
As an additional program we will use several narrow gauge Sandstone Farm-Garratts. This is not authentic, but apart from Wales, where it is even more inauthentic, it is the only possibility to still experience these narrow gauge Garratts in operation. One still hopes for the Apple Express (Port Elisabeth), but the likelihood of steaming there again is decreasing from year to year.
Line description
Branching off from the electrified Kimberley – De Aar main line at Belmont, the Douglas line saw mainly Class 24s in steam days because the track did not allow the use of the heavy 25NCs. It was only after diesel locomotives were to be used that the line had to be upgraded to a heavier axle load. We have the line in the program for political reasons. You need an Access Agreement to run on Transnet lines, and getting that for steam locomotives for a main line is extremely difficult to impossible. But you can extend an existing Access Agreement. That's why the papers are being drawn up for this line, and then extended to the main line to Bloemfontein for our purposes. That is the only way to overcome the bureaucratic hurdles. Fortunately, the line doesn't look that much different from the lines used by the 25NC in genuine steam days. There is a lot of nothingness in the landscape around Kimberley, making sunrise and sunset shots very feasible. We planned to do that as well. There are also some mountains that are suitable photo locations. Otherwise, the lines run on long straights to the horizon, and only a few curves require reducing speed. Some gradients, especially out of Douglas, will require the locomotives to prove their old performance once again.
The planned railway lines for the 15F offer much more variation; many curves, gradients, mountains in the background etc. allow many different motifs. But also for the 15F we will try to pay attention to the early morning light when the steam condenses over the locomotive.
Small Print
The tour is planned in detail by very experienced people with the dedicated photographer and video film maker in mind. There are several limitations which we need to consider, the price is one of them. There is also a strict 12 hours working rule for train crews. There are some regular trains on the lines. Locos and wagons are allocated to a certain shed and cannot be transferred for thousands of kilometres without bursting the budget. What we're offering here is (as so often) the maximum possible within all the mentioned and non-mentioned limitations.
We have three cape gauge and three narrow gauge locomotives scheduled for our tour. However, the locomotives we're using are unique in the region and we will not have a replacement in case one of these locos fails. There is no guarantee that a certain locomotive will be used.
We may use pure freight trains and will get access to the photo locations by other means of transport. Those who went on the 2019 tour know what I'm talking about. Thus, it's not advisable to wear your best clothes on such a tour. White or clothes with intense colours are also not appreciated, in case you happen to be standing in someone else's picture. High visibility clothes will kill their shot, while dark, brown or black colours won't disturb too much.
The daylight hours in June, the winter in South Africa, are limited. We're aiming for the early morning and the late afternoon light conditions. This means we'll need to get up before sunrise. Meals are included in the tour price but doesn't mean they'll be served at a set time. The reason why we're going to South Africa is to photograph authentic looking trains on fantastic lines at the best time of the day and not to have a sumptuous breakfast at 9 am, for instance. Having said this, meals can be served packed or postponed. In the evening we'll usually have time for a proper dinner. If available we'll offer dinners as buffets.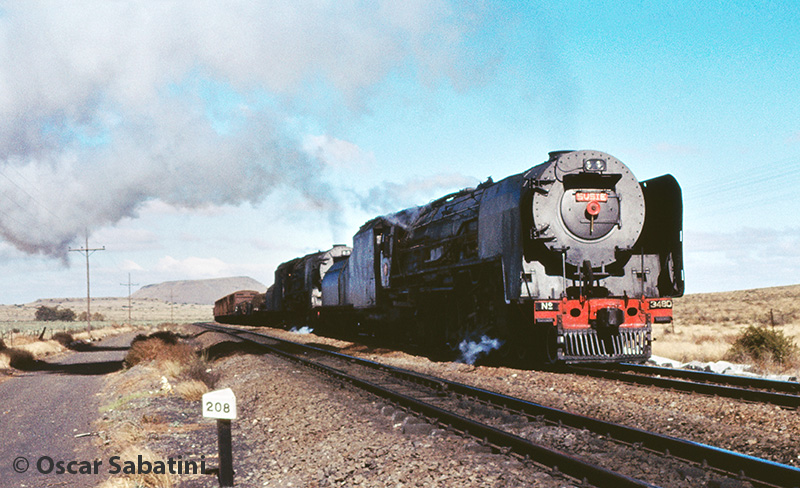 Our hotels are of different standards. At smaller places we need to split the group over different places. There will be different standards at different places, but all will be clean and offer a hot shower. The number of available single rooms is limited. We cannot guarantee to have a single room available at all locations. Single room bookings need to be confirmed manually; the instant confirmation from the booking system is not valid for this particular tour. The standard of our accommodations will be three stars.
There is a strong possibility that we will spend a few nights in sleeping cars, because that is by far the best solution. There are different compartments, from economy to first class, which also have different prices. As a rule, the best compartments are booked up the quickest, even if it means paying a premium.
Temperatures can drop below freezing point, while during the day we may reach temperatures of more than 20 degrees centigrade. Although we're hoping for sunny weather, we may see some rainy days. Please be prepared: rain coat, jumper, jacket, sturdy shoes are essentials which you should carry with you, as well as sun cream and a cap.
Most of the photo spots we're going to haven't seen photographers for a long time. Vegetation will be a problem – which can be overcome easily by using grass slashers. The more of our group will help, the more photo stops will be possible. If everyone rushes for the "best spot" and stands there until a lonely slasher has cleared the line of grass it may take 20 minutes, time which will be lost for other runpasts. There is sufficient space for everyone to get a master shot in the box. This said, please first help to clear the spot and then head for your position. We'll not perform a runpast before everyone is in position. It's a group event and the best result is obtained when everyone in the group cares for the needs of each other and helps when help is required.
Electricity is 230V / 50Hz, but you'll need an adapter in most cases. Besides a two pin plug type, South Africa uses a three-pin system which is unique; most universal adapters do not connect to South African sockets. Please check out this website to find the correct adapter: https://www.power-plugs-sockets.com/south-africa/
A valid Covid vaccination might be required. Currently it is not, but rules may change, depending where you come from. The region we're travelling to is considered to be Malaria-free. No special vaccinations are required (except when travelling from Yellow-fever areas to South Africa). However, if you wish to visit some of the famous game parks before/afterwards, including the Kruger National park, you should take some Malaria prophylaxis because the dangerous Malaria, Tropica, causes 90% of all Malaria infections in South Africa. If you need prescription medicines, you should bring them from home as it might be difficult to get these outside the big cities.
When packing your luggage remember that travelling light is the best way to enjoy the tour. We'll not have porters and you need to carry your own luggage on most occasions.
For most nationalities no visa is required. Please check with your local embassy if you need a visa (New Zealanders are affected).
You'll need some local money (Rand) on the tour for beverages and tips. For tips US-Dollars and Euros are accepted as well.
In the countryside you're almost as safe as in central Europe, for instance, but in some of the big cities the crime rate is frighteningly high. Some parts of cities should be avoided, even during daylight hours. The best protection against crime is not to show you are carrying expensive photo equipment with you and to stay together with others from the group.
Please bear in mind that accommodation and transportation in South Africa, although a highly developed country, often falls short of EU, Australian or North American safety standards. Always use common sense when crossing roads and railway tracks. Neither the local tour operator, the state railway, nor FarRail Tours can be held responsible and will accept no liability whatsoever in the case of any accident, damage or bad effects due to delays etc. We suggest you take out a comprehensive overseas accident and health insurance policy. You may consider trip cancellation insurance as well.
Price
South Africa
25NC, 15F and Sandstone
70 to 80 participants
£4,260
23.06.2023 – 04.07.2023
Single room surcharge
£670
Registration Deadline: 25.04.2023
Optional: Kruger Park 03.-10.07.2023: £1,220 single room supplement: £250
The price Includes
All transfers in South Africa from and to the airport
All hotels and guesthouses in shared twin rooms or triple compartments if we're staying in the sleeping car
Full board (sometimes packaged food) without beverages
South African and European tour guide (flights are without guide)
Charter trains as described
Not included are
Flights
Beverages
Personal expenses such as telephone costs, minibars in hotels, laundry service, etc.
Tips, please calculate with approx. 20 US dollars per day and person.